Unscripted
Freakshow Q&A – Amazing Ali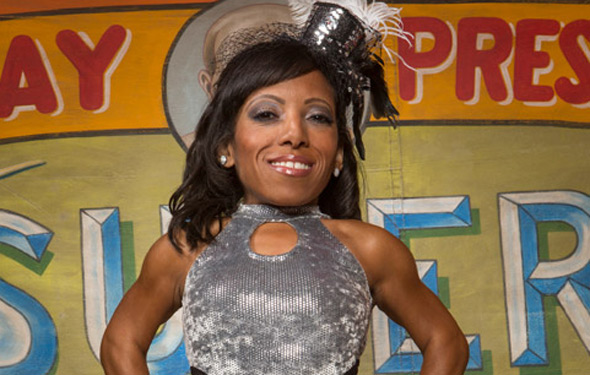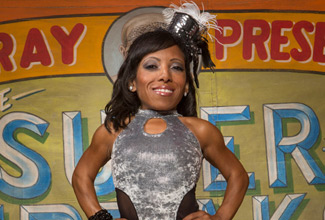 Freakshow's Amazing Ali talks about performing new stunts, her ongoing health struggles and having her marital ups and downs aired on the show.
Q: This season you learned a fire breathing stunt. Were you nervous before the performance?
A: It was definitely a little scary. I didn't want to make the wrong move where I could get hurt. I was really concerned about [the flame] looking big, even though it was coming from someone so little. It was definitely a great challenge and it was awesome pushing myself to do something a little daring.
Q: Would you ever attempt the stunt again?
A: I definitely plan on doing more fire-breathing at the Freakshow. Maybe not so much inside, that could be a bit dangerous. But maybe outside.
Q: You seemed very nervous going into your hip surgery this season. How did the Freakshow family help you get through it?

A: They were behind me 100 percent. They let me know my position at the Freakshow would still be there and they came to visit me  during the surgery. That meant a lot to me that not only the Rays, but the whole Freakshow family took time out of their lives to come sit with me and make sure that I woke up [from the anesthesia]. I'm so grateful and thankful that I have people who aren't blood related, but who call me family and who are there for me.
Q: How are you feeling now after the surgery?
A: It's literally night and day. I have no pain. I am truly a brand new person. Before going in, I felt like I was 90. Now I feel like I'm 21 all over again.
Q: This season you and your husband, Wee Matt discussed starting a family. What was it like to talk about something so personal on the show?
A: It's very real to open up about that subject to an audience of viewers. It's definitely giving away a part of my privacy, but I hope it helped couples who are thinking about starting a family or who are having issues starting a family the natural way.
Q: Where do you stand now on the debate?
A: It's something that's still an issue. In the episode, Matt was pretty eager about starting a family ASAP. Doing the episode made him realize that we're not yet ready. The doctor revealed that [having a baby] the natural way is not wise because of how little I am. So, there does have to be an alternative method when we do decide. It's still something that [Matt] wants to do. I'm still on the fence about it. If I don't ever have kids, I would be okay with it. If  we have kids, of course I'd be okay with that [as well]. It's just something I can take or leave.
Q: In Episode 208, Todd and Danielle offered you some marital advice. Any lessons learned from them?
A: The biggest piece of advice I got is knowing each other's boundaries. In every relationship, everyone has a point where you can [push them too far]. You want to know the boundaries and be able to give each other space when when you've done something that you know [your partner] won't think is cool. Don't be afraid to be sorry. Instead of arguing and trying to explain why you did what you did, just let that person know that you're sorry. It's okay to back down and recognize when you've overstepped some boundaries.
Click here to read an interview with Wee Matt.
Check out back-to-back, new episodes of Freakshow Tuesdays at Midnight/11.
Read More