Unscripted
Freakshow Cast Blog – Asia on Her 21st Birthday in Episode 209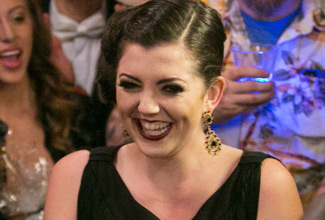 Throughout Season 2 of Freakshow, members of the cast will be sharing their insights on the episodes. Here, Freakshow fire eater, Asia Ray offers a behind-the-scenes look at Episode 209. Follow Asia on Twitter @asiarayfreak
I'M 21, WORLD! I have been looking forward to this birthday for quite some time. I don't like people telling me I can't do things or go places… especially because of my age. Now, no one can stop me because I'm legal! I was thinking I would probably just get some drinks with a few close friends or something like that, but that's definitely not what happened.
A ginormous, freaky party was thrown for me in Hollywood! The venue was lovely and full of my freaky friends and family. It was overwhelming to have all these people show up for my birthday, but it was really nice of everyone to be there to celebrate with me. One of my favorite parts of my bizarre party were the specialty shots. The "Electric Lady" was a glowing blue shot, the "Sword Swallower" had two decorative crossed little swords with cherries stuck on them and the "Fire Eater" was a reddish shot. I, of course, picked the simplest one, the "Fire Eater," because fire eating is by far my favorite act to perform and most meaningful. I was then told that I had also picked the strongest! I took my first shot with my parents and the party really got started. I had a lot of fun and got some pretty interesting gifts. I appreciated everyone coming and I love being 21.
I'm also moving out! I have been with my family 24/7, working and living with them my entire life. It's definitely going to be strange not living with them, but I'm also very ready and excited for my own place. I'm a very independent individual and really enjoy my own space to think and create. I love my family and we're all so close, but it's not like I'm not going to see them all the time at the Freakshow! It's a weird transition, but I'm at a point where there are a lot of good changes in my life. I've been a little crazy to say the least, but through this process I have been learning so much about myself and what I see for myself in the future. I really believe that pushing yourself physically and mentally is very important. I continuously push the limits. Moving out will give me space to really learn more about myself and this crazy world we live in.
Read more about Episode 209 of Freakshow.
[The viewpoints expressed in this post are not endorsed, sponsored, or associated with AMC, its employees, or its affiliates, but rather are the personal viewpoints of the authors themselves and are intended for entertainment purposes only.]
Read More