Unscripted
Freakshow Cast Blog – Todd Ray on the Venice Beach Freakshow Expansion in Episode 201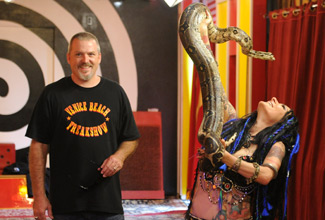 Throughout Season 2 of Freakshow, members of the cast will be sharing their insights on the episodes. Here, Freakshow owner Todd Ray offers a behind-the-scenes look at Episode 201, "Freakshow Auditions." Follow Todd on Twitter @venicefreakshow
HURRY!!! HURRY!!!! The WORLD FAMOUS FREAKSHOW is back!!!
My dream of creating the biggest house of wonder in history is getting one step closer. We've finally expanded the Freakshow by taking over the space next door. It has taken me years to get here and I want to thank you all for your support and encouragement. To be able to afford the new space, we now have to do even BIGGER events and that's why we held open auditions for local talent. What a trip that was!!! We saw every type of crazy performer in LA. We did find a few very special performers like Gabriel, the smallest man I've ever met! What a good person he is! Jenevieve the Serpentine Sorceress was a great find too. She really has the look and style of an old time snake lady. The "snake lady" has always been a tradition in the circus sideshow/freakshows and I hope she works out well. Asia has some issues with her performance style, but I ultimately think it's because Asia is so supportive of positive female role models and doesn't want to present only "sexual" based acts. I can tell this is going to be a balancing act for me, but this is all part of running the Freakshow!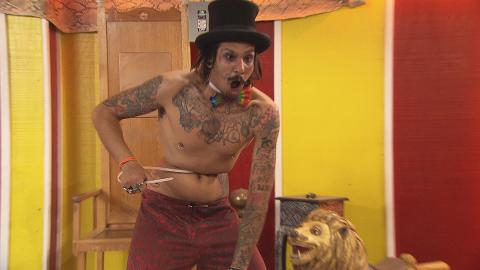 I was so excited that I was able to bring out Garry Stretch from the UK! I had read about him a million times in Ripley's books and the Guinness Book of World Records (he holds the record for "the Stretchiest Skin in the World"). I have always admired his unique abilities and his fun performance style. The way he stretches his skin is STUNNING and it never fails to amaze the crowds. He is also one of the nicest people I have ever met and a true professional. Thank you Garry for helping make our grand reopening so memorable!!!
I have to admit that I was shocked to learn about Asia snapping a mouse trap on her tongue. It is so easy to chip or lose a tooth doing that. As her father, I never get used to her pushing the limits….but when she succeeds, I am always very proud. I know I can count on Morgue to watch over her while she practices. They are so close and I know he wouldn't let anything happen to her. Morgue also pushed the limits for this event by doing something I had never seen done before. He swallowed a scythe with an insane curve in it!!! The danger of this stunt is unbelievable. He literally had to move internal organs out of the way to allow the blade room in his body. He told me it shifted his heart to the side and that's why you saw him concerned after he did it. It is no joke when I say, "If you do what he does, you will end up dead and in the Morgue!"
Overall, I think the grand reopening went great. The audience loved the event and will never forget what they saw as long as they live. It is such an honor and a blessing to have this opportunity to bring wonder to the world through our live show in Venice and the TV show on AMC. It is positive proof that dreams do come true and that curiosity is what drives us all forward. So, from our Freakshow Family to yours, we all say THANK YOU and we hope to see you again soon at the Freakshow!!!!
Read more about Episode 201 of Freakshow
[The viewpoints expressed in this post are not endorsed, sponsored, or associated with AMC, its employees, or its affiliates, but rather are the personal viewpoints of the authors themselves and are intended for entertainment purposes only.]
Read More