Press
Los Angeles Plugs Freakshow; Huffington Post Spotlights Asia Ray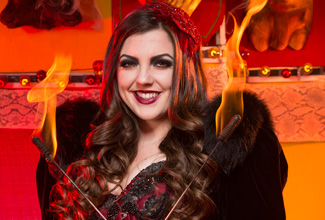 This week, Los Angeles fêtes Freakshow, while The Huffington Post spotlights Asia Ray ahead of the series' Season 2 opener. Plus, several publications, including The Washington Post, note the show's return. Read on for more:
• Los Angeles Magazine celebrates Freakshow's Venice Beach Freakshow, commenting, "Saying 'no to normal' has never been so easy—or so extraordinary."
• The Huffington Post spotlights Freakshow's Asia Ray learning how to stick a mousetrap on her tongue.
• The Washington Post highlights Freakshow's Season 2 return.
• Torontoist hails Freakshow's Season 2 opener, calling the series "oddly entertaining."
• The Boston Sunday Globe's best TV bets for May 6 include Freakshow. (No link)
• The Remote Patrol blog observes that Freakshow also focuses on "the humdrum, the day-to-day life of the sword-swallowers, pierced, tattooed, vertically challenged and those who sleep on beds of razor blades."
To stay up-to-date with all the latest Freakshow news, sign up for the The AMC Weekly.
Read More