Unscripted
Freakshow Cast Blog – Morgue on His Bed of Razors Stunt in Episode 207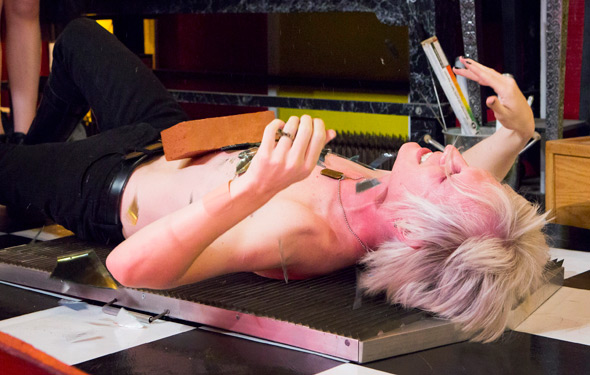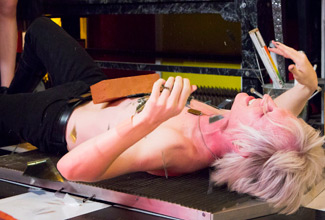 Throughout Season 2 of Freakshow, members of the cast will be sharing their insights on the episodes. Here, Freakshow Shock Artist Morgue offers a behind-the-scenes look at Episode 207, "Giants, Babes and Box Cutters." Follow Morgue on Twitter @MorgueOfficial
In this episode, I face death once again in the form of a bed of razor blades. Nails are just so "last century." This is something I have wanted to do for a very long time but I had been unable to find anyone with the skill required to create it. Fortunately, Rick Lazzarini of  "The Character Shop" did an amazing job.
Visiting his shop was an excellent experience. I got to see all of Rick's exceptional work and the characters he has created over the years. I recognized many, including the giant man- eating plant from Little Shop of Horrors. He even worked on one of my favorite childhood movies, Alien.

The bed of razors stunt holds intense meaning for me. I grew up in a deeply religious household and my view of reality was completely false. This act represents a kind of cleansing for me.
On a physical level, this is a very dangerous act and while trying to lay on the bed of razors for the first time, I received a very large and deep gash on my wrist. I was advised to get stitches for but decided against it. I usually practice and train intensely before debuting an act, but because of the high probability of something going wrong, I decided to attempt it for the first time in front of an audience.
Fortunately, it was a success. It was a painful ordeal, but I was relatively unharmed, aside from a few minor cuts. I achieved exactly what I wanted to, personally, and the audience was entertained as well. Another boundary broken, another chain cast off, another limitation destroyed. Now I'll be preoccupied with removing miniscule shards of glass from my chest for the next week or two.
Learn more about Episode 207 of Freakshow.
[The viewpoints expressed in this post are not endorsed, sponsored, or associated with AMC, its employees, or its affiliates, but rather are the personal viewpoints of the authors themselves and are intended for entertainment purposes only.]
Read More