Unscripted
Freakshow Cast Blog – Morgue on Auditions and Scythe Swallowing in Episode 201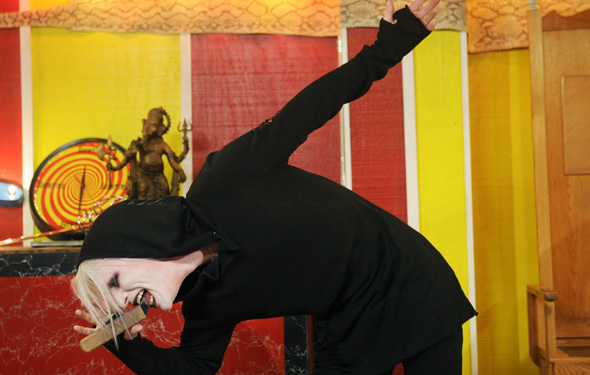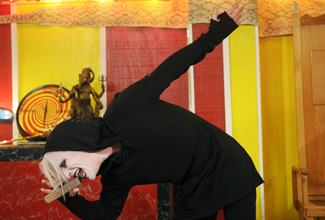 Throughout Season 2 of Freakshow, members of the cast will be sharing their insights on the episodes. Here, Freakshow Shock Artist Morgue offers a behind-the-scenes look at Episode 201,"Freakshow Auditions." Follow Morgue on Twitter @MorgueOfficial
The Freakshow is back, bigger and better than before.
We held auditions to see what new talent we could dig up. We had an enormous response with a wide variety of talent. Personally, I value how an act is presented rather than the act itself or the difficulty of it. Ultimately, what you do should express who you are and what you are trying to say. There were some decently talented individuals and some… not so decent… that is to say, they sucked. Dangerous D I found to be an interesting performer. I don't usually care for the "jackass" "hurt yourself" type of entertainment but he had an excellent character and stage presence. Though I wasn't able to sense any discernible deep meaning behind hitting yourself in the head with planks of wood, he certainly expressed himself well. I enjoyed his performance.

There were a few sexually themed acts and this type of entertainment I do not care for. I don't have a problem with sex appeal when done in an expressive and artistic way, but when it has no other purpose than to "arouse" the male audience's attention, then it loses my interest. Save it for the strip club.
Gabriel, the smallest man in America, was an interesting person. I was surprised to find out he was in Lords of Salem, a Rob Zombie music video and a variety of other interesting projects.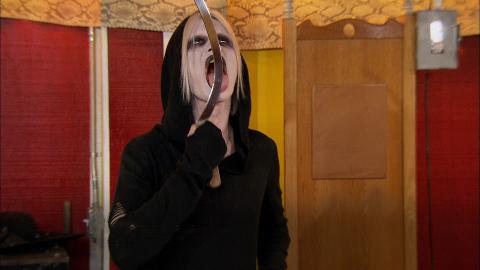 However, my mind was elsewhere. I wanted to debut a deadly new act for the grand reopening, by swallowing a curved scythe. Being able to perform an act like this takes years of practice to  perform successfully. With the grand reopening coming up so quickly I had to get it down within a much smaller time frame than usual. I have been swallowing swords for years now and am getting a bit bored. Swallowing a scythe certainly turned up the danger. In order to swallow the scythe, I have to curve my body in just the right way or else it will damage internal organs. The blade presses against and moves the heart as I swallow it. There's no way to avoid it and I do experience chest pains after performing this act. As I am very into metaphor and meaning behind my acts, I like the scythe as it is associated with the grim reaper and underscores my relationship with death — which is always a central theme to my stunt performances. Just wait until I get to creating.
Fortunately, I was able to pull the scythe-swallowing stunt off without any major injury. I have a dangerously beautiful new piece in my repertoire and the Freakshow may be getting a new member or two… Just another day at the office.
Read more about Episode 201 of Freakshow
[The viewpoints expressed in this post are not endorsed, sponsored, or associated with AMC, its employees, or its affiliates, but rather are the personal viewpoints of the authors themselves and are intended for entertainment purposes only.]
Read More