Unscripted
Freakshow Cast Blog – Asia on Visiting Gibsonton in Episode 205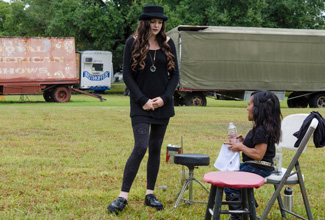 Throughout Season 2 of Freakshow, members of the cast will be sharing their insights on the episodes. Here, Freakshow fire eater Asia Ray offers a behind-the-scenes look at Episode 205,"Florida Freakshow." Follow Asia on Twitter @asiarayfreak

Gibsonton was quite the experience. We visited the Giant's camp, which was where all the performers lived when they weren't traveling with the sideshow. It was very small but nice because it kept that piece of history alive. We were also guests at a wonderful museum full of sideshow and carnival memorabilia. The museum was lovely and even had an actual ferris wheel inside the building! My dad especially appreciates the history of sideshow, so he was having a ball.
The best part of Gibsonton for me was working with the World of Wonders sideshow. It all started with us helping to unload a truck packed with gear. The members of the show actually live in the truck too! Let the hard work begin. BANG…BANG… the sledgehammers hit the stakes into the ground. I did one myself, and let me tell you, it wasn't easy. We used poles to hold the sideshow tent up and after tying lots of specific knots that I learned, and a lot of pushing, the tent went up! Then came the banner line. Banners are the signs on the outside that lure people in. They illustrate what they will see inside. I helped a performer by the name of Sunshine put up the entire banner line which consisted of about 10 banners. I went to pick up a banner and an army of red fire ants decided to crawl all over my hand and bite me… I got most of them but it still stung a little (nothing compared to real fire however). Finally, everything was ready.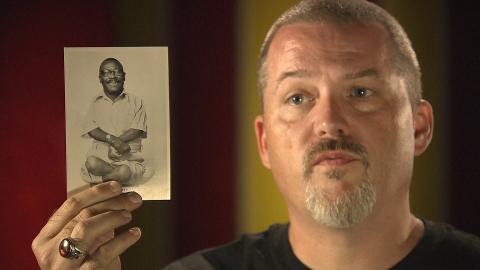 Hundreds of people waited to see the live show with the cast of both the Venice Beach Freakshow and the World of Wonders. I really enjoyed being a part of putting the tent up and was certainly ready for my act. During the show, I was lucky enough to meet Ward Hall, one of the most famous sideshow members alive. He has been running the show for years. Ward talked about his performers and my dad talked about ours and, together, we put on a show like no other in history. I really loved working with the World of Wonders and meeting so many awesome performers. It was an experience like no other. My dad better watch out…I might just go run away with the traveling sideshow!
See more from Episode 205 of Freakshow.
[The viewpoints expressed in this post are not endorsed, sponsored, or associated with AMC, its employees, or its affiliates, but rather are the personal viewpoints of the authors themselves and are intended for entertainment purposes only.]
Read More