Press
TheWrap Features Freakshow Cast; Shockya Introduces Bearded Lady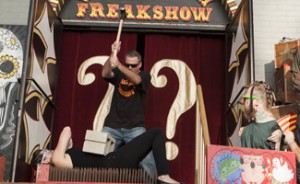 This week, Freakshow's cast portraits appear on TheWrap, while the Bearded Lady is featured on Shockya. Plus, TV Fanatic introduces yet another newcomer to the cast. Read on for more:
• TheWrap showcases the Season 2 portraits of Freakshow's cast, recommending that viewers "reacquaint yourself with the reality show's returning castmembers and meet the new ones."
• Shockya features one of Freakshow's new cast members: Jessa The Bearded Lady, a woman who claims to have the world's longest beard.
• TV Fanatic, spotlighting the man who holds the world record for the stretchiest skin on earth, says, "It's not a stretch to say that viewers are excited for the second season of Freakshow."
• Monsters & Critics, noting that Freakshow is based on Todd Ray's Venice Beach Freakshow, says that the "fertile grounds of Venice Beach are the new playgrounds for this fascination with human oddities."
To stay up-to-date with all the latest Freakshow news, sign up for the The AMC Weekly.
Read More