Uncategorized
Freakshow Q&A – Marcus "The Creature"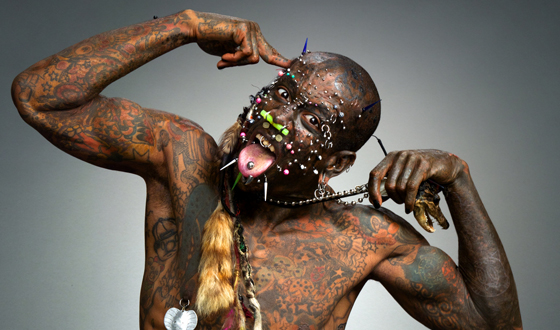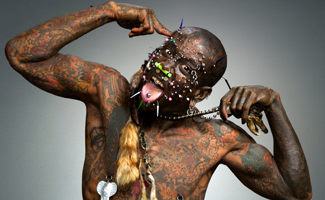 Freakshow's Marcus "The Creature" is one of the world's most tattooed and pierced individuals. In an interview with AMC, he talks about his favorite body modification and how he came to be known as "The Creature."
Q: What inspired you to become a body modification artist?
A: My inspiration came from The Great Omi [professional sideshow performer Horace Ridler], seeing his story. It was different and peculiar. I wanted that to be a part of my life. And I wanted to do it myself. Art has always been a part of my life since I was very young. So what better way to express myself? I've got the art, I've got the body. I had to be headstrong about it. Because I knew once I got into it, I'd be tattooing my face and all the extremities of my body.
Q: Did you start off with tattooing or piercing?
A: Piercing. I grew up watching old-school warrior movies. My favorite warrior was Shaka Zulu. I saw that was a part of African culture. They had bones through their noses and piercings, things through their earlobes, like Apocalypto. It's good when movies like that come out, so people can see what was normal back in the day. It opens their eyes to different cultures.
Q: How did the name "The Creature" come about?
A: I'm making a big transformation. Here I am, creating myself. That's a big part of "The Creature." But the Creature is also a feeling — it's what I draw and express through art. My body becomes an expression of time, it's like a piece of work that's not done, it's always evolving. So the more that I draw to represent my feelings, to work through stuff, through time, the more that I transform into that character. I'm constantly creating something new in myself.
VIDEO: Who is Marcus "The Creature"
Q: How often do you add a new modification to your body and how do you decide what to do next?
A: It starts with a feeling — it all comes from a feeling. I'm doing stuff all the time. Right now, I'm getting stuff done weekly, each day. I've collected about 40 piercings… By the weekend it could be 50. That's just the way it is. I can't stop it. It just keeps getting wilder. It's always just calling. I look in the mirror — or rather, I can't really look at myself that much, because if I do, I can't let it stay that way.
Q: Do you have a particular modification that you're most proud of?
A: Scalpeling my nose. The average person just won't do it. They won't take that skin off. For me, that's big. I don't know anyone else that has that.
Q: How did you become involved with the Venice Beach Freakshow?
A: I went up to Todd and asked him how he felt about having someone full of tattoos, someone like The Great Omi. And when I said that, it was like "Boom!" Because I spoke real history. And that right there was the end of the conversation and the start of a new beginning.
Q: Have you ever considered doing any stunts at the Freakshow? If so, what would they be?
A: Dancing has always been a part of the circus culture. I want to produce a hip hop stunt show there. I want to break, I want pop, I want to have my daughter dancing along with me. It's freedom, it's art. Dance is expression. That speaks big to me. I feel like incorporating dance with all the this body-mod stuff, making it shake, it's never been seen or done before. And kids love it. It opens their minds to different forms of expression.
Q: What's the best thing about being a part of the Venice Beach Freakshow?
A: The influence on kids. It's sharing my art with them. The fact that I could make a kid lose his fear of me — they're always like, "Can I take a picture with you?" or look at one of my tattoos and say, "Wow, that picture is so cool." It makes them think, "Oh, maybe I could draw something like he drew." It's seeing those kids' smiles. I can't get that walking the street. I can't get that sitting in a restaurant. But being a part of that world where oddities are normal, it cuts though all the stupidity on the other side, the outside, of those doors. That's a great thing for me. It brings me such joy.
Click here to read an interview with L.A.'s Littlest Lady, Freakshow's Amazing Ali
Read More