Uncategorized
Immortal Love Pop-up Experience Launches This Weekend for Freakshow and Immortalized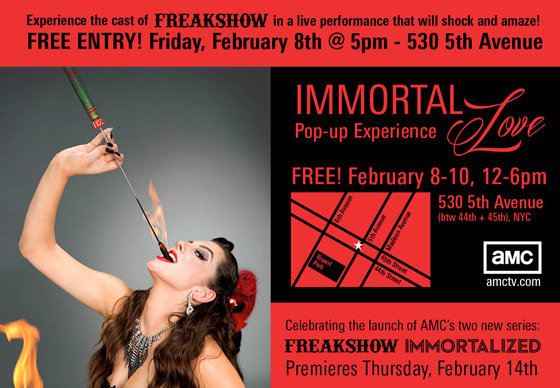 Going to be in NYC this weekend? Then come help AMC celebrate the launch of two new series, Immortalized and Freakshow, by visiting the Immortal Love Pop-up Experience.
Location: 530 Fifth Ave. between 44th and 45th Sts. (see map)
Hours: Feb. 8-10, Fri-Sun, Noon to 6PM
Admission: FREE!
Details:
• Two art galleries featuring amazing taxidermy (both traditional and "rogue"), including works created by the Immortalizers from AMC's Immortalized.
• A Freakshow lounge with some of the Venice Beach Freakshow owner's sideshow collectibles, some funhouse mirrors and an episode from the series on monitors under an octopus chandelier.
Special Events:
• Thu., Feb. 7 at 7PM: Opening night celebration with the casts of both series and a haute couture fashion show by fashion designer Cesar Galindo with hats by Immortalizer Beth Beverly. Click here for ticket information from Time Out New York. AMC will live-tweet video and photos from @FreakshowAMC and @ImmortalizedAMC.
• NOTE: Due to the inclement weather, the performance by the cast of AMC's Freakshow originally scheduled for Fri., Feb. 8 at 5PM has been cancelled.
Don't miss the premiere of AMC Real Original Thursdays:
Comic Book Men returns Thu., Feb. 14 at 9/8c.
Freakshow premieres Thu., Feb. 14 at 9:30/8:30c.
Immortalized premieres Thu., Feb. 14 at 10/9c.
Read More