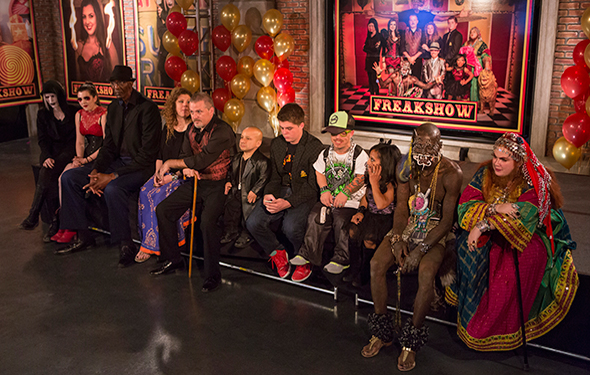 Vegas Gets Freaky, Episode 16
Vegas Gets Freaky
Todd attempts to make a deal in Vegas.
Show Full Recap
Full Recap
Todd gathers the Freakshow gang for a big announcement – he plans to open a second Freakshow in Las Vegas! In order to wow the heads of the Circus Circus Hotel and Casino, Todd decides to bring the Freakshow members with him to Sin City. As he, Asia and Morgue discuss the expansion, Todd reveals plans to separate Asia and Morgue and have one perform in Vegas while the other stays in Venice Beach.
The time has come to meet with the Circus Circus execs. Todd explains how he believes that the Freakshow would be a perfect fit within Circus Circus and could become the number one attraction at the hotel. He then introduces the Freakshow performers one by one to the assembled board members. Mr. Thrasher, the president of hotel, is skeptical that a Freakshow would work in Vegas given the amount of competition for audience dollars and turns down Todd's proposal. On the brink of tears, Todd is shocked and devastated by their decision.
At the hotel restaurant, Todd and the Freakshow gang receive a lot of attention and pose for photos with fans. Todd thinks that the Circus Circus execs should see the Freakshow onstage with an audience in order to get the full effect of what a beneficial addition they would be. Todd sets up one final meeting with the executives in the hopes that his plan will change their mind. The Freakshow members then hit the Vegas strip to stir up buzz for the show. Meanwhile, Morgue and Asia discuss their reservations about working in separate locations. They agree that they share a connection and aren't ready to be separated.
The next day, the Circus Circus execs arrive for their meeting with Todd. A parade of freaks enter the hotel and lead a huge audience to a main stage. Asia performs her firebreathing act while Morgue surpasses his usual Venice Beach routine by performing a stunt using two meat hooks. The impromptu show wows the crowd as well as the gathered execs. Convinced that the Freakshow can bring in a crowd, Mr. Thrasher decides to make a deal with Todd to bring the show to Vegas.
[brightcove video=3640243819001 width=456 height=388/]