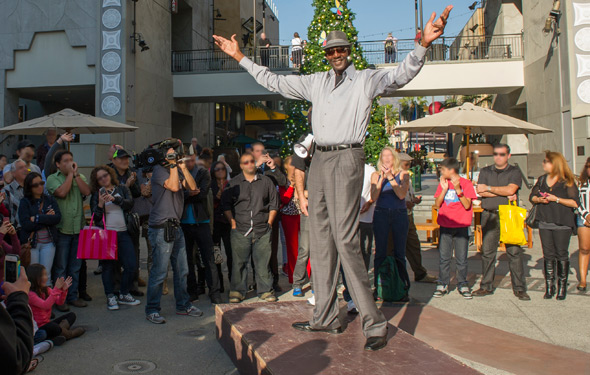 Freakshow Pop-Up, Episode 13
Freakshow Pop-Up
Todd tries a pop-up mall show.
Show Full Recap
Full Recap
This week, the Freakshow gets a visit from Short E. Dangerously, an incredible "half man" who performs stunts including fire breathing and knife throwing. Todd suggests that he attempt "The One-Armed Handstand," a stunt once performed by famed "half-man" Johnny Eck. In preparation for the week's big show, Short E. begins working on his upper body so that he can pull off the notorious stunt.
Later, Todd brings some Freakshow members to a nursing home to visit his sick pal, George French. Known as the "Wizard of Venice," George has been reading palms on the Venice Boardwalk for decades. In order to cheer up George and the other nursing home residents, Todd, Jessa, Short E. and Asia offer the nursing home residents a taste of the Freakshow. When Todd returns to the Freakshow, he tells Danielle about his palm reading experience and how they should turn the Freakshow into a traveling road show. She's concerned that expanding would be too risky. In response to her skepticism, Todd proposes putting on an impromptu Freakshow in a square in Hollywood. Meanwhile, Morgue and Asia visit the hardware store to get inspiration for new stunts. Morgue settles on a circular saw, while Asia reveals Todd's plans to expand the Freakshow. The thought of he and Asia not performing together proves to be unsettling for Morgue.
The next day, The Freakshow family and Short E. head down to Hollywood Boulevard. Todd notes the positive response the group is getting from pedestrians. Right then and there they decide to put on a "pop up" sideshow. Todd starts by introducing Asia and her firebreathing stunt. Next, Morgue lifts his new circular saw using a meat hook strung through his nose and mouth. Short E. Dangerously then wows the crowd by performing Johnny Eck's famous one armed handstand stunt. Todd notes that Short E.'s historic act has given him the confidence to expand so that more people are able to witness the human wonders of The Freakshow.
[brightcove video= 3627891491001 width=456 height=388/]