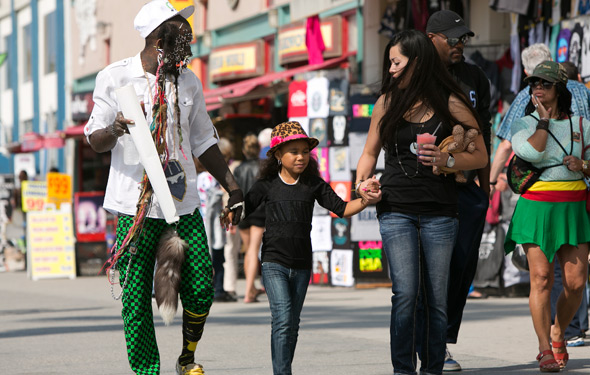 Creature's Daughter, Episode 9
Creature's Daughter
Creature reconnects with his daughter.
Show Full Recap
Full Recap
Asia's 21st birthday is coming up and the Freakshow family is planning a big blow-out. In preparation for Asia's party, Danielle finds a venue that will provide some old Hollywood glamour. Ali, Jessa, and Danielle pick up a birthday cake and, after tasting a few different options, Jessa suggests adding in a touch of rum to get the party started.
Meanwhile, Creature reaches out to his ex-wife Alyssa about seeing their daughter Mia, but she's concerned that his appearance will scare her. She reluctantly agrees to meet, provided that he tone down his look and be "Creature light".
Later, Asia reveals to Todd and Danielle that she is moving out. They're happy for her but are also sad that she's leaving and becoming an adult. As Asia and Phoenix pack her stuff for the big move, Todd and Danielle show off some old photos and the family marvels at how fast time flies.
At the Freakshow, Creature debuts his scaled back look to Todd and Danielle. He gets choked up and tells them that he's nervous to see his daughter. The last time Mia saw him she was scared by his appearance. Alyssa and Mia arrive at the Freakshow and greet Todd and Danielle. When Creature enters Mia is still nervous around him. Todd explains to Mia that all of the work that Creature has done on his body is like fine art. Creature tells her that he loves her and that, no matter what you look like, the Freakshow embraces people for who they are. After a great day on the Venice Beach boardwalk, Creature thanks Alyssa for letting him spend time with his daughter.
The night has come! Todd, Danielle, Phoenix, and Asia hit the town for Asia's 21st birthday. They arrive at the restaurant where Asia thinks they will have a family dinner, only to be surprised by a huge celebration! The party has an old-timey sideshow feel complete with clowns, firebreathers, and other human wonders. Creature and Beetle, Creature's friend from his breakdancing days, show off their B-boy skills in a breakdance show just for Asia. (Naturally, Wee Matt joins in.) The party is a huge success and Todd and the gang toast to Asia's future. Todd reflects on his daughter's coming of age and notes how glad he is that Creature will get to celebrate similar milestones with Mia.
[brightcove video=3603837822001 width=456 height=388/]