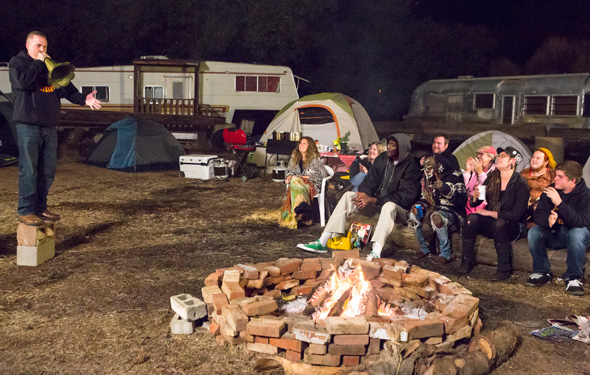 Hobo Wedding, Episode 8
Hobo Wedding
The Freakshow gang attends a hobo wedding.
Show Full Recap
Full Recap
Wedding bells are ringing when Digger, the Sadu Hobo, invites the Freakshow group to his campsite nuptials under the stars. The entire gang, including Todd, Morgue, Asia and even Creature pack up and head to the rustic site in the California hills. After setting up camp and pitching tents, the crew learns the ways of a wandering lifestyle from Ken "The King" Kurt "Dirti" Powell and other hobos who had formally worked at The Venice Beach Freakshow. Digger lets their visitors know that in order to stay on the property, "chores need to get done". He enlists the their help around the farm including milking goats and gathering eggs from a chicken coup. Morgue and George have a hard time adjusting while Jessa feels comfortable enough to take a nude dip in an abandoned pool. Wee Matt annoys Ali during the trip with his naughty antics and a personality rift in their marriage comes to the surface. Luckily Todd and Danielle are there to offer the newlyweds marital advice.
With the Freakshow reunited with the hobo gang, Todd decides to put on a good old-fashioned sideshow. Digger attaches 8lbs of weight to his ears while Ken "The King" puts his face in a pile of glass as Danielle steps on his head. For the finale, the hobos all lay on top of sharp objects as Todd smashes a block of concrete on top of them.
On the big day, Digger gets dressed up for the wedding while Asia helps his bride-to-be, Paige, with her makeup. Wee Matt apologizes to Ali for his rude antics with a bouquet of flowers and they reconcile. During the ceremony, Todd escorts Paige down the aisle and after the "I-do's" are said, Paige and Digger get matching tattoos to show their devotion to eachother.
[brightcove video=3591147283001 width=456 height=388/]