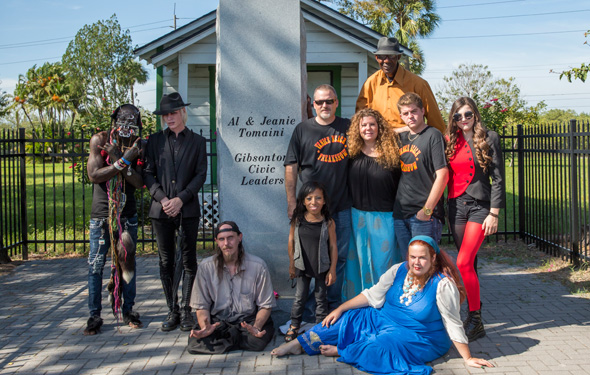 Florida Freakshow, Episode 5
Florida Freakshow
The Freakshow goes to a historic sideshow town.
Show Full Recap
Full Recap
Todd and the Freakshow family head to Gibsonton, Florida, a town that had once been the winter home for carnival and sideshow performers across the country. At the airport, they are greeted by Grady "Lobster Boy" Stiles. As an expert on freakshow lore, Grady offers to give everyone a tour of the legendary sideshow town.
First up is the Showmen's Museum where the group sees vintage ferris wheels and photographs of famous sideshow performers. Next is Al Tomaini's Giant Camp and then the Showtown Bar, where they meet living legend, Ward Hall. Known as "King of the Sideshow", Ward is also the owner of the traveling World of Wonders show. In an attempt to "bring a little magic back to Gibtown" Todd suggests that the Venice Beach Freakshow and the World of Wonders come together for a one night only spectacular sideshow event. The next day, The Freakshow members get to work setting up the banners and tent for the big show.
Meanwhile, Amazing Ali learns how to perform a fire breathing stunt under the watchful eye of famous fire breather Red Stuart. Before the show, Ward regales the group with tales of his days performing the "Fighting Lion" act and dubs Todd "the savior of the sideshow business."
Just before showtime, heavy rains begin to flood the sideshow grounds and threaten to make the big day a wash-out. Luckily, masses of people still turn up for the event. Amazing Ali pulls off her big fire breathing stunt and Red Stuart wows the crowd by swallowing an 8lb car axle. The show goes off without a hitch and Venice Beach Freakshow and Ward Hall's World of Wonders prove that the sideshow is still alive and well.
[brightcove video=3578120523001 width=456 height=388/]