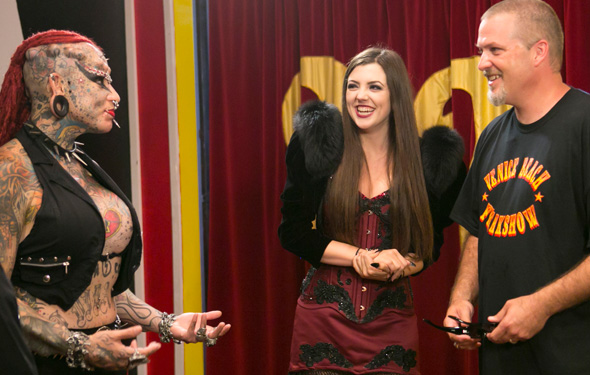 Tattooed Vampiress, Episode 3
Tattooed Vampiress
Todd holds a tattoo event.
Show Full Recap
Full Recap
Creature is looking for a place to live but finds that his appearance is off-putting to potential roommates. He confides in Todd and tells him that sometimes he feels like he is "cursed." Todd offers encouragement, explaining that the adversity Creature is facing will only make him a stronger person.
At the Freakshow, Todd is preparing for a special tattoo event. The first performer to arrive is Brian "Legz" Tagalog, an armless tattoo artist who uses his feet to draw tattoos. Next is Matt Gone, a man who has tattoos covering 99% of his body, including his tongue and eyeballs. Matt made a negative comment about Creature's tattoos and piercings online, and the two butt heads. Their conflict is quickly resolved after Matt apologizes.
Before the show, "Legz" demonstrates his technique on Creature and gives him a new tattoo. Tattoo, a man covered with tattoos and donning long fangs, also attends the event. He, too, had trouble finding a place to live due to his appearance and offers to help Creature find a new home.
At the tattoo event, Todd shows off all of his guests, calling them "living pieces of art." He explains that the event celebrates individuality and the freedom to be yourself. As a grand finale, Todd reveals a very special guest -- Maria Jose, the Vampire Lady from Mexico.