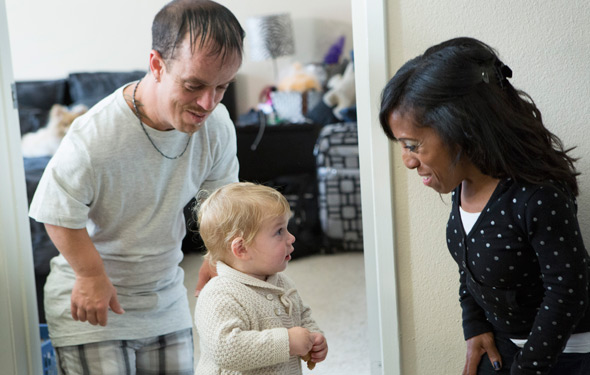 Little Baby Fever, Episode 11
Little Baby Fever
Ali and Matt talk babies. Zamora visits.
Show Full Recap
Full Recap
Wee Matt has baby fever, so he and Ali offer to babysit their friend's young daughter and get some firsthand experience. They quickly come to realize that a baby is quite a handful and is a huge responsibility. Matt and Ali discuss potentially starting a family of their own and decide to visit a doctor to make sure they are both capable of having children. Thankfully, they both get good news that they're a-okay. However, Ali doesn't feel ready to be a mom. Although he is upset by her decision, Matt is willing to give it time and put his marriage before his dreams of fatherhood.
At the Freakshow, Todd enlists Zamora the Torture King to perform a scientifically impossible stunt -- walk barefoot over metal plates heated to over 1500 degrees. He hopes the stunt will change skeptic's minds about overcoming the impossible. Zamora's first stunt is "cleaning himself from the inside". He begins by swallowing a red string and pulling it out through the skin over his stomach. Later, Jim Underdown, expert skeptic and Executive Director at the Center for Inquiry, arrives at the Freakshow to witness Zamora's fire walking stunt. As Zamora prepares, Jim stands close by to verify the temperature of the plates and authenticity of the stunt. If anything goes wrong, Zamora could melt his feet to the bone. Amazingly, Zamora walks across the near liquid metal plates with his feet completely intact. After inspecting Zamora's feet, Jim is convinced that the impossible has truly happened at the Freakshow.
[brightcove video=3615978859001 width=456 height=388/]