Blog
Plan Your Meal to Go With Tonight's Brand New Episode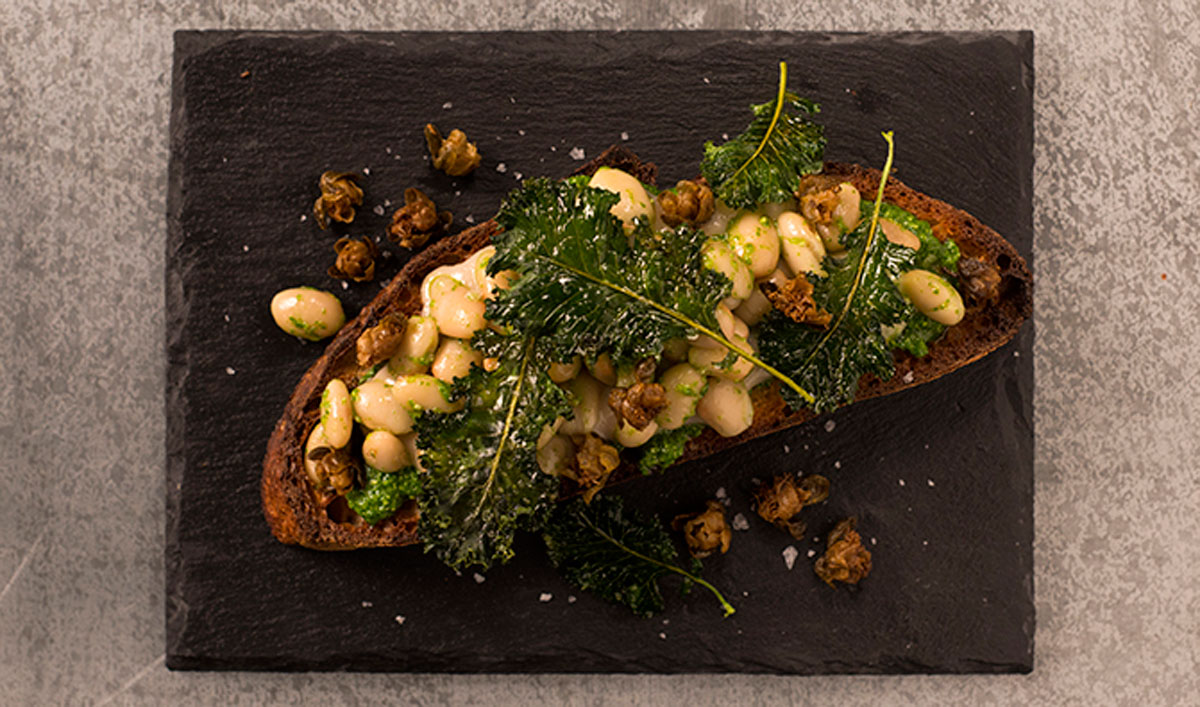 Don't go hungry on Thirio's opening night! Eat as well as the guests with recipes from the show's exclusive e-cookbook. Try your hand at the Kale and White Bean Toast below, then click here to see the full collection of recipes.
Kale and White Bean Toast
FOR THE BEANS:
• ½ pound dry white beans
• 2 tablespoons olive oil
• 3 cloves garlic
• ½ teaspoon Kosher salt
• Sprig of thyme
FOR THE PESTO:
• 1 small bunch Lacinato kale, stemmed and torn
• ½ cup whole unblanched almonds
• 2 garlic cloves
• ½ cup grated Pecorino cheese
• ⅓-½ cup extra-virgin olive oil, and more as needed
TO FINISH:
• 4 thick slices rustic sourdough
• ½ cup large capers
• Baby kale chips
INSTRUCTIONS:
In a large pot, cover beans by 3 inches with cold water, cover and bring to a boil. Boil for 1 minute, remove pot from heat and set aside, covered, for 1 hour.
Combine kale, almonds, and garlic in the bowl of a food processor, and pulse until finely chopped. Add cheese and ⅓ cup oil, drizzling in more as needed. Set aside.
Drain soaked beans and transfer to a large pot. Cover by 2 inches with cold water, add olive oil, garlic, thyme sprig, and salt and bring to a boil; skim off and discard any foam on the surface. Reduce heat, partially cover and simmer, gently stirring occasionally, until beans are tender, 1 to 1 1/2 hours. Let cool in liquid. Discard thyme stems.
Spoon about ⅓ of the beans and the cooked garlic cloves into a blender, with a little bit of bean liquid. Purée until smooth. Add more liquid if necessary to make a thick, spreadable, purée. Set aside.
Drain the remaining beans, and transfer to a bowl. Mix with a spoonful or two of the kale pesto.
Drain and rinse the capers, and thoroughly pat dry. Bring a few inches of neutral oil up to frying temperature, and fry the capers until crisp. Drain on a paper towel.
Grill or toast the bread until brown on the edges but still soft in the center. Slather each slice of toast with pesto, and spread with the bean purée. Top with beans, and garnish with the fried capers and the kale chips. Serves 4.
Feed the Beast air Tuesdays at 10/9c on AMC. To stay up-to-date on all the latest news about Feed the Beast, sign up for the Insiders Club.
Read More