Q&A
Feed the Beast Q&A — Michael Rispoli (Detective Giordano)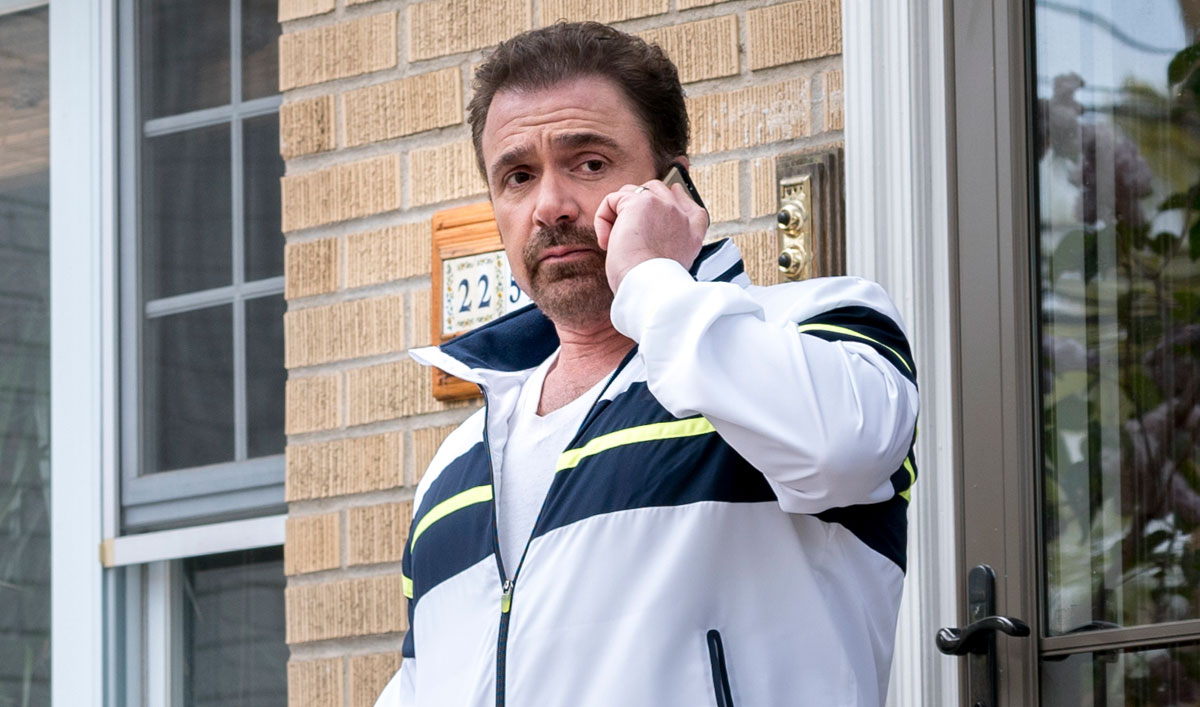 Michael Rispoli, who plays Detective Giordano on AMC's Feed the Beast, talks about his character's fate and reuniting with Erin Cummings on set.
Q: You're a native New Yorker. Did that draw you to Feed the Beast?
A: My mother is from the Bronx and my father was from Brooklyn. I finished college early, moved right into the city and I live in Queens now. I love the city and I loved the whole idea of the Bronx as the last frontier, but it had to do with the writing. I wanted to be a part of the project because of Clyde Phillips. He's obviously got a great pedigree between Dexter and Nurse Jackie. He put together a great team, and when I saw David Schwimmer and Jim Sturgess's names, I thought, "Wow. This looks like a brilliant project."
Q: Erin Cummings told us that she thought working with you prior to Feed the Beast was great for the dynamic between your characters…
A: Erin's a doll and she's a wonderful actress. We did a miniseries and got along great on set. Shooting a series can be a very arduous task and there are a lot of unknowns on any given day, so you really look forward to going to work when you know and trust people there. When I found out she would be playing my daughter, and when I got to meet the whole cast and crew, it was a pleasure going to work every day. Everybody is super talented and [filled] with positive energy.
Q: We see Giordano's demise at the hands of the Tooth Fairy in Episode 9. Did that come as a surprise to you? Had you hoped things would work out differently for him?
A: Well, when you're a part of a project, you want to keep going but, in this case, the writers said, "Listen. Giordano's not going to make it." On one hand, I was disappointed because I really loved working with everybody, but on a professional and even a personal level, I'm just a big believer in giving your last best efforts towards the success of the team. You trust what they're writing and what they're doing, and the show lives on. It's bigger than yourself. I was glad to be a part of the show, but my role this time around was to take one for the team. [Laughs]
Q: Giordano calls off his hit on the Tooth Fairy for Marisa and his new grandchild. What do you think was going through his mind giving up his "white whale"?
A: He wanted to be a grandfather so bad… Maybe he let his guard down a little bit and was trying to get in shape to take care of his daughter and grandson or granddaughter. You can't put your guard down with the Tooth Fairy because he will take full advantage of any vulnerable spot – and that's what he did.
Q: Why do you think Giordano didn't take out the Tooth Fairy before they got to this point?
A: The Tooth Fairy is quite an intelligent "bad guy," and he's a formidable villain. It's tough to outsmart him. I'm sure if you asked the Tooth Fairy, he would say, "Sure, he could have tried to ambush me, but I would have known about it."
Q: How would you describe the dynamic between Giordano and Dion, especially with Dion being the father of Marisa's child?
A: Giordano doesn't like Dion and then all of a sudden, he's the [father] – the guy who Giordano thinks is a low-life. Holy smokes! The writers lead you in with the left and knock you out with the right. That's good stuff for drama.
Q: Giordano doesn't have a direct connection to Thirio like the other characters on the show. Does that mean you missed out on all the food on set?
A: My character is not a gourmand. He'd find a common place to eat and just get the Meatloaf Special. [Laughs] So, unfortunately, I didn't partake in the seared scallops or the lamb on set. But there was one scene where I was eating a cherry crumble pie they got from a great bakery in Queens. It was a first-class, homemade pie and it was delicious. At least I got my pie!
Read an interview with Erin Cummings, who plays Marisa Gallo.
Feed the Beast airs Tuesdays at 10/9c on AMC. To stay up-to-date on all the latest news about Feed the Beast, sign up for the Insiders Club.
Read More