Q&A
Feed the Beast Q&A — John Doman (Aidan Moran)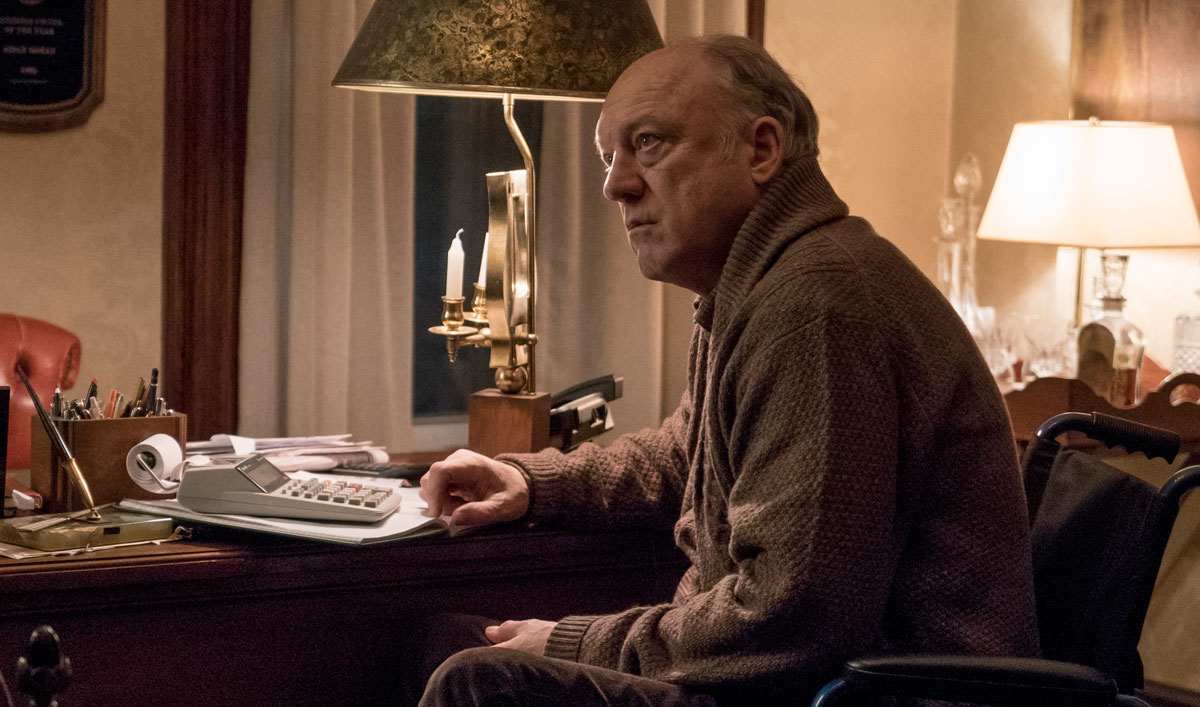 John Doman, who plays Aidan Moran on AMC's Feed the Beast, talks about the Moran father-son dynamic, what's important to Aidan and why his character isn't a bad guy.

Q: You've made a career out of playing law enforcement officers. What drew you to this character who's on the other side of the law?
A: Aside from his relationship with the law, one of the most interesting things about the character was his disability and what he has to struggle against, given the fact that he was a very vibrant young man and now he's stuck in a wheelchair. I don't really see Aidan as being on the other side of the law. He's someone unscrupulous, but I don't see him as a bad man.
Q: What do you think is the human, relatable element of the character?
A: He's a man who really never had a relationship with his biological son. The relationship they had has gone sour for various reasons. Now he's getting older, he's sick, he's possibly facing death and he sees an opportunity to build a relationship with his grandson. I think the humanity of this character comes out through that relationship.
As far as his relationship with Tommy, his son, Aidan is feeling a lot of regret. He's certainly trying. I think he's sincerely trying to help Tommy with his predicament as far as the restaurant is concerned, but with TJ, he sees an opportunity to make good and build a relationship with TJ that he never really had with Tommy.
Q: In Episode 6, Aidan comes to Tommy's rescue when Child Protective Services shows up. What do you think was his main driving force in that moment?
A: He said he did it for the restaurant, but I believe his motivation was to keep TJ from being taken away from Tommy because then he's also taken away from Aidan. I think he's just putting up a front with Tommy with his remark about his investment.
Q: Aidan and Tommy pretty much land on opposite ends of the spectrum when it comes to morality and business ethics. Is there anything they can learn from one another?
A: Absolutely. I think there's something to be learned on both sides. I think Tommy realizes that his father is not such an ogre as he may have thought. Aidan, on the other hand, is coming around to recognize that he was probably wrong in his attitudes when he was a younger man.
Q: What was it like to shoot Thirio's soft opening in Episode 6? Did it feel like you were at a real restaurant?
A: Scenes like that take a long time to shoot. It probably took most of the day to shoot that soft opening. They have to cover a lot of different angles and there were quite a lot of people in the room. Shooting a scene like that is a very tedious process, but I think it came off very well. I did get a chance to eat some of the food. It was very well-prepared and tasty.
Q: Aidan spends a lot of time with his attendant Jensen and his grandson TJ – neither of whom speak. How do you adapt your acting for people who don't say a word?
A: The challenge is not always reacting verbally. The camera picks up everything, so if you have a thought that is expressed in a very subtle way, the camera will pick it up. You have to be alert to opportunities to react without having to speak. You can't really hold a conversation with someone who can't speak, but you have to be alert to the visual reactions of the other person.
Q: What's your take on Aidan's relationship with Jensen?
A: I think from Jensen's side, she really cares for Aidan. You can see on several occasions, she's very upset when he's having a hard time. I think Aidan trusts her. He's a very suspicious man by nature, but I believe he has a lot of faith and trust in Jensen.
Read an interview with Elijah Jacob, who plays TJ Moran.
Feed the Beast airs Tuesdays at 10/9c on AMC. To stay up-to-date on all the latest news about Feed the Beast, sign up for the Insiders Club.
Read More