Q&A
Feed the Beast Q&A — Christine Adams (Rie Moran)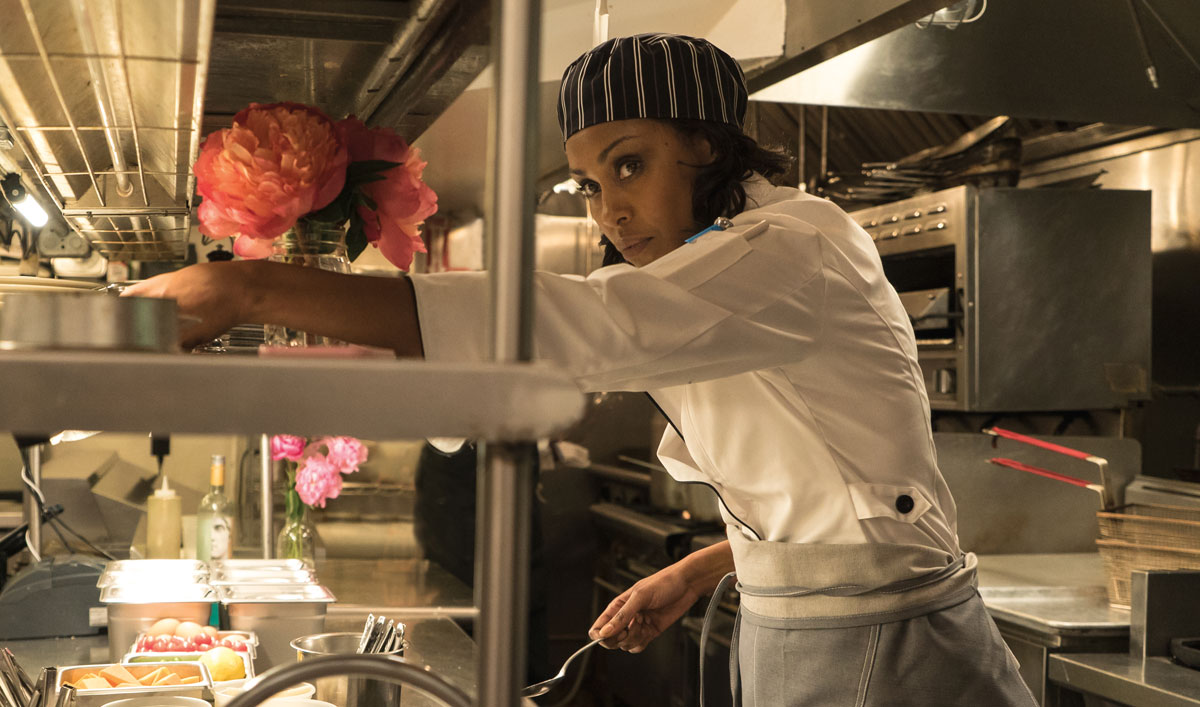 Christine Adams, who plays Rie Moran on AMC's Feed the Beast, talks about playing a deceased character, learning about Rie and Dion's secret and what her own dream restaurant would be like.
Q: What drew you to your role on Feed the Beast?
A: First of all, being a character that's already dead is quite unusual! I liked how the more you see her, the more is revealed about the people you were watching every week. I thought the world of a chef in New York was so interesting and refreshing, and it was such a unique way of telling a story.
Q: How do you make a character three-dimensional when your screen time is limited to flashback scenes?
A: It feels like, initially, she exists only in the mind of Tommy — almost like an angelic figure in the way people remember people who have died. You get the sense that she was a perfect person, wife, mother and restaurateur, but you realize she is much more flawed. What's nice about the way the story unfolds is the audience is given one version of her and then it becomes clear she's made some choices that might not have necessarily been the right choices.
Q: You've gotten to act with Elijah Jacob in the only scenes where he speaks. Did you feel you had a special bond because of that? How did you two go about creating the dynamic between Rie and TJ?
A: Well, it's not hard to love Elijah, is it? He's the most adorable kid. He tells the story through his eyes, and he has so much emotion. Even when he's not speaking on screen, you can't take your eyes off of him. We hung out and went off for the afternoon to rock climb, ice skate and have pizza. It wasn't hard for me to connect with him – especially as a mother in real life. He's such a compelling person.
Q: We see less of Rie and Tommy together. What backstory were you given about their relationship? What backstory did you imagine to fill the gaps?
A: It wasn't explicitly explained, but David Schwimmer and I talked a little bit about how they [might have] met, what their connection was and what drew them to each other. We felt their love of food and wine was something they both had a passion for, and we felt like that was something they really would have connected over. I imagine she came into his life sort of like an explosion and he was just dazzled by her. She took him on this journey and swept him away. I think that's really lovely.
Q: In Episode 8, we get the full story of what went down between Dion and Rie. What did you think when you first read about that in the script?
A: I didn't see that coming! [Laughs] I actually texted Jim Sturgess and said, "Oh my god! Have you read this?" A part of me thought, "Wow!" but the other part of me felt awful about it and somehow guilty because I really took on the emotions of how it would feel to do something like that. This perfect image of this family was completely shattered. There was utter surprise and joy at the revelation yet, at the same time, there was utter shame. So, I definitely had mixed feelings, but I thought it was brilliant in terms of storytelling.
Q: What's your take on Dion's relationship with Rie?
A: Chefs work so closely together and they spend hours and hours a day working in kitchens together. I think Dion and Rie were kindred spirits in the sense that they both had that passion, drive and desire to create perfection, but sometimes that feeling of camaraderie and friendship and love can be confused for something more. I think they had very strong feelings for each other just based on their history as colleagues and friends, and they had that closeness and intimacy because of the nature of the job – they worked hard, they played hard, they drank – so you could see how it might veer into something more than friendship. I think Rie is certainly more grounded and is someone who would appreciate that family and marriage are more important. In many ways, I think she's a moral compass for Dion's character. I think she'd be the person to say, "Dion, you can't behave that way. That's not right." She would have been the voice of reason and I think that's a dynamic they had. He'd mess up and she'd tell him why.
Q: What do you think Rie's absence represents for Tommy, TJ and Dion?
A: I think when anybody dies suddenly like that, it's horrific. There's a huge hole where she was. In the way we tell the story, you always see Rie in this glowing light and that's what she was in their world. She came in and made everything feel possible. She could walk into that deserted warehouse and say, "This is going to be one of the best restaurants in the world," and they would believe it. It feels like with her not being there, that dark shadow just reappears over their heads. The interesting thing about Pilar's character is that she starts to fill that void. She comes in and has this optimism. Without her there, it feels like somebody switched the lights off again.
Q: Thirio is built from Rie's designs. What would a restaurant designed by Christine Adams be like?
A: If I were lucky enough to open my own restaurant, it would be a traditional English fish and chips restaurant with the fish and chips served in newspaper, real cups of tea and the real batter you get in England – there's nothing like it when it's done right. It's one of the things I fantasize about and something we're missing in Los Angeles. I think it would do really well. If the acting doesn't work out, I've got a second career lined up! [Laughs]
Read an interview with Erin Cummings, who plays Marisa Gallo.
Feed the Beast airs Tuesdays at 10/9c on AMC. To stay up-to-date on all the latest news about Feed the Beast, sign up for the Insiders Club.
Read More