Blog
Add a Dramatic Pop of Color to Dinner with Thirio's Roasted Eggplant and Warm Almond Salad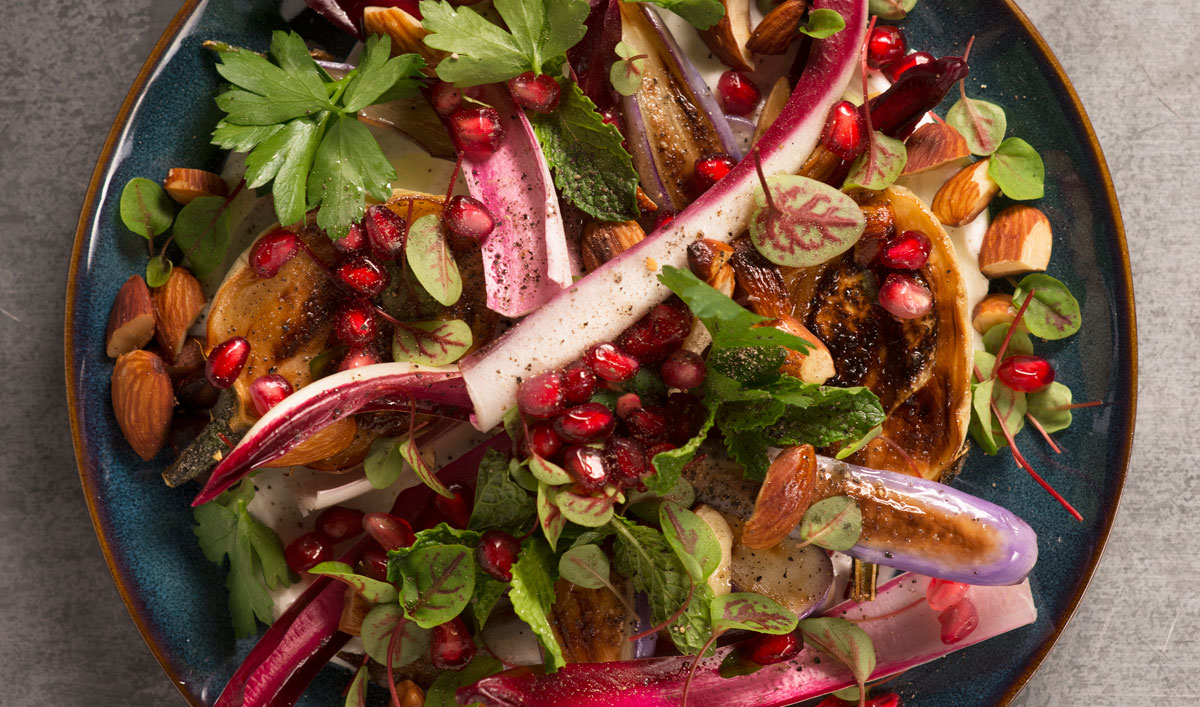 Wish you could dig in to the sumptuous dishes served at Thirio? Well, ask and you shall receive: You can bring the cuisine from the TV screen to your own kitchen with the show's exclusive e-cookbook. Try your hand at the Roasted Eggplant and Warm Almond Salad recipe below, then click here to see the full collection.
Roasted Eggplant and Warm Almond Salad
INGREDIENTS:
• 10-12 pieces fairytale eggplant
• Extra-virgin olive oil
• Coarse salt and freshly ground pepper
• ½ cup whole, unblanched almonds, very roughly chopped
• 2 tablespoons pomegranate molasses
• 1 tablespoon fresh lemon juice
• 1 cup Greek yogurt
• 1 head Treviso Tardivo (or shredded radicchio)
• ¾ cup mint leaves (loosely packed)
• ¾ cup flat-leaf parsley leaves (loosely packed)
• ½ cup pomegranate seeds
• Microgreens, for garnish (optional)
INSTRUCTIONS:
Cut the eggplants in half lengthwise, and season with salt and pepper. Heat 1 tablespoon oil in a medium skillet over medium heat, and cook as many eggplant as will fit without crowding, cut side down, until golden brown, 3-5 minutes. Turn and cook the other side until creamy and soft. Repeat with more oil and remaining eggplant. Set aside.
Add 2 tablespoons oil to a small skillet, and slowly heat until hot. Add almonds and cook, stirring frequently, until golden brown, about 3-5 minutes. Transfer to a paper towel and season with salt.
Whisk together the pomegranate molasses and lemon juice in a small bowl, and season with salt and pepper. Slowly whisk in ¼ cup olive oil.
Spread the yogurt on each of 4 salad plates, and top with the eggplant, Treviso, mint, parsley, pomegranate seeds, almonds, and microgreens, if using. Drizzle the dressing over top and serve immediately. Serves 4.
Feed the Beast air Tuesdays at 10/9c on AMC. To stay up-to-date on all the latest news about Feed the Beast, sign up for the Insiders Club.
Read More