Blog
Learn to Make Thirio's Double-Cut Pork Chop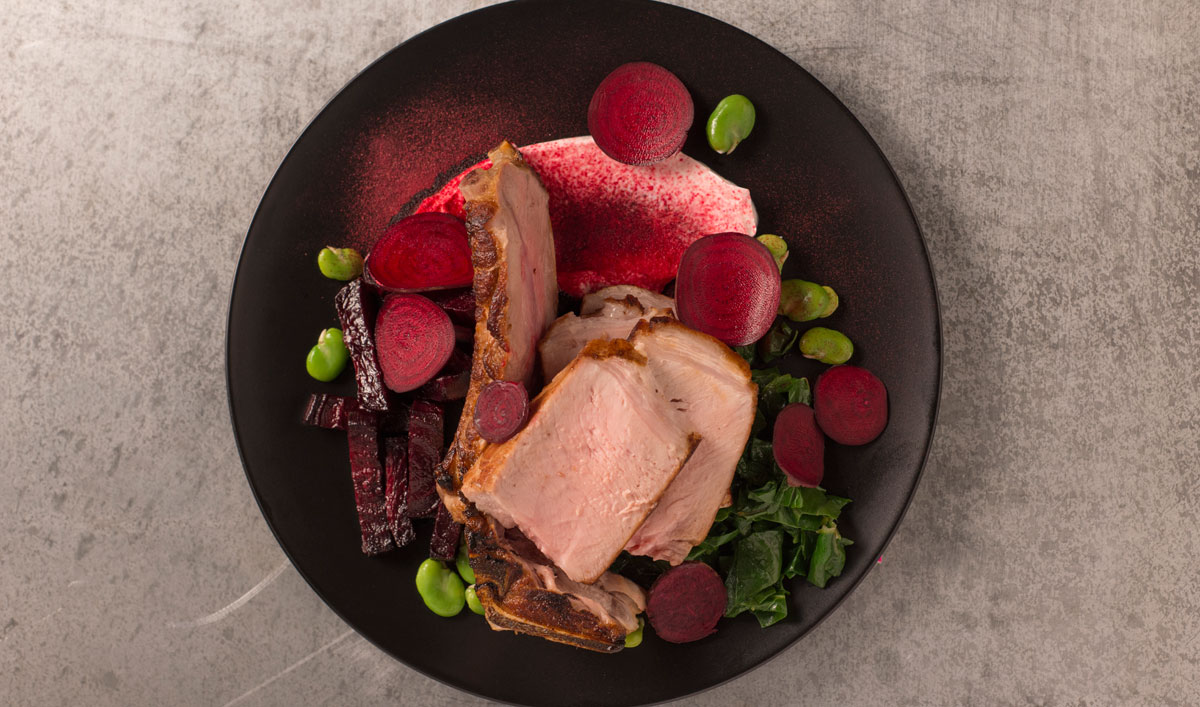 You've seen Dion develop the gourmet menu for Thirio on Feed the Beast. Now, you can try your hand at recreating some of his haute Hellenic creations with the show's recipe e-book. Take a crack at the Double-Cut Pork Chop recipe below, then click here to see the full collection.
Double-Cut Pork Chop with Dandelion Horta and Roasted Beets
FOR THE CHOP:
• 1 cup Kosher salt
• ⅓ cup light brown sugar
• ½ teaspoon peppercorns
• Sprigs of rosemary
• 8 garlic cloves, halved
• 2 2½ -inch thick double cut pork chops
• 1 tablespoon grapeseed oil
FOR THE BEETS:
• 3 large beets, peeled
• 1 tablespoon olive oil
• Kosher salt and freshly ground pepper
FOR THE HORTA:
• 1 large bunch dandelion greens (or Swiss chard)
• 1 tablespoon olive oil
• Kosher salt and freshly ground pepper
FOR PLATING:
• Greek yogurt
• Beet powder (optional)
• Cooked fava beans
INSTRUCTIONS:
Combine 2 cups water with the salt, sugar, peppercorns, rosemary and garlic in a medium saucepan. Heat until sugar and salt dissolve, then pour into a medium bowl and add 3 cups cold water. Cool completely, add the chops and refrigerate. Let brine for at least 2 hours and as many as 12. When ready to cook, remove from brine and pat dry.
Heat oven to 425°. Cut beets into little baton shapes, and toss with the olive oil, salt and pepper. Spread out on a parchment-lined baking sheet, and roast, stirring occasionally until slightly shriveled and browning on the edges, about 40 minutes. Set aside.
Remove any tough stems from the greens, and blanch in salted boiling water very briefly, until bright green. Immediately plunge into ice water to stop the cooking. Drain, roughly chop and set aside. When ready to serve, heat oil in a large skillet and add the greens, and season with salt and pepper. Cook just until heated through. Keep warm in the pan.
Cook the chop: Heat oil in a large cast-iron skillet. Cook chop until beginning to brown, 3-4 minutes. Turn and cook until the second side is beginning to brown, 2-3 minutes. Keep turning every two minutes until the chop is deep golden brown, 10-12 minutes total. Transfer skillet to oven, and cook 10-15 minutes longer, turning occasionally, until it reaches an internal temperature of 130°. Let rest at least 10 minutes on a rack. Slice meat from the bone in one piece, and slice thickly.
To plate, streak a spoonful of yogurt across the plate, and dust with beet powder. Arrange the meat over the yogurt, and add the greens and beets. Sprinkle the cooked fava beans around the plate. Serves 4.
Feed the Beast air Tuesdays at 10/9c on AMC. To stay up-to-date on all the latest news about Feed the Beast, sign up for the Insiders Club.
Read More