Q&A
Feed the Beast Q&A – Lorenza Izzo (Pilar Herrera)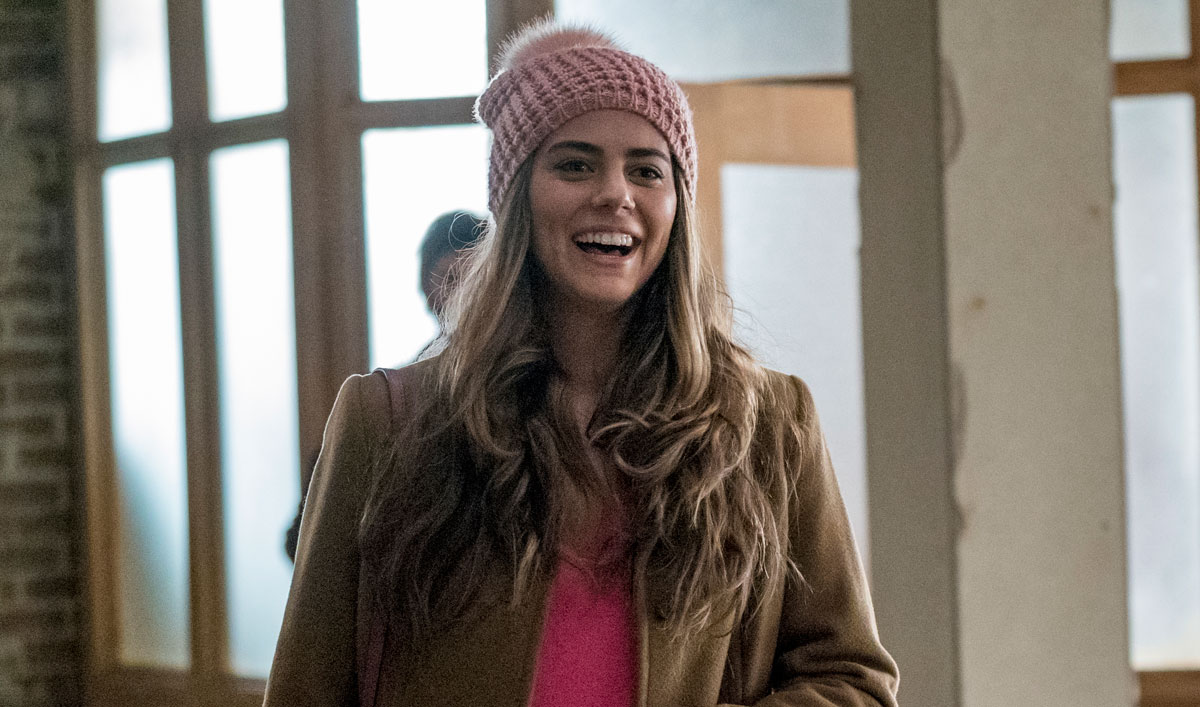 Lorenza Izzo, who plays Pilar Herrera on AMC's Feed the Beast, talks about dealing with grief, sampling food on set and the budding friendship between Pilar and "The Tooth Fairy."
Q: You've appeared in quite a lot of horror productions. Was it nice to work on something different? 
A: I think it happened circumstantially that I ended up doing a lot of horror because that was kind of how I got into the industry. I do love the genre, and I didn't want to separate myself from it, but I was really looking forward to going for other types of storytelling at some point. I was really excited when this came along and that I actually got it. My part was originally written for an older Latin woman, but when I came in, I convinced them it had to be me. I'm just so lucky that all of these elements happened for me to be able to do this.
Q: What is it about Tommy that attracts Pilar, and vice versa?
A: Pilar and Tommy's relationship becomes quite complicated. They have both lost someone, but it's not simple and it's not just one thing that unites them. I can't relate because I've never lost someone like that, and I can't imagine what that can do to you and how it can turn your life upside down. Grief doesn't have any rules, and you deal with it however you can. Tommy is in a vulnerable place and I think Pilar can feel that. She can relate to something so human and painful, and she wants to help. It's a dark place to meet someone, but life isn't so happy all the time. We're constantly tripping, falling and messing up, and we're also laughing about it. It's a dichotomy of the really dreary and dark world of two best friends trying to start a restaurant and the little pink pom-pom of life that Pilar is. It's a very accurate description, as weird as it may be, of many encounters we go through in life.
Q: In Episode 4, Pilar meets Patrick Woijchik ("The Tooth Fairy") in a very vulnerable state. How does that encounter make her relationship with him unique?
A: She doesn't know who he is. Pilar looks at everyone the same way, and I think that's one of her magical qualities. She's kind of like a child in that sense – and I don't mean she's childish – I think it's a beautiful quality. It could be a beggar, an owner of a restaurant, a rich person… It doesn't matter where you come from because Pilar will speak to you the same way. She sees someone who is suffering and going through the same thing at the hospital, but is offering a hand to help. All she sees is a wonderful gentleman and a sensitive person who is capable of listening to her. When I read the script, what I saw was a powerful connection in a sad state. The show really touches on those random encounters. There's something about chances in life and what that can lead to. So, I hope Pilar and "The Tooth Fairy" hang out more. [Laughs]
Q: Pilar gets a look at Tommy's warehouse before it's transformed into Thirio. What was it like to see the restaurant come to life on the set?
A: It was insane. The changes were massive and everything – the stove, the pizza oven, the fridge – was fully functional. It really came together before our eyes. When we had to shoot the opening of the restaurant, there were real people there and we were all dressed up. It just felt so real. We joked with our crew who came by, and we would say, "You don't have reservations here," or, "You're not dressed well enough." We came up with stupid rules that the restaurant would have.
Q: Did you get to sample any of the food on the set of Thirio or La Cubana Loca?
A: I'm a huge foodie and I love eating. On this show, it was really like being at an actual restaurant. We would be doing a scene, for example, that took place in the office of the restaurant and at the same time, all of the people who work on the food for the show were all working in a real kitchen with top chefs. Between takes, these guys would come out of the kitchen and say, "Hey, we just made this amazing filet mignon. Do you want to try it?" [Laughs] Why not?! That became an actual thing, and all throughout this show I was constantly eating insanely amazing dishes that were delicacies. It was on another level. I had to close my mouth or else Pilar's clothes would just not fit anymore! That was torture.
Q: Pilar seems to be learning on the fly how to manage a restaurant. Have you picked up any skills along with her?
A: She might not know how when she starts out, but she's clearly good at figuring stuff out. I pride myself on that, too. If I don't know something, I'll figure it out, and I'm a Google expert. She has really dug a hole for herself, though. I think she has no idea how to manage a restaurant and realizes how deep she's in during Episode 4. She's pretending to know how to do this, and she's even a really crappy waitress, actually. In Episode 2, you see her making a plate as she's talking on the phone. Who does that?! She wants to be close to Tommy, and she's not thinking things through. How many of us have been there, though? We dig graves for ourselves and think, "Oh God. How do I get out of here?" I think Episode 4 is that pivotal moment of "What the f–k did I do?"
Q: Did you go home and try out Tommy's technique from the scene when he teaches Pilar the basics of wine tasting?
A: I'm Chilean and I grew up with wine as a part of my culture. The whole idea of pretending like I had no idea about wine and that Pilar goes out and buys cheap wine was so annoying. [Laughs] I had to pull my best acting there. Throughout the whole show, I learned so much about wine. David Schwimmer's friend is an amazing sommelier and was available on set. I was bombarding him with questions. We actually got to shoot with one of my favorite bottles of wine, which is a Châteauneuf-du-Pape. I definitely had a blast… except for drinking fake wine!
Read an interview with Michael Gladis, who plays Patrick Woijchik a.k.a. "The Tooth Fairy."
Feed the Beast air Tuesdays at 10/9c on AMC. To stay up-to-date on all the latest news about Feed the Beast, sign up for the Insiders Club.
Read More