Q&A
Feed the Beast Q&A – Elijah Jacob (TJ Moran)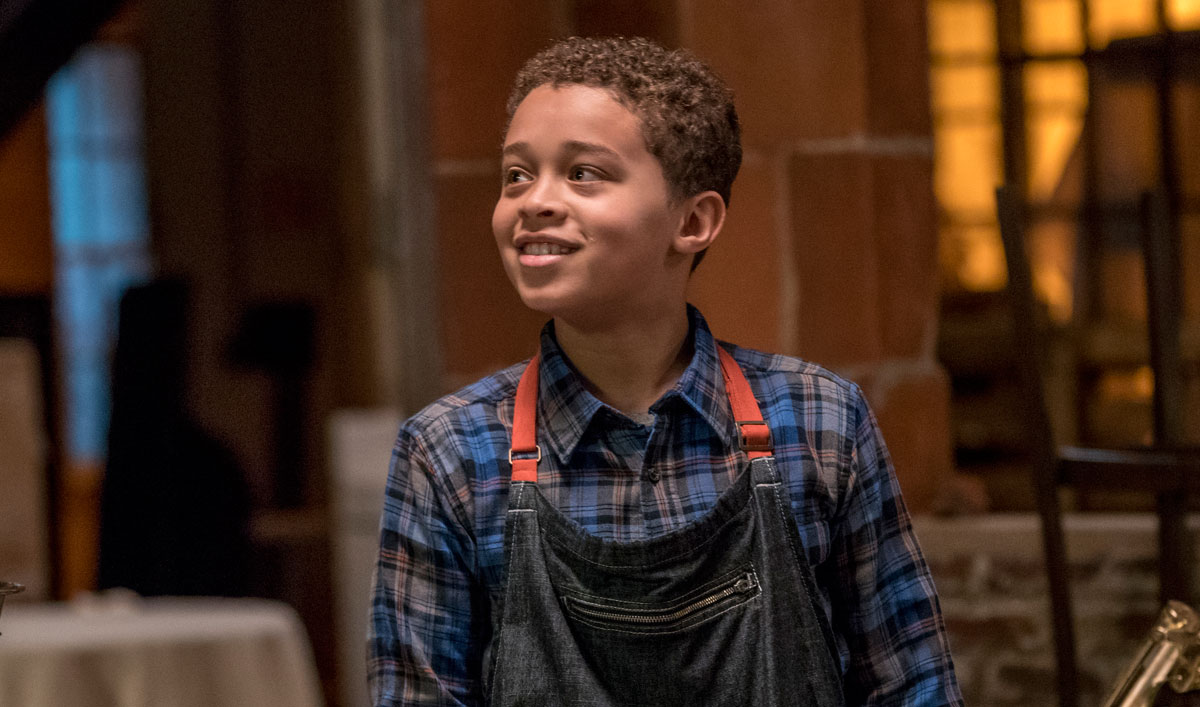 Elijah Jacob, who plays TJ Moran on AMC's Feed the Beast, talks about acting without words, bonding with Jim Sturgess and which dish he sampled on set that surprised him the most. 
Q: You started modeling at an early age. What got you into acting?
A: I've always liked acting and when I would watch characters and people on the screen, I would always try to react to them and perform.
Q: Are you at all like your character, TJ, on Feed the Beast?
A: I'm a little bit like him. I like to cook, draw and I like big paintings with a lot of little details in it. A lot of things have happened to TJ. I think maybe before those things happened, I was a little bit more like him.
Q: Did you find it difficult to keep from talking during your scenes? Is it easier or harder when you don't have to talk?
A: It wasn't that difficult, but I am a talkative person. When you can talk while acting, you can express yourself more by saying what you mean. When you don't have any lines, you have to express yourself with your face and in other ways. TJ has his sketchbook, so that's helpful.
Q: What was it like when you could talk during the flashback scenes?
A: I was really excited! I was hopping around all over the place. [Laughs] I had been waiting for the flashback scenes and when they did come, it was really awesome.
Q: TJ has struggled with being bullied, but in Episode 5, we see him fight back. What do you think was the breaking point?
A: I feel like Andre is always bullying him, and it's just annoying. When he pushes his best friend that he just found [Lee] to the ground, that was when TJ goes off. He's been with his grandfather learning how to defend himself and his grandfather has been telling him all of this stuff. He's letting it out.
Q: Dion likes to give TJ samples of his cooking, which means you get to eat a lot of the food on the show. Was there any food you particularly enjoyed or one that surprised you?
A: The lamb! I don't like lamb, and when I heard we would be eating lamb for a scene, I was like, "Oh! OK, let's do this." When I ate it, I was really surprised because it was actually really good. The face you see on the screen is really my reaction.
Q: Dion definitely serves as the "cool uncle" to TJ. Did you get to hang out with Jim Sturgess off set?
A: I would always go to Jim Sturgess's dressing room and hang out with him. I actually went to go see The Lion King with him. That was my first Broadway play and it was a great experience.
Q: Do you watch yourself on TV?
A: My mom actually loves the show, and she watches it all the time. We watch it together.
Q: What was your favorite thing about working on this season of Feed the Beast?
A: Pretty much everything. It was my first big TV series experience, there were great actors on it and everybody was so helpful. It was just amazing.
Read an interview with Lorenza Izzo, who plays Pilar Herrera.
Feed the Beast air Tuesdays at 10/9c on AMC. To stay up-to-date on all the latest news about Feed the Beast, sign up for the Insiders Club.
Read More