Q&A
Feed the Beast Q&A — David Schwimmer (Tommy Moran)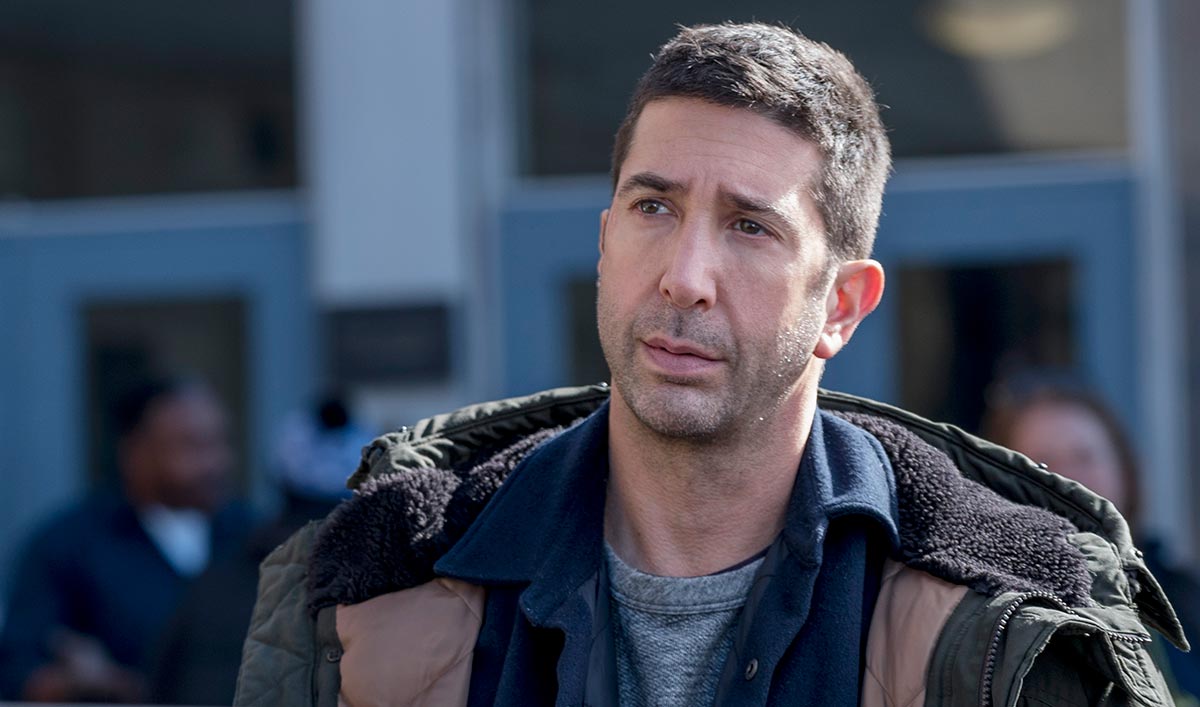 David Schwimmer, who plays Tommy Moran on AMC's Feed the Beast, talks about perfecting his wine-pouring technique and what he was really drinking on set.
Q: What drew you to the role of Tommy in Feed the Beast?
A: I really liked his story. When I met with Clyde [Phillips], I heard about [Tommy's] whole backstory and how he came from a world of abandonment. His mother abandoned him when he was a baby, and his father was just not present and was also emotionally and physically abusive. He finally got out of that situation and found a woman that he fell in love with, married her and lost her 10 years later. Now he's raising this mixed-race son on his own while both of them try to survive the grief that they're still stuck in and experiencing. Frankly, my heart went out to him. He's this guy whose world just collapsed around him. He's just trying to put the pieces back together and, in conjunction with that, he's a sommelier. I've never played anything like that. I've always been fascinated by the world of somms and how one becomes a somm. I just thought there was a lot to chew on in the role and a lot of challenges as an actor to face while playing him. I was excited by those challenges.
Q: After watching the Danish series Bankerot, that Feed the Beast is based on, how did you adapt your character for American television?
A: One thing that Clyde was determined to do with Tommy, which is very different from the Danish series, was to make him more active and not as passive. In the original format, the show is only a half-hour-long and the character of Tommy is quite a depressive. I mean, he didn't do much. I agreed with Clyde's decision, because we didn't feel like for a one-hour show we could sustain someone for so long while being that passive. Yes, when we first encounter Tommy, he's – as I like to say – among the dead. [Laughs] It's really a journey of him being brought back to life and choosing life again.
Q: Despite all the insanity around him with Dion (Jim Sturgess) and the restaurant, Tommy seems to want to do the right thing. How would you describe his moral compass?
A: I think he's got a strong sense of right and wrong. I think it was shaped by how much he despised his father and how wrong he felt his father behaved, both personally and in business, with how he treated other workers and the people he employed. I felt that Tommy's response to that was almost out of rebellion to who his father was. He became a person with a very strong sense of right and wrong. One of the interesting journeys that Tommy is experiencing on the show is that Dion is kind of pushing the boundaries of what's comfortable for Tommy. Dion is making those areas a little grayer for Tommy. Of all the characters on the show, I think Tommy has the strongest sense of morality and ethics.
Q: Tommy and Dion are like brothers. How did you and Jim Sturgess build that believable relationship we see on the screen?
A: Oh, man, I don't know. We just got lucky! So much of this kind of stuff just comes down to dumb luck. That's what casting is. It's part inspiration and part dumb luck. If two people happen to have chemistry, that's just really great news for everyone. Before the show even started filming, I took Jim out to dinner and I wanted to make him feel at home. There's no ego about him and he's a lovely guy. I think we both feel we have each other's backs.
Q: Tommy is still in mourning from the loss of his wife and we see him talk to her grave. How did you get into the right frame of mind to shoot those scenes?
A: For better or worse, I've experienced great loss in my life and pain. So it's not something I necessarily have to work very hard to "feel." I get it, and I can imagine. And that's what I do. I just imagine what he's going through and I try to be the guy in that situation and trust that I will be able to feel as deeply as I imagine he does.
Q: Tommy's son, TJ, doesn't speak. How do you adjust your own approach when you're interacting with Elijah Jacob during a scene?
A: It's not challenging with Elijah because he's such a lovely and well-adjusted young man. I think he was very open and very friendly, and I'd like to think I was, too. Very early on, we just tried to get to know each other and talk about our process a little. He's a natural. I don't know how he does it. I certainly wasn't that self-possessed at his age, but he's able to access the emotion that's required and he's a total pro. I'm amazed by him.
Q: As a father yourself, were you intrigued by the relationship between Tommy and TJ?
A: Absolutely. That was one of the other things that I was excited about in terms of playing this guy. Now that I'm a dad, I get to access some of the things that I've been experiencing and it's a different kind of love, a different kind of responsibility, commitment and patience. Your child pushes your buttons in a much different way than anyone else in your life. I was excited to tap into that.
Q: Josh Nadel, the wine consultant on the show and a top sommelier in New York City, happens to be a friend of yours. Did he pass along any tips?
A: The first call I made when I got cast was to him and I said, "Dude, you have to help me!" [Laughs] I waited tables for seven years, so I thought I knew how to open a bottle of wine, how to pour and how to present it to the customer. When you watch a top somm actually do that same thing, you realize it's an art form, and it's a thing of beauty. He makes it seem so effortless. What I did was videotape him opening a bottle of wine while he described it to me, poured it, tasted it, etc. I studied the tapes over and over and practiced until I felt I had a handle on it.
Q: What was really in those wine glasses on set?
A: It's grape juice! [Laughs] Sometimes it's a combination of cranberry and grape, but it's all juice.
Read an interview with Clyde Phillips, writer and executive producer for the show.
Feed the Beast returns Tuesday, June 7 at 10/9c. The series will then continue to air Tuesdays at 10/9c on AMC.  To stay up-to-date on all the latest news about Feed the Beast, sign up for the Insiders Club.
Read More