Blog
Cook the Greek Yogurt Panna Cotta From Thirio's Tasting Menu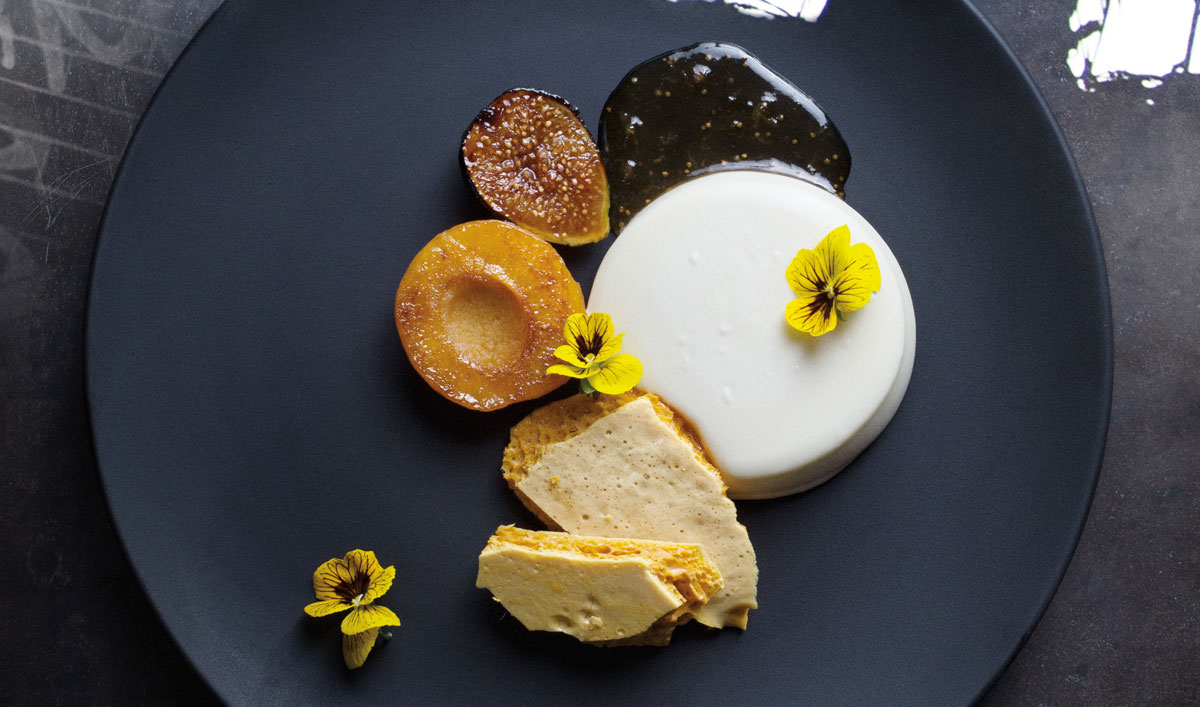 Have you been drooling over the delicious dishes on Feed the Beast? Now you can try your hand at recreating some of Thirio's signatures with the restaurant's recipe e-book. Take a crack at the recipe below, then click here to see the full collection.
Greek Yogurt Panna Cotta With Honeycomb Candy, Apricots and Figs
FOR THE PANNA COTTA:
• 1½ teaspoons powdered gelatin
• 1½ tablespoons cold water
• 2 cups heavy cream
• ⅓ cup sugar
• 1 ½ cups Greek yogurt
FOR THE CANDY:
• 1½ cups sugar
• ¼ cup honey
• ¼ cup water
• 1 tablespoon baking soda
FOR THE SAUCE:
• 2 cups dried calamyrna figs
• 2 cups water
• 1 tablespoon honey
TO FINISH:
• 6 fresh figs, halved
• 6 fresh apricots, halved
• 2 tablespoons butter
• 3 tablespoons sugar
• Edible flowers, for garnish
INSTRUCTIONS:
Sprinkle the gelatin over the water in a small bowl and let sit until gelatin softens, about 10 minutes. Heat the cream and sugar in a small saucepan until sugar dissolves. Whisk in the yogurt and pour into 6 8-ounce ramekins, and chill until set, at least 6 hours or overnight.
Coat a large, rimmed baking sheet generously with vegetable oil. Stir together sugar, honey, in a medium saucepan. Bring to a boil, and use a pastry brush dipped in water to dissolve any sugar crystals clinging to the sides of the pan. Cook, without stirring, until a candy thermometer reaches 300°. Quickly and carefully, pour into a large bowl and whisk in the baking soda. Immediately pour out onto the prepared pan without spreading, and cool completely. Use a spatula to loosen, and break into shards. Set aside.
Chop the dried figs and combine with the water and honey. Simmer for 20-30 minutes, stirring occasionally, until figs are very soft. Push through a fine mesh strainer, pressing lightly. Set aside, discarding solids.
Heat a medium sauté pan over medium high heat and melt the butter. Sprinkle with the sugar and put the fruit in the pan, cut sides down. Cook for 2-3 minutes, swirling the pan, until caramelized. Turn and cook for 1-2 minutes on the other side, until softened.
Dip one of the panna cotta molds into a bowl of hot water, and run the tip of a sharp knife around the edge to loosen. Place a plate on top and invert both the mold and the plate. Lift the mold, and wait for the panna cotta to drop. If it doesn't, nudge it out with the tip of a knife. Spoon some sauce around the panna cotta, and arrange one piece of each fruit and 2 pieces of honeycomb candy. Garnish with edible flowers if desired. Serves 4.
Read More