Blog
Long Live the King — Stream Stephen King Horror Classics All Month Long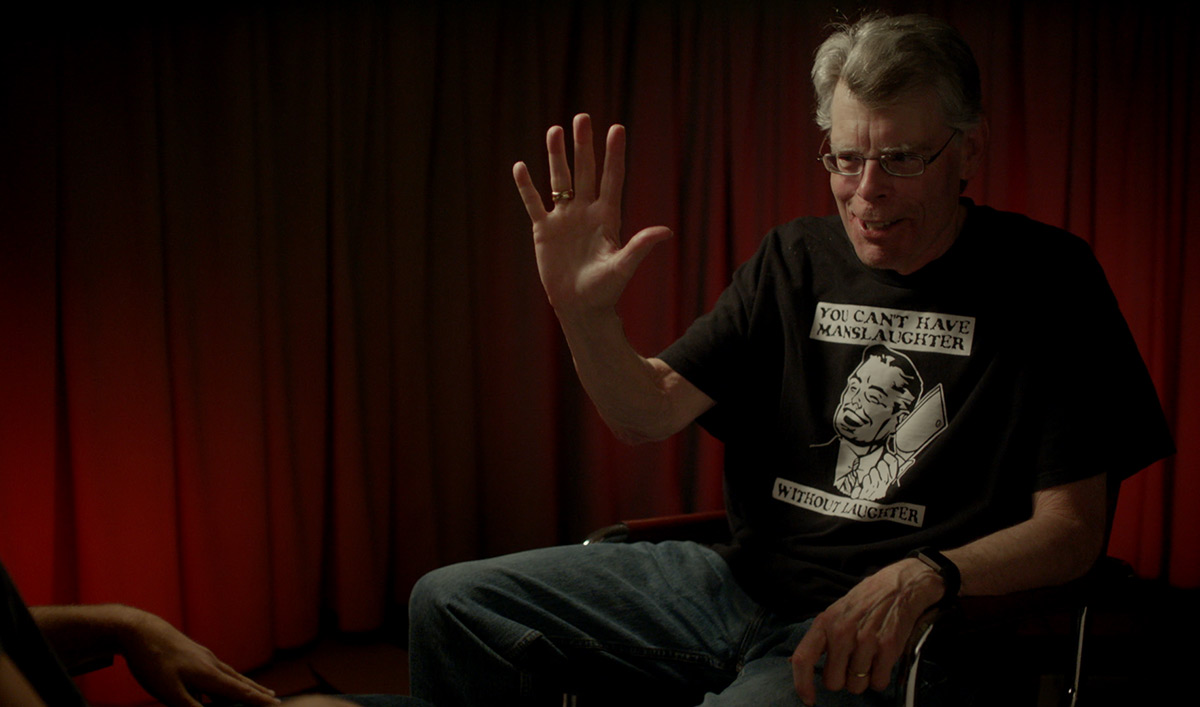 Long live the King. Master of horror Stephen King, that is. With the New York Times bestselling author dominating both the box office and the small screen, the King Craze is having a full-blown renaissance.
But what is it about horror that we can't get enough of? That's what director Eli Roth asks Stephen King in an extended interview from Eli Roth's History of Horror: Master Class, now streaming for free on amc.com and the AMC apps.
King's answer is surprising: "It's safe. It's a safe thing… There are a number of pictures where you're able to take your deepest, most antisocial impulses for a walk… nobody gets hurt. We understand on one level that it's safe, it's not happening, but on another level, it's as real as any of our fantasies."
AMC is offering a large selection of Stephen King adaptations as part of AMC Fearfest, available to stream on amc.com and the AMC apps through Halloween. Get streaming (and screaming) with some of the most iconic, demonic and downright strange Stephen King movies:
Carrie (1976)
The very first Stephen King adaptation is also one of the most beloved. Directed by Brian De Palma and starring Sissy Spacek, the 1976 classic horror film is consistently ranked among the best horror movies of all time. When awkward and bullied teenager Carrie (Spacek) discovers she has telekinetic powers, she wreaks havoc on her tormentors and peers after what is arguably one of the most iconic bloody scenes in cinema.
The Shining (1980)
Stanley Kubrick's seminal psychological horror drama is often regarded as one of the most influential horror movies of all time. Starring Jack Nicholson as Jack Torrance and Shelley Duvall as his wife Wendy, The Shining follows the Torrance family during a bitter winter at the Overlook Hotel. The scares begin when their young son, Danny, starts to wield "the shining," a psychic power that reveals the malevolent past haunting the hotel. When the power of the Overlook sends Jack into a downward spiral of insanity, Wendy and Danny must fight to survive both him and the hotel.
Creepshow (1982)
A collaboration between two horror greats, George Romero and Stephen King, this horror anthology serves as an homage to early horror comics from the 1950s, like Tales From the Crypt, The Vault of Horror and The Haunt of Fear. Made up of six separate short horror stories (in which Stephen King makes a cameo appearance!), the film serves up both giggles and gore, with comic book-like effects crafted by famed special effects artist Tom Savini. See why Creepshow catapulted to cult horror film status — and why its one of Eli Roth's favorite scary movies.
Watch the Eli Roth's History of Horror: Master Class Full Interview Here to Find Which Adaptations of His Work King Likes Best:
The Dead Zone (1983)
Under the direction of renowned horror director, David Cronenberg, The Dead Zone is one of Stephen King's stronger adaptations. Christopher Walken stars as Johnny Smith, an every-man who discovers he's developed psychic powers after a car accident sends him into a coma. When Johnny touches a person, he can see visions of long-buried secrets in that person's life. But Johnny struggles with using his powers for good when he learns his "gift" can alter the future as well.
Pet Sematary (1989)
Sometimes, dead is better. That's what the Creed family learns the hard way after their elderly neighbor shows them a cursed pet cemetery behind their house. According to local legend, pets buried there will come back to life — but darker than they were before. Despite the warnings, the Creed family buries their loved ones in the blighted ground, and brings only terror back with them.
Pet Sematary II (1992)
New residents fall prey to the allure of the Native American burial ground with the power to bring back the dead in this sequel to Pet Sematary. Centering this time on 13 year old Jeff Matthews, who is struggling with the recent death of his mother, the film follows his adjustment to a new life in Ludlow, Maine. But things quickly go downhill when a local boy asks Jeff for help with burying his pet dog in the cursed cemetery.
Misery (1990)
This star-studded, critically acclaimed adaptation, directed by Rob Reiner, is reportedly one of Stephen King's favorite adaptations of his work. James Caan stars as Paul, a best selling novelist who crashes his car in a blizzard just after finishing his latest novel. He is discovered and nursed back to health by his "biggest fan," (Kathy Bates) — but his luck turns sour as Annie proves to be an obsessive mad woman with a rage scarier than most supernatural monsters.
Cujo (1983)
In 1977, Stephen King had a nasty encounter with a St. Bernard when the dog lunged for him at a mechanic's shop in Maine. The experience unsettled him so much, it became part of the inspiration for Cujo. Starring Dee Wallace as Donna Trenton, the film focuses on Donna and her young son, Tad, who come under siege by a formerly friendly St. Bernard who has gone mad with rabies. Eventually trapped in their busted car during a heatwave, Donna must face the bloodthirsty Cujo before she and her son die to the elements. If the film's reality-based horror spooks you too much, just remember that Cujo is played by five very good dogs, one of whom was named "Daddy", and a stunt man in a dog suit.
Graveyard Shift (1990)
Rats bring a plague of terror to the beleaguered workers of a textile mill in this adaptation of a short story by Stephen King. The mill's cruel foreman seems like the biggest monster around, but when multiple workers fall prey to a growing rat infestation, it becomes clear that there's an even darker creature lurking beneath the old mill. When a clean-up crew is forced into the basement to take care of the problem, they are slowly picked off by a terrible mutant presence living in the shadows.
Silver Bullet (1985)
Based on Stephen King's novella The Cycle of the Werewolf, two siblings discover the truth behind a series of brutal murders in their town. But their meddling directs the supernatural killer's attention directly toward them.
Thinner (1996)
Billy Halleck is the human embodiment of greed and gluttony. As an obese mob lawyer, he's got everything he's ever wanted — and he aways wants more. But when he's acquitted after running over and killing a Gypsy woman, her father curses Billy with one word: thinner. His rotund frame starts to shrink with no effort and Billy thinks he's won the jackpot of life yet again — until the weight loss shows no sign of stopping.
Christine (1983)
You've never had car trouble like this. In this 1983 cult classic, Arnie Cunningham buys a vintage '58 Plymouth Fury that turns out to have a real fury of its own. After a series of mysterious murders, and Arnie's slow transformation into an arrogant jagweed the more time he spends around his new ride, Arnie's friends follow the trail back to the car itself. But how could that be possible? The teenagers try to save their friend from "Christine," before the car turns its headlights on them.
Sleepwalkers (1992)
Directed by Masters of Horror creator Mick Gariss, Sleepwalkers is actually Stephen King's first film for which he wrote an original screenplay, rather than adapting it from one of his previous works. In the film, a mother and son duo, who are known as "sleepwalkers"- a kind of energy vampire – must feed off the life force of virgin women. They have a long list of supernatural powers, and one surprising weakness: cats. If you're looking for a movie where a small army of cats saves the day, this is it.
Stand By Me (1986)
Based on Stephen King's novella, The Body, four best friends hear a rumor that the body of a missing boy is somewhere on the outskirts of town. Hoping to become local heroes, the boys hike into the woods in search of it. While Stand By Me isn't one of King's scare fares, it follows the boys as they wrestle with their own personal demons and has since become a critically acclaimed classic.
For more of the latest AMC news and exclusives, sign up for the AMC Insiders Club.
Read More