Press
EW on Peter Jacobson's Fear the Walking Dead Debut; Lennie James Speaks With Digital Spy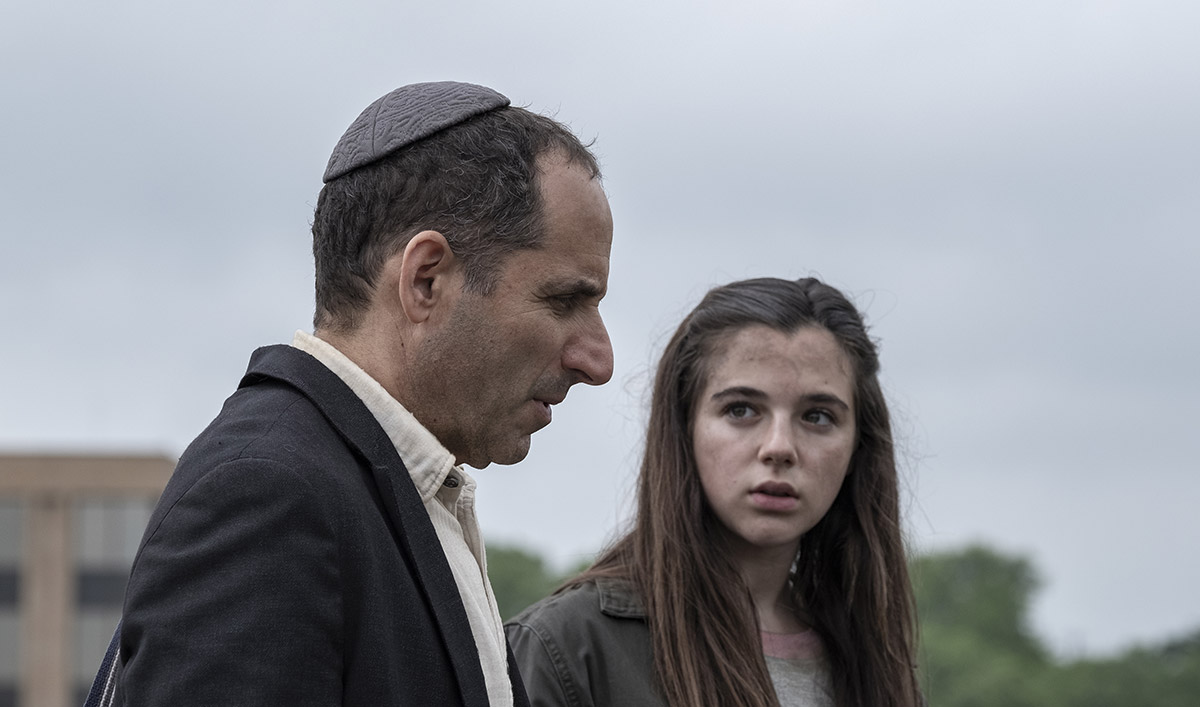 This week, Entertainment Weekly spotlights Peter Jacobson's Fear the Walking Dead debut, while Lennie James (Morgan) speaks with Digital Spy. Plus, Andrew Chambliss talks about Jacobson's Rabbi Jacob Kessner with TV Insider. Read on for more:
• Entertainment Weekly spotlights Peter Jacobson's debut this week as Rabbi Jacob Kessner — "and when a zombie interrupts his religious ceremony at a temple, Rabbi Kessner shows he is more than equipped to handle the situation."
• Lennie James explains to Digital Spy that "this trying to find a place where he can put his feelings for Jenny and Duane in a safe place so he can possibly open himself up to feel something for somebody else, I think that's arguably the most frightening challenge that Morgan has come across."
• Andrew Chambliss teases to TV Insider that Peter Jacobson's character is "one of the rare instances where we see someone really holding on to the world they used to live in. [But] Charlie is going to challenge [that]."
• Decider declares, "Thanks to Kessner and [Sarah] Rabinowitz, we now have two Jewish characters on screen who represent the real breadth of the Jewish American experience; or at least part of it. Thank Hashem."
• Bleeding Cool previews the next episode, where "Dwight (Austin Amelio) opens up to Sarah (Mo Collins) about what kept him from going insane during his travels alone…"
• One of the TV moments this week that BuzzFeed can't stop talking about is when "Alicia finally crossed paths with the survivor who was writing messages on trees — it was actually Wes."
• Undead Walking reports that the literal translation of this week's episode title, "Ner Tamid," is "eternal light" and is also defined as "a light that hangs in front of and above the ark in the synagogue and is symbolic of the light of truth and the presence of God."
• CarterMatt reports that Alicia is the official winner of the website's Sci-Fi Character Battle: "We think that a big part of it has to do with the character's tenacity, plus also the parallels that exist between her and a lot of young people."
• TV Insider posts photos of 13 "happy moments" that "should put a smile on the face of any Walking Dead [including Fear the Walking Dead] fan."
• Undead Walking muses that Alicia (Alycia Debnam-Carey) is in a place "where she could kill the dead to keep herself and her friends alive, without going overboard or trying to save those who don't need or want it" and wonders if this puts her "on the path towards future leadership."
• For recaps and reviews of Season 5, Episode 12, "Ner Tamid," check out Bleeding Cool, JoBlo, Syfy Wire, TV Guide, TV Insider and TVLine.
Fear the Walking Dead airs Sundays at 9/8c on AMC. Available 48 hours early, ad-free, for AMC Premiere subscribers.
To stay up-to-date with the latest trailers, episodes and behind-the-scenes videos, join the Fear the Walking Dead Insiders Club.
Read More