Press
EW on Morgan's The Walking Dead Pilot Callback; Fear the Walking Dead Director Talks Underwater Zombie With Insider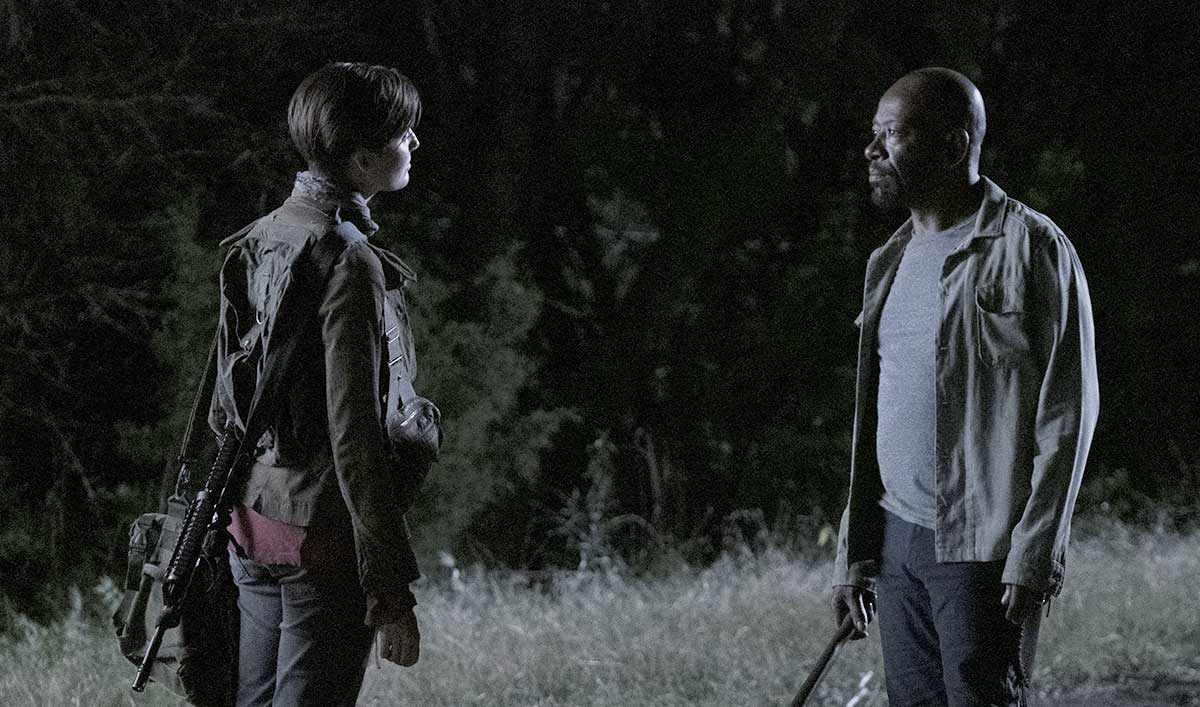 This week, Entertainment Weekly talks about Morgan's (Lennie James) callback to The Walking Dead pilot episode, while Insider interviews the director of this week's FEAR episode. Plus, Bustle wants to see more of Grace (Karen David). Read on for more:
• Entertainment Weekly previews this week's episode where Morgan tells Al (Maggie Grace) about his wife and son, "a rare call-out" from The Walking Dead's pilot episode, and declares, "It's a powerful moment for both the character and any longtime fan of the very first Walking Dead episode ever."
• Asked by Insider about the underwater walker, the director of this week's episode, Sydney Freeland, says, "I think my favorite personal memory was, we shot in this big nine-foot-deep pool and it was pristine going into the shoot. By the end of the shoot day I took a picture and the whole thing was just blood red."
• Bustle is hoping to see more of Grace, since she's "a really interesting character, and we're still learning things about her. Plus, more than ever, it seems like the nature of Morgan and Grace's relationship is leaning towards the romantic — which is an exciting prospect for longtime fans of the TWD universe."
• TVLine's best quotes of the week include Sarah saying, "This s—t's worse than a tequila hangover," while summing up the devastation after a walker-fueled fire at the oil field.
• The Times of Israel gives kudos to "Ner Tamid: "There's a lot of Judaism in this episode, rendered with accuracy and sensitivity. A number of nice touches bring verisimilitude to the Jewish moments."
• Netflix Life previews next week's episode, "Channel 5," saying, "As expected, the penultimate episode of Fear the Walking Dead Season 5 will build up anticipation for a grand finale. Between Virginia (Colby Minifie) unleashing hell and Morgan (Lennie James) trying to live again, it should more than meet expectations."
• Screen Rant spotlights the show's "10 most terrifying scenes thus far," noting that the show is "jam-packed with terrifying moments and gruesome scenes."
• For recaps and reviews of Season 5, Episode 14, "Today and Tomorrow," check out Bleeding Cool, Entertainment Weekly, Syfy Wire and TVLine.
Fear the Walking Dead airs Sundays at 9/8c on AMC. Available 48 hours early, ad-free, for AMC Premiere subscribers.
To stay up-to-date with the latest trailers, episodes and behind-the-scenes videos, join the Fear the Walking Dead Insiders Club.
Read More