Q&A
(SPOILERS) Fear the Walking Dead Q&A — Garret Dillahunt (John)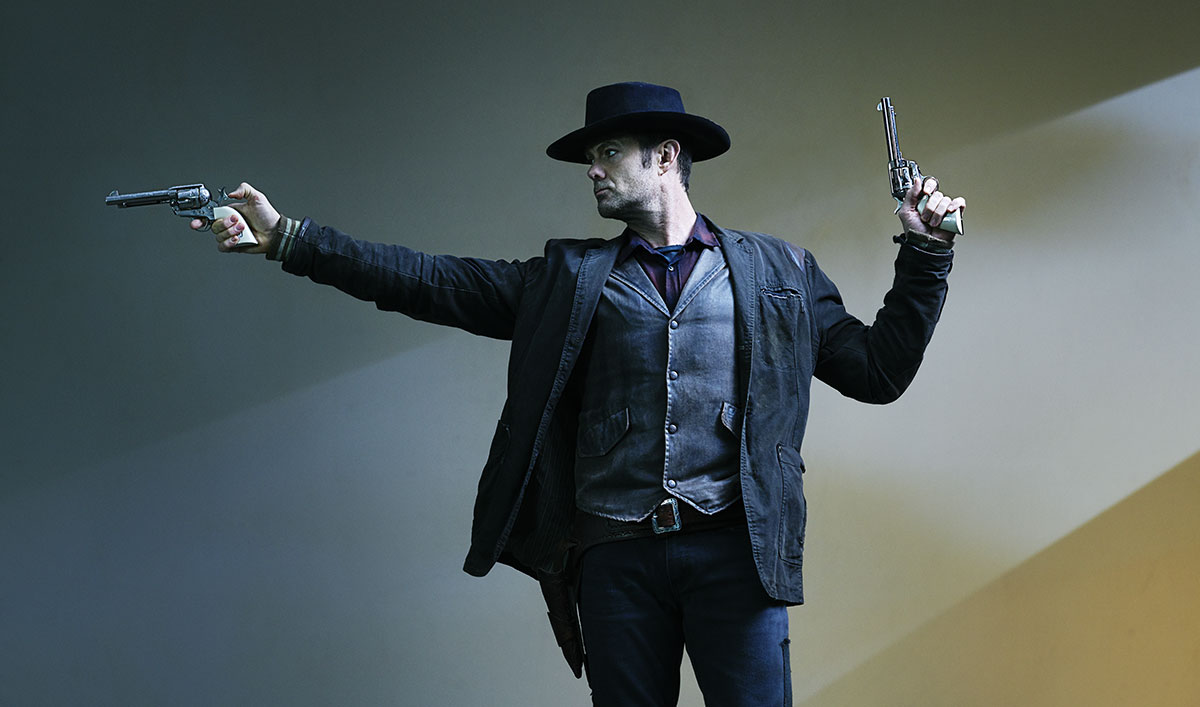 Garret Dillahunt, who plays John on AMC's Fear the Walking Dead, talks about his character's journey since the cabin and the newfound friendship in Dwight. 
Q: It's been a long journey for John since he was that isolated man in the cabin. What changes have you noticed in your character since you first started playing him?
A: I suppose he's not as lonesome. He seems excited to use his skills for the good of the group and others. He certainly seems to have gotten over his reluctance to use firearms. It does need to be said that he had a pretty good thing going at that cabin — and the second he [left], he got shot and is in the sh-t over and over again… I'm just sayin'.
Q: Not everyone wants the group's help. What's that like for John, in particular? 
A: John seems like he's having a harder time than the rest, really. I think it was in the second episode he was complaining to June that it was a shame to be so lucky and to have so much in this awful time and that no one seemed to want our help. I think help should be offered without any expectation of acceptance or thanks… but it's always good to look at things from a different perspective.
Q: What was it like welcoming Austin Amelio on set and spending time with him in his home state?
A: Austin's a great guy. Happy to have him aboard and glad he doesn't have to sneak around town anymore. We enjoy shooting the sh-t on set. He's a real renaissance kinda guy — he's quietly good at a lot of things.
Q: Character-wise, John can relate to Dwight and his search for Sherry right away. How would you compare these two?
A: I was searching for my girl who had left and gone on the road [and] Dwight is searching for his girl who had left and gone on the road. John doesn't know the particulars of Dwight's situation, so he might mistakenly think they're virtually identical,  but perhaps Dwight's harrowing story will come out bit by bit and John will understand his new friend even more.
Q: Can you talk more about shooting Episode 3 on that western town set? Seems like a perfect backdrop for John!
A: We had fun on Colman [Domingo]'s episode, that's for sure. It was tricky — balancing the drama with a few of the more potentially cartoonish moments — but I think Mr. Domingo had a pretty sensitive hand about that. Humbug's Gulch is where John's side job was before the apocalypse happened… it's a fun, silly name that seems child friendly, like an amusement park should. I liked working on that episode a lot. We had some fun and it was a great intro for Dwight to the Fear fans.
Q: What was your reaction to seeing that John initially decides to not tell Dwight about the letter he found from Sherry?
A: Well,  I understood it. He didn't have the courage in the moment to destroy his friend's hopes. I think he knew it was wrong and it might seem out of character for John, but contradictions like that also seem human. I didn't think he'd be able to hold that lie for long… and he doesn't.
Q: In Episode 8, John is adamant about June and the others leaving him behind. What were you thinking while reading the script? 
A: I had read the whole thing, but even before I'd gotten to that part, I figured it was just smart for John to do. It didn't mean he wasn't gonna try his damndest to get there and reunite with the group.
Q: John also proposes to June! Is it refreshing to play out a happy moment on a show like FEAR?
A: I hope the fans enjoy that moment of "normalcy", even though it happens in a distinctly abnormal manner.  I like it when we get to layer in a laugh or good things from the past are remembered.
Fear the Walking Dead returns Sunday, August 11 at 9/8c.
Read an interview with Bailey Gavulic, who plays Annie.
Watch full episodes of Fear the Walking Dead on amc.com and the AMC app for mobile and devices.
To get more exclusive interviews with the cast, join the Fear the Walking Dead Insiders Club.