Q&A
(SPOILERS) Fear the Walking Dead Q&A — Alexa Nisenson (Charlie)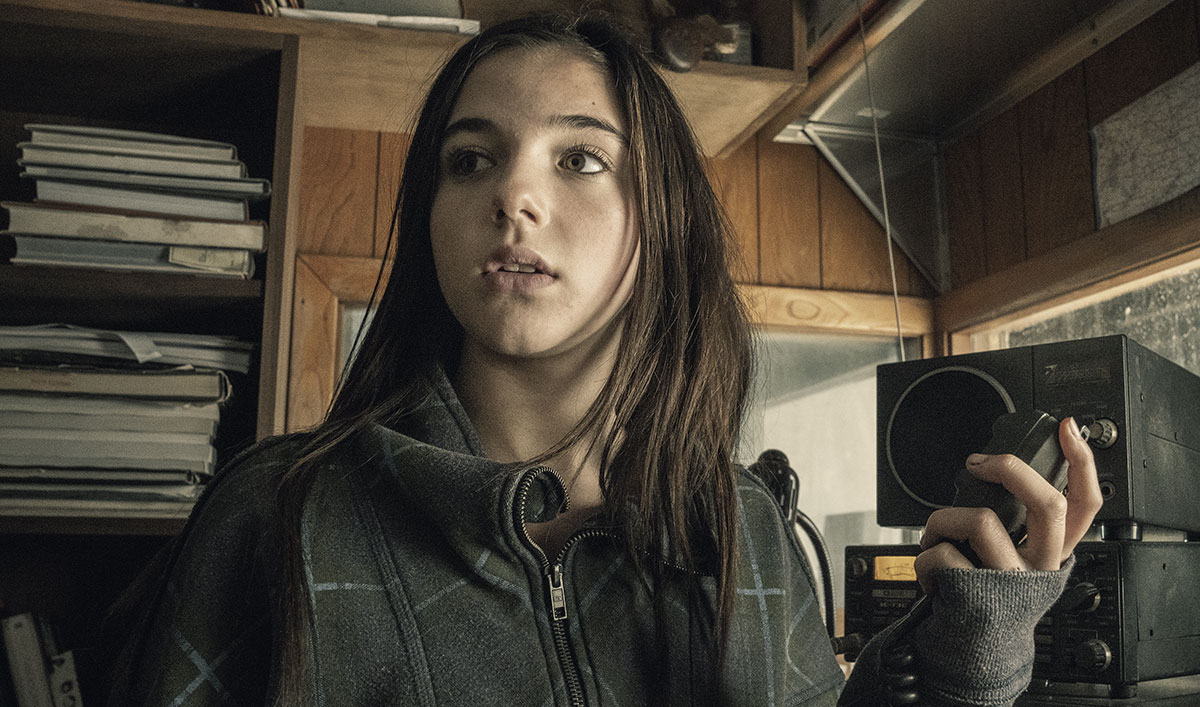 Alexa Nisenson, who plays Charlie on AMC's Fear the Walking Dead, talks about growing up along with her character and connecting with Rubén Blades. 
Q: What changes have you noticed in Charlie's character since you joined the show?
A: I think Charlie's definitely a bit more settled now. She does still have some trust issues, but this group has taken her in and they're taking care of her… the biggest change you'll see in Charlie is confidence. She's learning, like the rest of the group, that she does have worth and value and that her actions don't define her. Last season, we saw her contemplate taking her own life because she thought she wasn't redeemable. We also continue to see her look up to Alicia. She's really growing up.
Q: The group has dedicated themselves to helping people and giving back. What's that like for Charlie, who spent so much time with Mel and the Vultures?
A: Despite everything that happened last season, Charlie was definitely a victim of circumstances. She lost her parents and she really had nobody. Mel taught her the way to survive – and it was a "kill or be killed" mentality. She was a child and she didn't know what to do. She was just trying to make sense of the world and the losses of everybody. Now, she's with this group who has different opinions and she's finding herself again. She wants to be useful and give back.
Q: Many of the characters are seeking redemption and looking to leave the past behind. Where's Charlie at in all of that?  
A: She's right there with everybody else. She has to move on and forgive herself… I think she still has regrets and wishes the past was different, but she's trying to make up for it by doing good right now.
Q: As Charlie grows up, so do you! What's that been like?
A: Yeah! Anytime you can portray a character that goes through so much change, it's very exciting as an actor. I love getting to know Charlie and bringing her to life. She's so complex and has so much going on inside her head. It's been an amazing journey. On a personal level, Charlie's definitely helping me find my voice. It feels like she's grown up so fast. It's so cool to see her continue to change and transform into her own person.
Q: Charlie is the one who finds that hot air balloon. What's it like to see her be respected as a valuable member of the group, especially at such a young age? 
A: In the apocalypse, there's no reason why teenagers can't be useful or contribute. I love that we see her bring this crazy cool idea to the group to potentially rescue everyone. Age isn't a limit.
Q: In Episode 4, you spent a lot of time with Rubén Blades, who's been a part of the story since the beginning. What was that like?
A: He is truly one of a kind and taught me so much about the industry and life in general. He's one of the most amazing people I've met and gotten to work with. When we work, it's truly a collaboration. He always included me in discussions and choices on set. He's such an amazing role model. I just love him!
Q: Daniel was insistent on Strand confessing the truth about his self-protective nature. Is Charlie fazed at all or can she empathize, given her own past?
A: I think she can empathize, for sure. She didn't know any of this before hearing it, but I think it made her feel less alone. She's not the only one that has made mistakes where it was life or death consequences. It definitely lands on her and she sees that everyone has a story.
Q: Why is it important that Charlie give Daniel the space to open up about what he would have told his daughter, if given the chance? Did Charlie need to hear it too?
A: I've thought a lot about it and I really think Charlie did need to hear that. I think everyone… has had to do certain things you wouldn't do in a normal world… Charlie knew it was something that Daniel had to get off his chest. She thought she could help him, if he could just say it out loud. It's such a sweet and special moment to see them connect. It's an important message in this world.
Fear the Walking Dead airs Sundays at 9/8c.
Read an interview with Maggie Grace, who plays Al.
Watch full episodes of Fear the Walking Dead on amc.com and the AMC app for mobile and devices.
To get more exclusive interviews with the cast, join the Fear the Walking Dead Insiders Club.
Read More