Press
Showrunners Chat With EW About Season 5; Deadline on Fear the Walking Dead Casting News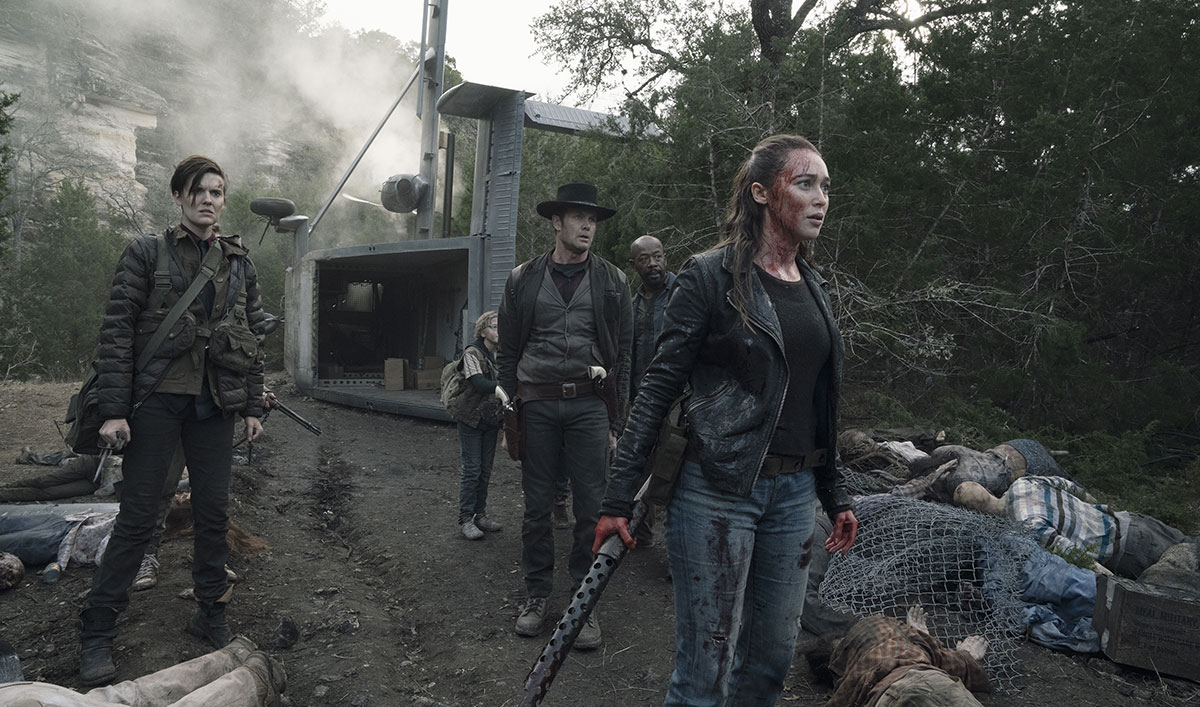 This week Andrew Chambliss and Ian Goldberg discuss the Midseason Finale with Entertainment Weekly. Plus, Screen Rant features a trailer for Season 5's second half. Read on for more:
• Andrew Chambliss warns Entertainment Weekly, "A lot of characters have been exposed to the radiation in the course of this past season. Grace, obviously, Alicia, Morgan went into the irradiated zone, Strand and Charlie crashed the balloon in there. So, it's definitely something that I think is going to be on people's minds moving forward."
• Screen Rant spotlights a trailer for the second half of Season 5, which "mostly focuses on the survivors themselves and what a unique group of characters they have become" and suggests the show "isn't about to slow down."
• According to Deadline, Colby Minifie, Peter Jacobson and Colby Hollman will be joining the cast when the second half of Season 5 starts on Aug. 11.
• TVLine commends Alycia Debnam-Carey's performance in last week's episode because she "turned our anguish up to 11 by giving an altogether heartrending performance in Sunday's episode."
• CBR.com, ComicBook.com, Syfy Wire and TV Guide all share details of the show's San Diego Comic-Con panel.
• Speaking at San Diego Comic-Con, Andrew Chambliss says, according to CBR.com, "Our cast is nomadic. We're changing things up in Season 5, and there will be a big change at end of the season. We're always finding ways to be different from The Walking Dead, and be not about building communities."
• ComicBook.com reports that Fear the Walking Dead was nominated for a Saturn Award for Best Horror Television Series and also garnered nods for Lennie James as Best Supporting Actor and for Sydney Lemmon and Tonya Pinkins as Best Guest-Starring Performance.
• Commenting on Sydney Lemmon's Saturn Award nomination, Culturess says her "emotional performance made her an instant hit with fans who wanted to know more about her, as well as viewers who wished to learn more about this mystery community, which also played a big role in The Walking Dead."
• Talking about radioactive zombies with IGN, Jenna Elfman says, "Radiation in general is such a dangerous, invisible threat, which when you can't see something, you don't know the degree, you don't know what range of danger you're in, which makes it even more dangerous."
• Colman Domingto explains to Blackfilm that Strand "has been in a great state of change. He's sort of developed finer heartstrings. I guess. I think that you can expect him to really put himself on the line—even more so for the group."
• For recaps and reviews of Season 5, Episode 8, "Is Anybody Out There?," check out Bleeding Cool, Daily Mail, Decider, Den of Geek and TVLine.
Fear the Walking Dead returns Sunday, August 11 at 9/8c.
Watch full episodes of Fear the Walking Dead on amc.com and the AMC app for mobile and devices.
To stay up-to-date with the latest news, join the Fear the Walking Dead Insiders Club.
Read More