Q&A
(SPOILERS) Fear the Walking Dead Q&A — Colman Domingo (Strand)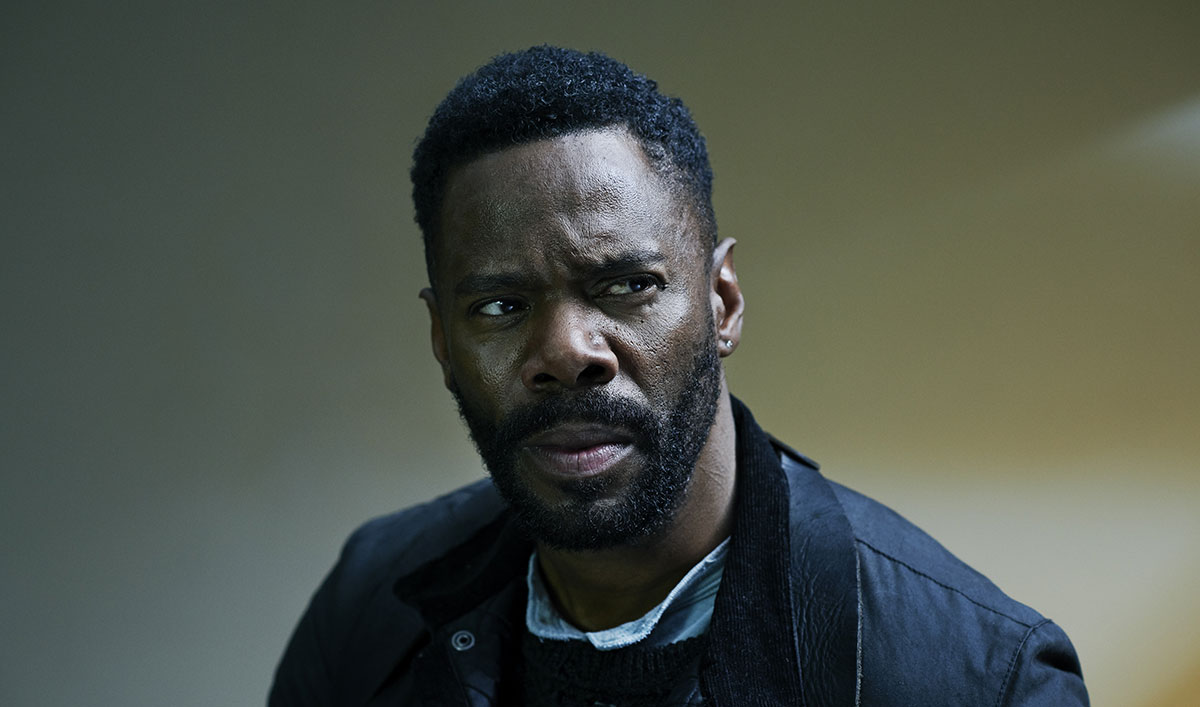 Colman Domingo, who plays Strand on AMC's Fear the Walking Dead, talks about his character's reunion with Daniel and who Strand is reshaping himself into. 
Q: What is it like for Strand, who often acts out of self-preservation, to be part of a team with the mission of helping others?
A: When you meet Strand this season, he's fully committed to the mission. He's been licking his wounds for a while and now he's set with some purpose. He's out there, like everyone else, with all of his history and all of his baggage, but he's going to make some amends with it to move forward with a mission to help.
Q: The last time they saw each other, Strand shot Daniel in the face. What's it like for him to reunite with him, especially under these circumstances?
A: They carry a lot of history. They're trying to overcome that – at least, Strand is. Daniel just sees him as the man who tried to shoot him in the face and who did some nefarious things. It's complicated, but Strand knows he has to prove himself. He has a lot to prove and a lot of hurdles to get over. He's willing to put his life on the line for it. I think it shows his deep dedication to the group.
Q: How do you and Rubén Blades keep the tension between Strand and Daniel feeling fresh with so long between confrontations?
A: I think Rubén and I both keep the history of our characters in our bodies. The way we listen to each other's voices, the way we play off of each other – there was no question and no hesitation. The moment the director called action, we were in it again. We picked up where we left off. We know the character histories and we've done all that work already. So, it was really effortless to hold that tension – even if it's just a look or the distance that we stand apart from each other.
Q: What's it like for Strand to recount his past – especially in front of his new group members who don't know all of the seedier aspects of Strand's past?  
A: The new characters don't know Strand's history in that way. Daniel is trying to shine a light on something they don't know. Strand has to make peace with that. It's a cross he's had to bear – knowing that people will judge him. Now, he has to be completely transparent. Whether he realizes it or not, I think it's a great gift that Daniel is giving Strand. All of the characters have done things themselves. Everyone has done something that they're guilty of. He's looking to them for understanding.
Q: Is Daniel's "I'm not going to shoot you in the face" line the equivalent of "I forgive you"? Does Strand finally feel forgiven? 
A: [Laughs] That's the closest to an apology! Strand is able to articulate the words, "I'm sorry." He's arrived at his heart chakra. Daniel will still cover it up because he's so tough.
Q: Are transgressions and betrayals during an apocalypse even more unforgivable? 
A: I think so. In the beginning, those things are necessary. I believe there is an element of betrayal and transgressions that is necessary in an apocalypse, but when you're with a group, it becomes a bit trickier. People are human and they will look for some sort of self-preservation. At some point, you're going to step away from the group and make a decision based on your livelihood. That's natural. It's the trickiest thing about the show. The human beings are trickier than the walkers. The walkers have a clear objective. [Laughs]
Q: What was it like shooting that propeller scene? 
A: That was probably one of the grossest things I've seen on the show. We've done a lot of wild things, but this was pretty gory. The reactions that Strand has are pretty honest – that was Colman and Strand [Laughs]. There was so much blood being thrown on the windshield.
Q: Is it fun to have an animal around? Any challenges when it came to filming with a cat on set? 
A: It was actually pretty cool. The cats are well-trained and the trainers are incredible. They have these cues for the cats. One of them is a bit more agreeable than the other – there are two – but they're both talented. It's funny because Elizabeth Rodriguez [Liza in Season 1] first called Rubén Blades a cat – he very much has that personality. So, it must have been an energetic thing that the writers picked up on. I think it also shows that when we find Salazar, he's in a place to nurture an animal. This killer, this man who has survived so much, has some tenderness and is caring for something. He may not say it outwardly, but it shows… so Strand continues to pursue. These men know each other more than they know themselves. They see each other so clearly and smell each other's bullsh—t because they know the bullsh—t so well. [Laughs]
Q: What has your experience directing the show been like for you? Were you excited to direct the episode that introduces Dwight from The Walking Dead? 
A: That was an awesome episode. It feels like a capsule episode in its own universe because much of it takes place in a western town. I was able to pull inspiration from Sergio Leone and John Ford and really have some fun with it. We leaned into that western town in every single way. There are some really beautiful performances. Working with Austin [Amelio] was exciting. I never thought of it as a big introduction scene. I thought of him as a new character. I don't watch The Walking Dead because it was important for me to be in this world early on, so I had no history of Dwight. I met him where he is now. There's a comedy and a sweetness and a playfulness that Jenna and John have that I wanted Dwight to be a part of. I'm really delighted.
Fear the Walking Dead airs Sundays at 9/8c.
Read an interview with Austin Amelio, who plays Dwight.
Watch full episodes of Fear the Walking Dead on amc.com and the AMC app for mobile and devices.
To get more exclusive interviews with the cast, join the Fear the Walking Dead Insiders Club.
Read More