Press
Colman Domingo Talks Directing With ComicBook; Fear the Walking Dead Showrunners Tease Next Episode to EW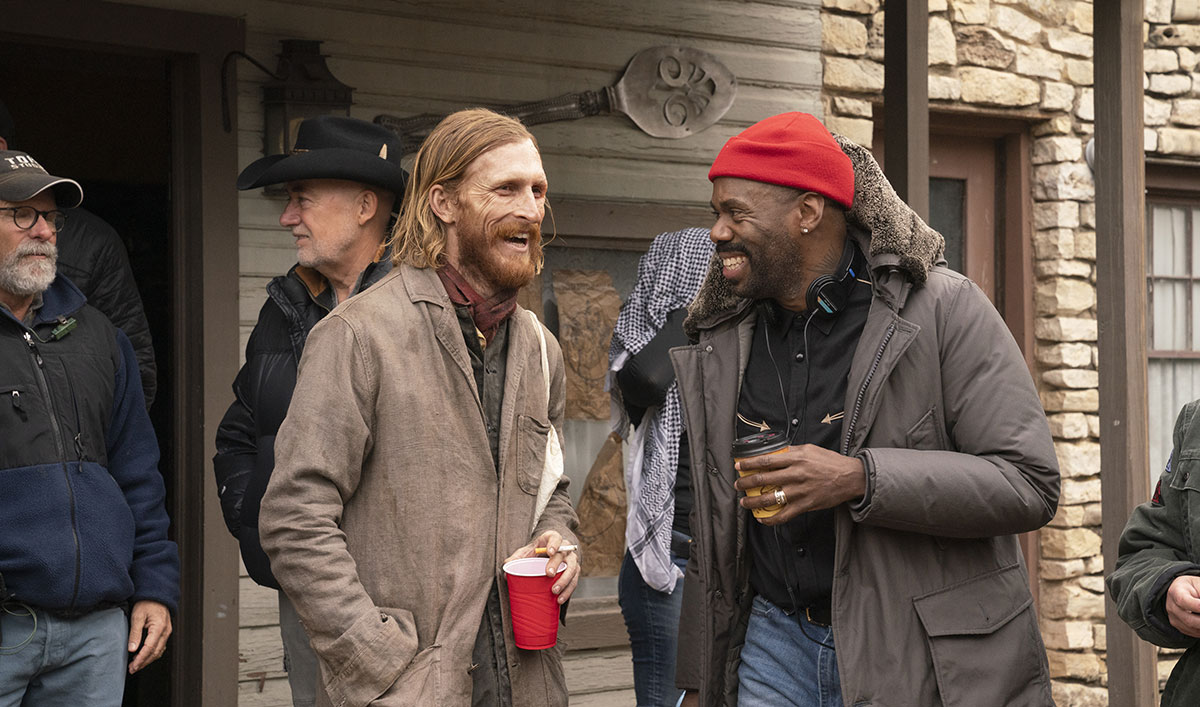 This week, Colman Domingo discusses directing the latest episode with ComicBook.com, while Andrew Chambliss and Ian Goldberg tease what's coming up next week to Entertainment Weekly. Plus, Uproxx points out parallels between Dwight and John Dorie. Read on for more:
• Speaking with ComicBook.com about directing this week's episode, Colman Domingo says of Dwight's arrival, "I love the idea of setting him up as sort of this mystery man, and then we reveal him, and then he's still quiet. Even the way we stage him is just his head's down, and I like that he's almost obscure even when he has his hand up with the gun towards Dorie. Where people are like, 'Wait, is that… It is. Wait.' I wanted a little bit of that."
• Teasing the next episode to Entertainment Weekly, Andrew Chambliss reveals that "we probably have one of the bloodiest, goriest walker set pieces we've ever done."
• Uproxx points out that "Dwight's search for Sherry mirrors John's previous search for June, and that's exactly how Dwight, John, and June become fast friends."
• CBR.com is confident "we'll be treated to at least a few solid scenes between [Dwight] and Morgan, full of blended-universe goodness. It's difficult to overstate how tickled we are that Dwight appeared this early on in the season, and we didn't have to wait too many episodes before Austin Amelio returned to The Walking Dead universe."
• Karen David explains to CBR.com that Grace "doesn't know how long she has. As far as she knows the clock is ticking and she could die any second, and so for her, it's about living in the moment and doing what she can in the moment."
• Colman Domingo tells ComicBook.com there may be tension between Strand and Salazar "but Ruben [Blades] and I we love each other. There's such a bromance there, and we love sparring and playing off each other because I think that he's quick witted and funny and dark."
• BuzzFeed's top TV moments of the week includes when "Victor reunited with Daniel, who refused to help save the rest of the group — Daniel wouldn't even help after talking to Luciana, his daughter."
• Colman Domingo tells ComicBook.com he's not worried about Strand dying: "To be perfectly honest, I think it's not a fear that I have anymore. I think, you know, the nature of storytelling, and you feel like whatever tells the best story."
• ComicBook.com reports that Austin Amelio is excited about Dwight crossing over to Fear the Walking Dead "just because I get to keep playing with this character and get to create something a little deeper with him. So it's been nice, really fun."
• According to We Got This Covered, Austin Amelio says he'd like Daryl to cross over to Fear the Walking Dead, saying, "It'll be fun, mix it up a little bit."
• For recaps and reviews of Season 5, Episode 3, "Humbug's Gulch," check out Bleeding Cool, CarterMatt, Decider, Entertainment Weekly, Forbes, JoBlo, Syfy Wire, TV Guide, TVLine, and Uproxx.
Fear the Walking Dead airs Sundays at 9/8c.
Watch full episodes of Fear the Walking Dead on amc.com and the AMC app for mobile and devices.
To stay up-to-date with the latest news, join the Fear the Walking Dead Insiders Club.
Read More