Press
Fear the Walking Dead Showrunners Ian Goldberg and Andrew Chambliss Chat With EW; Undead Walking Lauds Season 5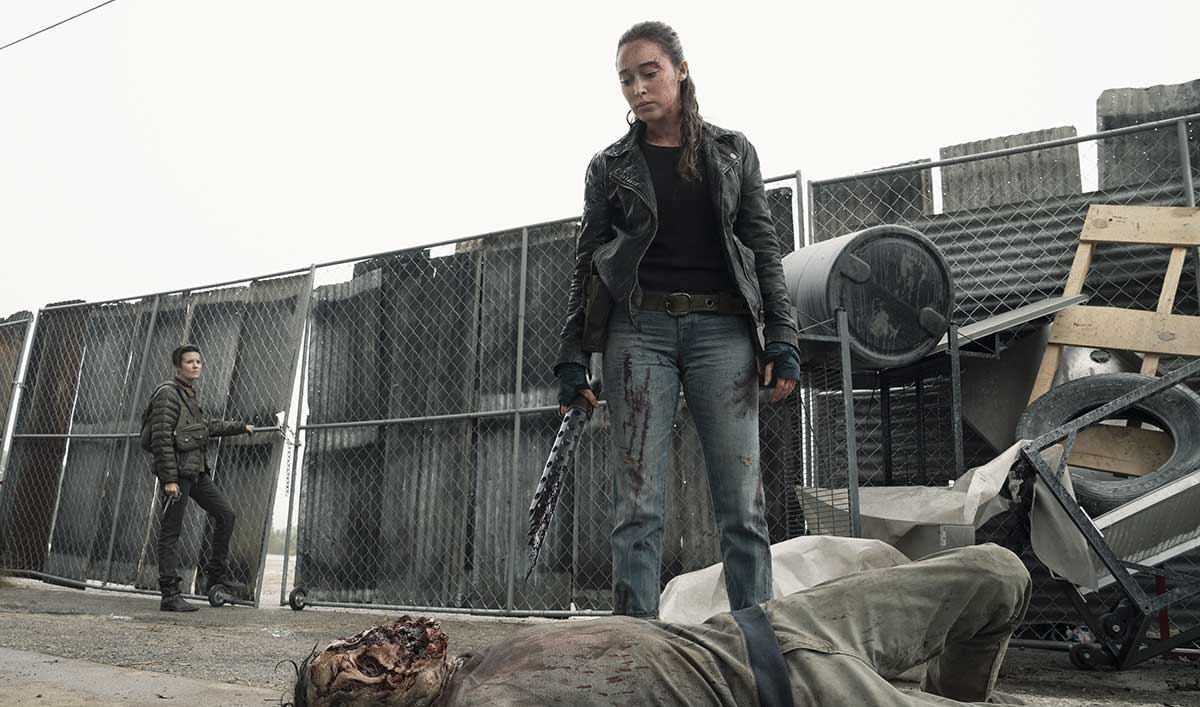 This week, Entertainment Weekly debuts a Dwight photo and speaks with Fear the Walking Dead's showrunners, while Undead Walking applauds what it's seen of Season 5. Plus, Den of Geek includes the show in its summer TV preview. Read on for more:
• Entertainment Weekly premieres a new photo of Dwight and learns from Andrew Chambliss about the "through-line in the entire season in terms of our characters' overall mission, but how it affects them and how it affects others, that is something that is going to change from the front half of the season to the back half of the season."
• Undead Walking lauds Fear the Walking Dead, which "returns for Season 5 with a lot of action, a lot of drama and jaw-dropping moments that will leave fans speechless," and notes, "Alycia Debnam-Carey shines in the first four episodes."
• Den of Geek, including the show in its summer TV preview, teases a "game-changer: a functioning airplane! Fully embracing their new mission of helping people, our survivors will – thanks to the plane – encounter more hostile elements of the living, and even showcase the (re)return of the repeatedly presumed-dead Daniel Salazar."
• Syfy Wire speaks with Ian Goldberg, who explains that Dwight's "arc very much lines up with the things that some of our other characters are struggling with. It's exciting to play on this shared history between Dwight and Morgan, as both have been in The Walking Dead."
• CarterMatt showcases a Season 5 Premiere sneak preview that sees "bloodied-up versions of Morgan and Alicia, doing what they can both in terms of surviving and also making sure that the other survivors have a little more time to do whatever it is that they need to."
• Bleeding Cool spotlights a behind-the-scenes featurette, where the "cast and crew from Fear the Walking Dead discuss the Morgan/Dwight connection, new and returning faces fans should expect to see, and what it is that makes this fifth season of FTWD so unique."
• After watching the featurette, CarterMatt declares, "There are a number of different ways to perceive this promo and tee up the stories coming for many of these characters — for the sake of this article, we think it's the most prudent to do it on an individual level."
• ComicBook.com points out that Rick and Eastman (played by John Carroll Lynch) are indirectly influencing Fear the Walking Dead Season 5 because Lennie James says they're "the two obvious men that happen to be in [Morgan's] life that have taught him anything."
• Undead Walking shares a list of essential episodes ("the episodes that are the best, or give essential information") for Seasons 1, 2, 3 and 4, ahead of the debut of Season 5, which looks like it's "going to be the best season yet."
Fear the Walking Dead returns Sunday at 9/8c on AMC.
To stay up-to-date with the latest news, join the Fear the Walking Dead Insiders Club.
Read More