Q&A
(SPOILERS) Fear the Walking Dead Q&A — Lennie James (Morgan)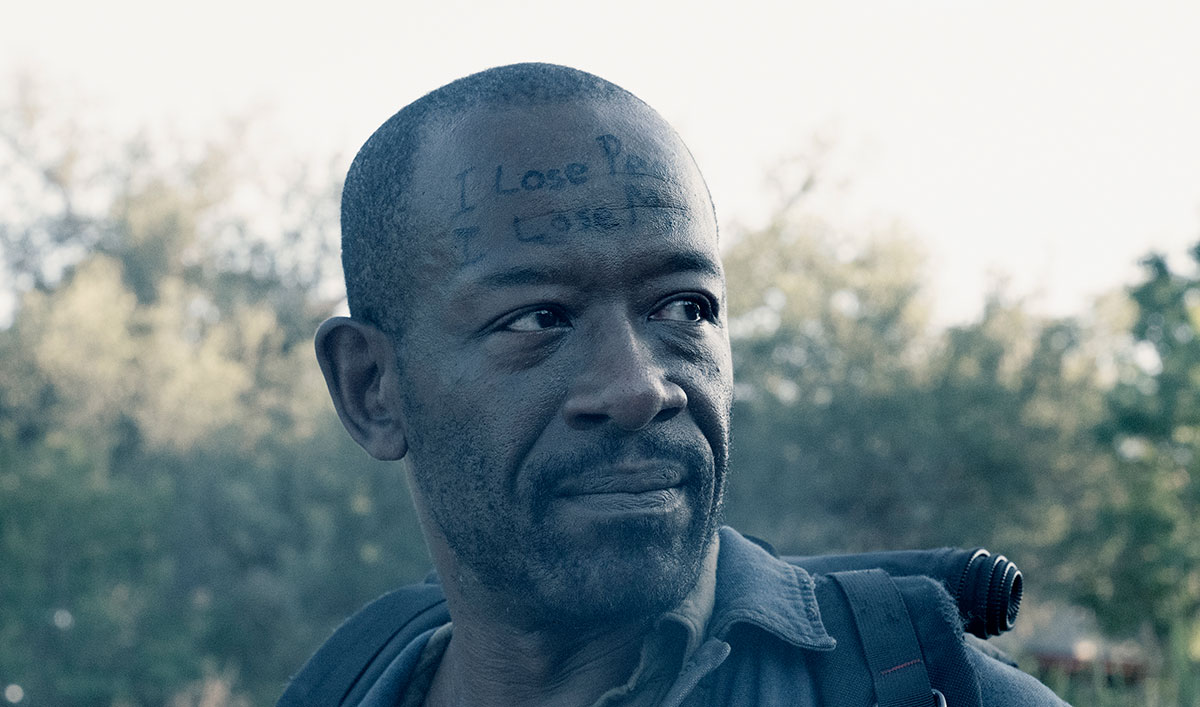 Lennie James, who plays Morgan on AMC's Fear the Walking Dead, talks about his character's evolution since crossing over to the show and where the group is headed next. 
Q: What a season this has been for Morgan – and Martha is a big element of his story line in the second half of Season 4. How would you describe the connection between these two and what draws them to one another?
A: I think one of the things the writers did really well in the second half of this season was paralleling. They do it with Morgan, with Alicia and with Martha. They're showing you a character's journey and connecting it to the history of another character. The things that she's saying, her determination, her focus she's bringing – Morgan recognizes all of those things because that's the exact mindset he found himself in and the hole he was in. It's like that whole story of someone being in a hole and people walking past until someone jumps in and says, "I know the way out." That's what Morgan's trying to do for her.
Q: What was it like working with Tonya Pinkins so closely in the finale?
A: I loved it. She's a very committed and focused and funny actress and person. I had been a big fan of Tonya's since I saw her in a play – Caroline, or Change – in London and she gave one of the most startling and unforgettable performances I've ever seen in my life. She sings like no one else on this planet sings. I was a huge fan and in awe of her before we met on Fear. It was a pleasure. She's such a fantastic person and has such a great spirit. I felt very bad when I had to run my stick through her, but these things happen in this universe.
Q: What about the other new arrivals we've welcomed onto the show – Mo Collins, Daryl Mitchell, Aaron Stanford?
A: It was lovely having Mo and Daryl on board. They bring a certain kind of energy because they come from the world of comedy. They have a slightly different process and it was really fascinating watching them create this humor of those two characters through the tension of this world and not always be able to disperse the tension through being funny. As a double act, they're formidable. They slipped into their relationship as twins immediately and beautifully, like they'd been together forever. That's a tough thing to pull off. You're aware of the strangeness of these two people being twins, but you accept it because they do it so well. I love Aaron's character. The fact that the writers were able to create a newbie this deep into the apocalypse was a stroke of genius and Aaron played it for all it was worth.
Q: How significant is the bathroom scene when Morgan wipes off the "I lose people, I lose myself" quote from his forehead?
A: It's a marker to show how Morgan has gotten stronger and how he's evolved a little bit more. His big fear, which Martha calls him out on, is he's haunted by who he is and who he's been. He knows he's only an inch away from being crazy Morgan again. That moment in the bathroom where he washes off what she wrote on his face is a quiet moment of victory for Morgan because he didn't go backwards. He's going forwards and it's the beginning of Morgan possibly accepting he can stand still and doesn't have to run away.
Q: Does Morgan count Martha as a loss of his?
A: I think he feels like he failed. Although she had already made the decision for herself, I think he feels his mission was to save her – and he didn't.
Q: How big of a decision is it for Morgan not to return to Alexandria?
A: It's huge. It has a lot to do with Morgan being found out in the lie when he said the bridge was impassible. He didn't want to go back to Texas because he could see what the group might want of him and might need of him and he didn't think he was capable of it. I think he realizes that returning to Alexandria is about shirking a responsibility for other people. If he goes back and takes the group with him, then he can hand over responsibility for them to Rick or King Ezekiel or Maggie or to somebody else. I think after his encounter with Martha, he realizes that maybe he shouldn't go back and he shouldn't run and, instead, accept who he is and who he's with and progress accordingly.
Q: Now, Morgan and the group are carrying out Polar Bear's mission instead of heading for Alexandria. What inspires him?  
A: I think a lot of it comes from what he learned about Madison from Alicia and Strand and Luciana. As much as he's carrying out Polar Bear's plan of laying out boxes, it's also about carrying out what Madison set down. I think he's doing that for Strand and Alicia and Luciana because they were already on that road. He's helping them to get back on it because it seems like a positive way to move forward and it feeds into Morgan's belief that all life is precious… I don't think Morgan knows – and I don't know – whether or not he'll end up leading this group or just end up being a member, but I think it's a really good place to leave him at the end of Season 4. I think he will have a hand in deciding how this group goes forward. Whether it's leading from the front or being a confidante to somebody else, it's about how much he takes responsibility for not just his own future but the people around him. Only time will tell.
Read an interview with Aaron Standford, who plays Jim.
Watch full episodes of Fear the Walking Dead on amc.com and the AMC app for mobile and devices.
To get more exclusive interviews with the cast, join the Fear the Walking Dead Insiders Club.
Read More