Q&A
(SPOILERS) Fear the Walking Dead Q&A — Maggie Grace (Althea)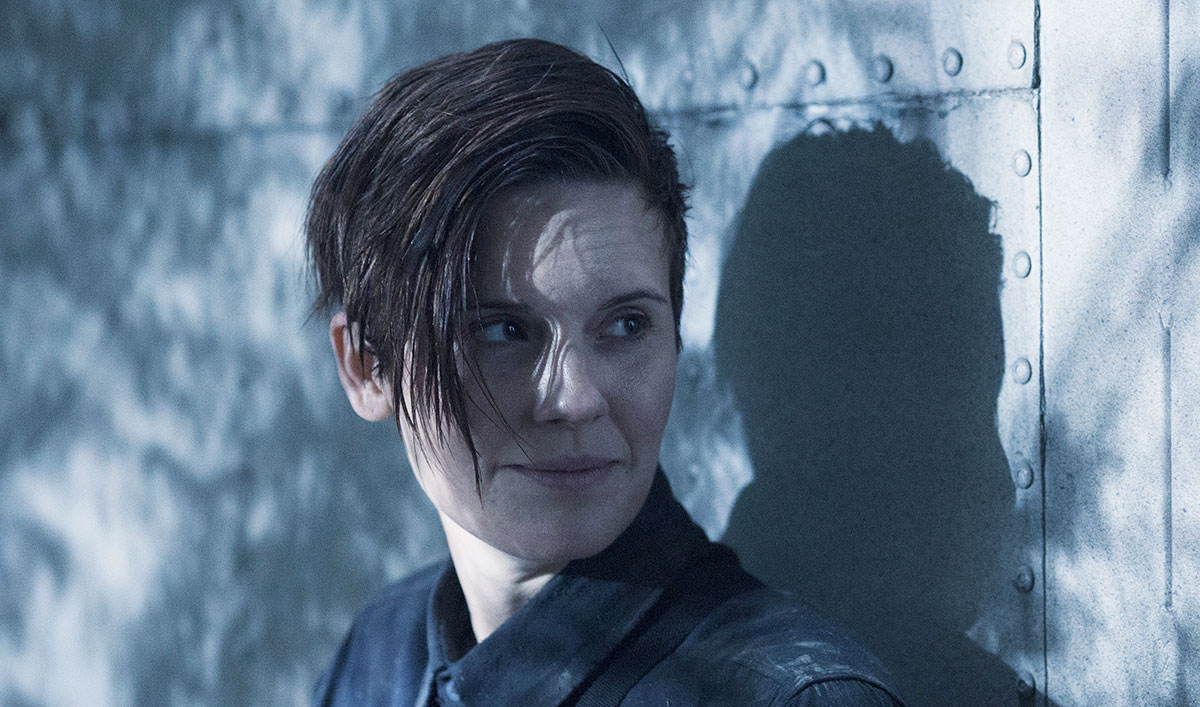 Maggie Grace, who plays Althea on AMC's Fear the Walking Dead, talks about starring in an episode directed by co-star Colman Domingo and what her character's tapes mean to her. 
Q: What struck you about Al when you first met her and joined the show? 
A: Just how capable she is. For a female character to be in no way defined by her relationship to the men around her. Her accomplishments are her own and what she brings to the team has nothing to do with her gender. That's pretty cool.
Q: Along with Al, comes her SWAT truck. What was your experience filming in it?
A: It's super simple to drive. I've driven much larger trucks. She's easy! [Laughs]
Q: For Al, new people means new stories. What's important to her about preserving this period of time?
A: She certainly has a mercenary streak, but I think her relationship to preserving people's stories is more than just a reason to continue to live. It's what had meaning to her before society fell and even more so now. I think we'll start to see – as people scrabble together communities and work in different ways and mini-governments are formed – the connection and some sense of a web of what's working and what's not starts to become relevant. There's also a sense of history rebooting. What are we leaving for those that come after? And then, a sense of preserving our humanity. What separates us from the walkers if we're just competing and destroying? She's touched by instances of individuals acting out of sacrifice and putting others' needs before their own. I think the character is a symbol of hope in that sense.
Q: What was it like filming an episode almost entirely with Jenna Elfman? 
A: I loved that episode and I loved Colman [Domingo] directing as well… It was exciting for me to explore a more vulnerable side of Al and the situations and challenges that push her closer to this new little tribe than she'd normally be comfortable with. It's easy to be fearless when there's nothing left to lose, but she's really staring death in the face. She doesn't deal terribly well with being helpless or powerless. Her closest stable relationship has been with a SWAT van. [Laughs] It's a rocky road for her to need someone as much as she needs June at that point.
Q: When June asks about her past, Al says she stopped having her own story when she started collecting so many others. How did that land on you?
A: I don't think it was true when she said it. I think she's gauging how much and how soon to trust June with her story and who she loved and who she lost.
Q: Al goes to the extreme to save her swat truck, even risking both her life and June's. Does it speak to the importance of the tapes on there?
A: It's both about the tapes and the narrative on them and what they represent as well as the very immediate protection of the SWAT van. The one thing she's learned in the last few years is that it's the only safe place and home she knows. She's become really myopic and attached to preserving it. She really believes it's their best shot, so she feels like the ends justify the means.
Q: What does it mean when Al decides to leave the truck behind and go with June to find Morgan?
A: It's a massive decision for her and one she doesn't take lightly. It's a tentative step towards the group. In seeing Morgan and the way he's leaning to a more altruistic side that she ever thought possible, she feels that she really wants to be a part of what they're building, but it's difficult to risk being close to anyone… She hasn't ended up in this lone wolf position entirely by choice. She's been through a lot. She's really capable of fully throwing herself into a group, but it's a big shift for her and one that might take time.
Read an interview with Mo Collins, who plays Sarah.
Fear the Walking Dead airs Sundays at 9/8c. Click here to add a reminder to your calendar.
Watch full episodes of Fear the Walking Dead on amc.com and AMC apps for mobile, Fire TV, Xbox One, Apple TV, Roku and Chromecast.
To get more exclusive interviews with the cast, join the Fear the Walking Dead Insiders Club.
Read More