Q&A
(SPOILERS) Fear the Walking Dead Q&A — Mo Collins (Sarah)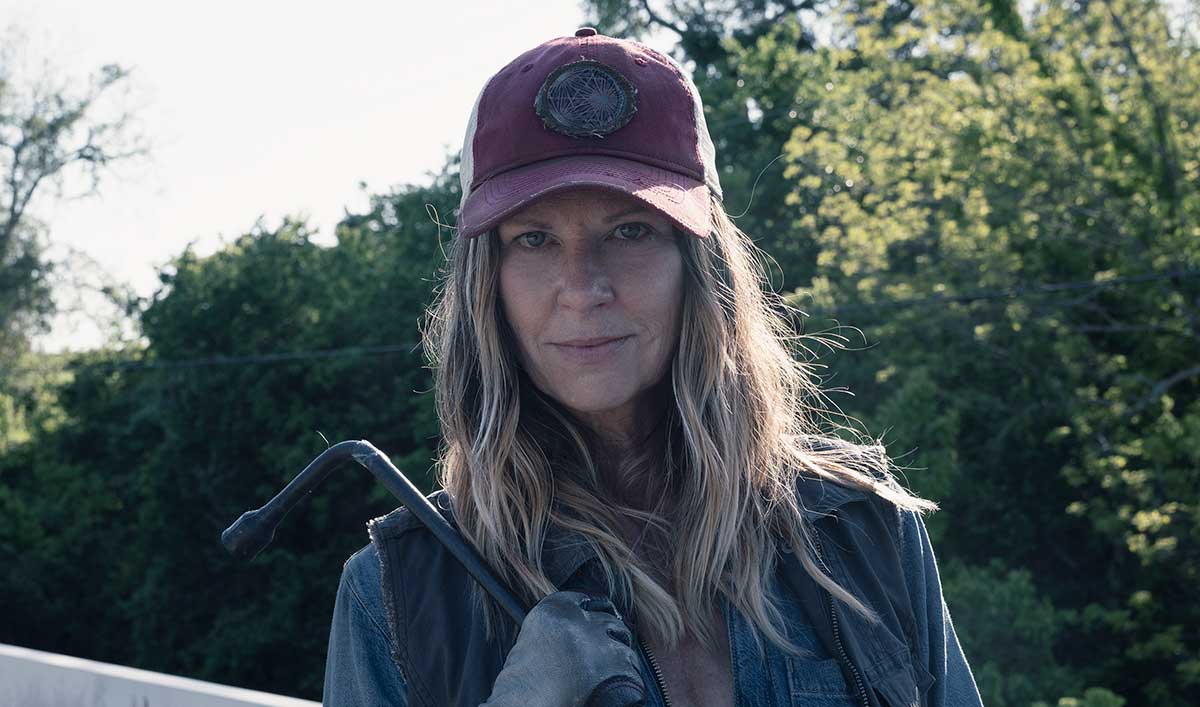 Mo Collins, who plays Sarah on AMC's Fear the Walking Dead, talks about the unlikely inspiration for her character and the similarities between Sarah and Morgan. 
Q: What drew you to the world of Fear the Walking Dead?
A: I've been a fan of The Walking Dead world for years now. I dreamed about being on a show like this. I never thought it possible, to be honest. As it turned out, the executive producers requested me to audition… It was a really quick thing and I was excited to go in, but I certainly thought I'd never get it. When I went into meet with the producers, they had some specific work out of my past that they wanted me to base my character upon. So, I got it from work from 15 years ago. It is really, really cool. You just never know how you're going to get things. I'm so honored.
Q: What specific work was the character based on?
A: [Laughs] Gina from The 40-Year-Old Virgin. I was like, "You're kidding?! That's amazing!" When I went in, I didn't even know they wanted humor. T­hat energy that Gina has – that masculine effect. Balls, if you will – that's really how Sarah is based. That was the start of my work on that character. I had also done a small part on a web series a few years ago that [Chief Content Officer] [Scott] Gimple's wife had written and directed and produced. It was proof that being a "yes and" person can land you something great down the line.
Q: What kind of character did Sarah strike you as, early on? What were some of your first impressions?
A:  She's an ex-Marine. That says something about a person right there. The bravery and the fortitude, I think, play into Sarah. She's been living on the fringes and she's good at it. These all informed me as I proceeded with the character. She's rather self-assured and she's capable.
Q: What was it like diving right in on your very first day with walkers on set?
A: It all happened so fast. I got cast on a Tuesday and I was in Austin that Thursday. My head was spinning… It was crazy coming from the comedy world. I was stepping, very humbly, into an absolute unfamiliar playground and that was scary for me. Of all the times in my life I did want to get laughs, I didn't want to be laughed at in this scenario. I wanted to do the story justice and be taken seriously. The walkers are incredible! I had plenty of moments where I really did get scared. They're so good and they help you so much to feel in the moment… Seeing my first walker, having been a fan for so long, was so cool. She was just sitting there talking to me, but it's a walker! That's a treat.
Q: Wendell says the universe gave him a reason not to help people. What do you imagine Sarah's reason is?
A: The things that you can protect are what you hold inside of you. Those are, for sure, yours. Things out there in the world – trucks and goods – if you can't protect it, it's not yours in the world. It's there for the taking. There's something to that for Sarah.
Q: Were you surprised at all that Sarah doesn't help Morgan escape when he's surrounded by walkers?
A: Well, Mo felt like crap. [Laughs] It was hard to live inside this person that would walk away from that… I hope a smidgen of that plays into it because I wouldn't want Sarah to be so cold. I think what Sarah does see is somebody, akin to herself, that gets out of situations. That's his moment. When he gets to get out of that, that's his pride and his victory.
Q: What did you make of that moment when Sarah calls Morgan out for initially choosing not to go find his friends back in Texas?
A: It's basically her saying, "We're alike." He doesn't want to be that person who can just walk away, but he was doing it. She's smart enough and does recognize what he did. It made a mark on her, too: "You are not better than me. We do these things because we live in this world."Everything we say and do and how we respond, it's all reflective. When we say something to somebody else, we're probably pulling something out of ourselves.
Q: In the end, Sarah continues leaving supplies out for people. Do you think some of Morgan's mentality rubbed off on her?
A: She does come around to this being a better option. They've got this thing. Why not work together on this? it doesn't take away anything that Sarah and Wendell had going on… I think Morgan is clearly an influence through the course of this as is Jim.
Q: As a new face on the show, what are you most looking forward to the audience seeing this season?
A: All of it! I've never been so excited. I've never worked harder. I'm looking forward to them seeing all of it. I'm getting to use parts of myself I didn't know I could do. I'm anxious to see responses. I've had this comedy career and I'm curious to see if they'll come along with me on this other journey. I hope they do.
Read an interview with Alexa Nisenson.
Fear the Walking Dead airs Sundays at 9/8c. Click here to add a reminder to your calendar.
Watch full episodes of Fear the Walking Dead on amc.com and AMC apps for mobile, Fire TV, Xbox One, Apple TV, Roku and Chromecast.
To get more exclusive interviews with the cast, join the Fear the Walking Dead Insiders Club.
Read More