Press
Ian Goldberg Previews New Villain to EW; VF on Protein Bar Dead Callback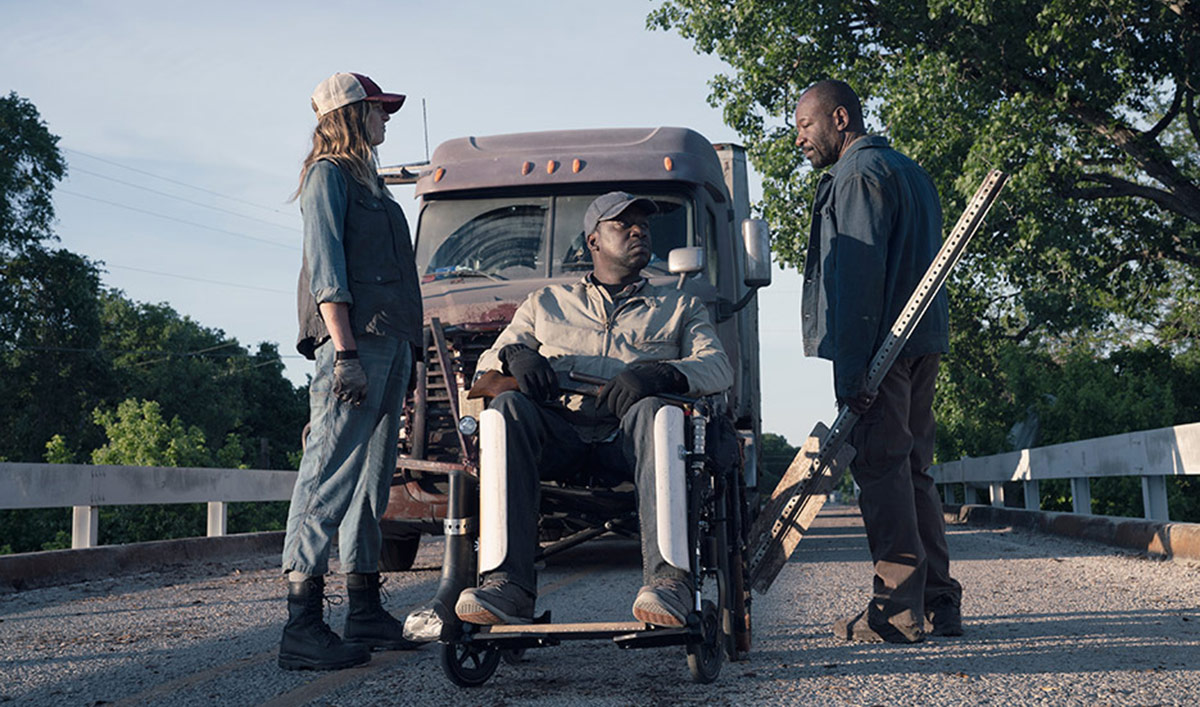 This week, Ian Goldberg teases a new villain to Entertainment Weekly, while Vanity Fair spotlights a protein bar callback to The Walking Dead. Plus, Alycia Debnam-Carey weighs in on the show's changes with ComicBook.com. Read on for more:
• Ian Goldberg teases to Entertainment Weekly that, next week, "we will learn a bit more about that mysterious woman that we saw at the truck stop, and we'll get a little bit more glimpse into what her goal is. We're going to see just how dangerous she is as well."
• The Hollywood Reporter observes that "it's not quite clear who Tonya Pinkins is playing quite yet, but she's somebody who fits the description of how showrunners Andrew Chambliss and Ian Goldberg have described the villain looming over the next several episodes."
• Vanity Fair highlights how Morgan finding a peanut-butter protein bar was a The Walking Dead Easter egg because, back in Season 6, Morgan suspected Michonne had eaten his last peanut-butter protein bar, and Michonne replied, "That's how it is, isn't it? You always think there's one more peanut butter left."
• Cinema Blend points out that "Fear the Walking Dead's showrunners have gone for broke when it comes to introducing new characters into the country-crossing spinoff, and the Episode 11 brought in four new characters that will likely play heavily into the remaining five episodes of the season."
• Talking to ComicBook.com about the show's changes, Alycia Debnam-Carey observes they've "opened up the possibility of the show to continue and grow and keep changing and I'm excited for that because what I've always wanted out of the show was freedom for it to be able to change."
• ComicBook.com features a sneak peek of next week's episode, "Weak," which has "a little callback to the earliest seasons of The Walking Dead, which saw Rick Grimes try to make repeated contact with Morgan over walkie talkie after the two parted ways when Rick set out to reconnect with his wife and child."
• TVLine lauds Alexa Nisenson, who "captured our attention the minute Fear the Walking Dead introduced her as Charlie," and, in last week's episode, "painted a portrait of remorse so harrowing that she left our faces looking as stricken as hers."
• Alycia Debnam-Carey teases to ComicBook.com that Alicia is "trying to also find companionship again for other people and find those connections again because she [Charlie] helped me out of a really bad one and it's nice to see her driving for something good again.
• Lennie James talks to Screen Rant about Morgan refusing to kill: "What Morgan is saying is how are we going to choose to live. And I think that is a really important conversation that the characters need to be having and the show needs to be having."
• Lennie James reveals, "One of the things that kind of attracted me to this crossover, and when this was first broached to me — my concerns were story and Morgan. Was it right for Morgan, and was it right for me, just in the big arc?" according to ComicBook.com.
• For recaps and reviews of Season 4, Episode 11, "The Code," check out Bam Smack Pow, Bleeding Cool, CarterMatt, ComicBook.com, Den of Geek, Entertainment Weekly, Syfy Wire, TV Fanatic, TVLine and Uproxx.
Watch Season 4, Episode 11, "The Code," on amc.com and AMC apps for mobile, Fire TV, Xbox One, Apple TV, Roku and Chromecast.
Fear the Walking Dead airs Sundays at 9/8c. To stay up-to-date with the latest news, join the Fear the Walking Dead Insiders Club.
Read More