Press
Andrew Chambliss Teases Season 4 to THR; Jenna Elfman Talks With TV Guide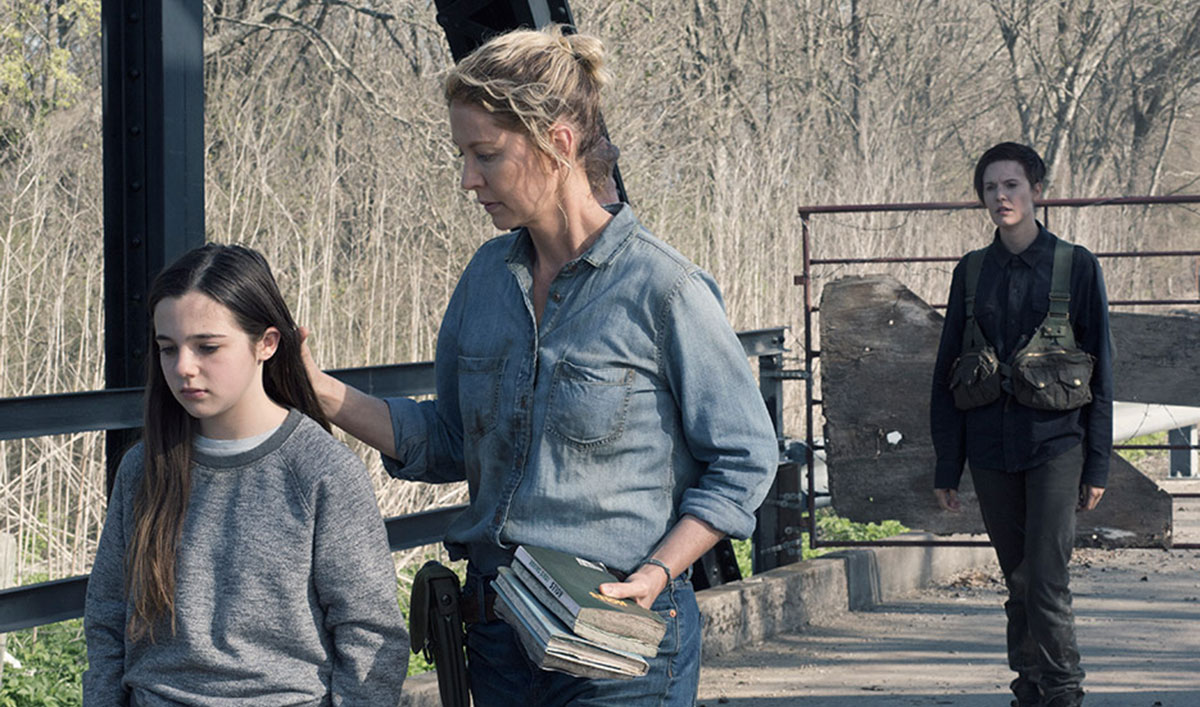 This week, Andrew Chambliss teases the rest of Season 4 to The Hollywood Reporter, while Jenna Elfman speaks with TV Guide about Charlie. Plus, The Ringer commends the show for remaking itself. Read on for more:
• Andrew Chambliss teases The Hollywood Reporter that "there will be someone cropping up who is going to really test all our characters in ways that they didn't expect and this antagonist…may know a lot more about our characters, or have insight into who they are, and what they're going through in ways that our characters don't even have."
• Discussing June and Charlie with TV Guide, Jenna Elfman says, "June's a mother. She had a little girl. And I think once you're a parent, you're a parent. That's it. You're always a parent. And June's also a nurse, and I think caretaking is just in her DNA. And I think it's also healing."
• The Ringer declares that Fear the Walking Dead has made its "makeover work, morphing into a weirder, wilder, and more adventurous show that stands apart."
• Entertainment Weekly interviews Ian Goldberg, who says Morgan is "wrestling with some other emotional demons that we're going to unpack as the back half of this season goes on. And he may say that he's going back to Alexandria, but the journey to get there is going to be filled with a lot of unexpected turns."
• Uproxx, noting the presence in this week's episode of Antoine de Saint-Exupéry's The Little Prince, wonders, "What is the deal with that children's book? And why does The Little Prince keep following Charlie around?"
• On Talking Dead, Ian Goldberg says, "It's just amazing to be able to sort of use those reference points — Morgan talking about his conversations with Rick, and the people that he was close to back at Alexandria — it gives such a rich history," ComicBook.com reports.
• With the departures of both Madison and The Walking Dead's Rick, Lennie James explains to Metro.co.uk, "I doubt the fall out of those characters will be glossed over in what remains of our seasons. I think both of those characters cast huge shadows and both those shows will exist in the shadows that they left behind."
• According to ComicBook.com, Lennie James says moving Morgan to Fear the Walking Dead was "a way of exploring the character on a speed and a level that isn't possible on The Walking Dead, because there's so many characters."
• The Austin Chronicle reports that the Texas Film Commission has "launched the official Fear the Walking Dead film trail," which includes Dell Diamond, Volente Beach Resort and the Millennium Youth Entertainment Complex.
• For recaps and reviews of Season 4, Episode 9, "People Like Us," check out ComicBook.com, Den of Geek, Entertainment Weekly, Screen Rant, Syfy Wire, Toofab, TVLine and Vanity Fair.
Watch Season 4, Episode 9, "People Like Us," on amc.com and AMC apps for mobile, Fire TV, Xbox One, Apple TV, Roku and Chromecast.
Fear the Walking Dead airs Sundays at 9/8c. To stay up-to-date with the latest news, join the Fear the Walking Dead Insiders Club.
Read More