Q&A
(SPOILERS) Fear the Walking Dead Q&A — Alycia Debnam-Carey (Alicia)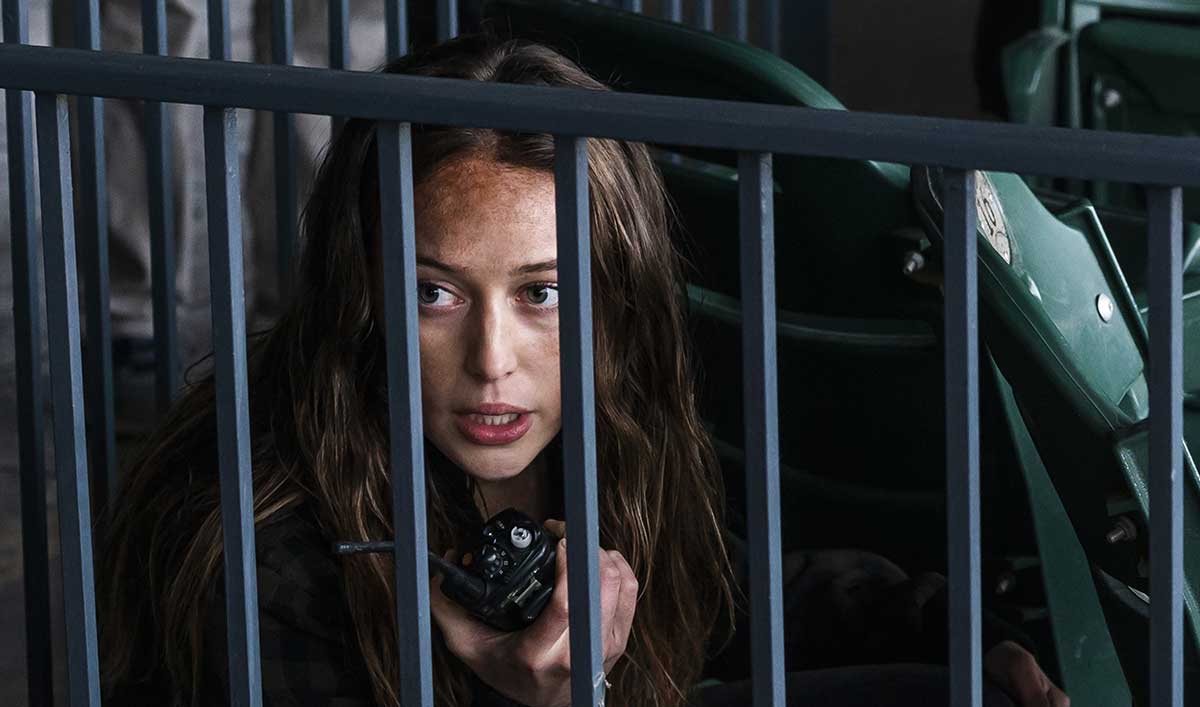 Alycia Debnam-Carey, who plays Alicia on AMC's Fear the Walking Dead, talks about the destruction and loss leading up to the Season 4 Mid-Season Finale and where her character goes from here. 
Q: How did you enjoy telling the story through flashbacks and playing with time? 
A: Playing with time has definitely been one of the most fun elements this season… you get to develop the character in two different ways and keep bouncing back between present and past. At the same time, it is also very difficult. You have to keep up with how to make the character different… It looked really different this season and it's given us a different kind of depth. To play out the story in terms of Madison and Nick's… has been a really effective tool. It makes it even more heartbreaking how everything turns out.
Q: How different is the Alicia we're seeing now from the one we first met in Season 1?
A: She's a completely different person. I think she's had one of the most extreme developments out of all the characters. If you look back at who she was in Season 1, she was just a teenage girl and trying to get out of town. You see her now and she's a shell… that person. Deep down, I think she's still got all of those qualities, but she's lost a lot of that humanity and that morality and those ethics. She's pretty brutal and pretty destroyed from everything that's happened to her. It's been really cool for me to get her to that place – and it doesn't end here. She's developing more as we go along.
Q: The first half of this season has been leading up to the Mid-Season Finale. What was it like finally getting to it? What were some of the practical details, as well as the emotional work, that went into such a huge episode?
A: It was the most massive episode to shoot. We all knew that this is what we've been mounting to with Madison's death and the end of Nick in the flashbacks. It meant that this was really the end of one story and the beginning of another chapter. It was the final push for us to make it special and honor those characters and also say goodbye to them at the same time. It was really difficult. I think we all felt the same pressure leading up to it. In a way, there was a sense of relief once we finished, but it was all those months of emotions and heartbreak in one episode. I think it might be my favorite episode we ever shot. It's so beautiful and such a nice homage to those characters. There were so many different elements, too. We had practical effects in terms of gun fire and weapon training and stunt sequences. At the same time, there were these incredibly emotional scenes like the one around the campfire where everyone's remembering Madison's legacy and the scene where Morgan is trying to talk Alicia out of killing Naomi. It's just so much. I hope we did it justice.
Q: What are your thoughts on Madison's recurring motto of "no one's gone until they're gone?" and how it permeates throughout the season, right until the very end?
A: Madison's motto continues to play through Alicia's development. It also resonates with her when she's at that standoff with Morgan. He says to her, "I know you're still in there. I see your mother in there." That's a reminder to her of what her mother really stood for. I don't think Alicia can hold onto that belief since her mother's death. I think she's decided it's not true and that people do need to pay for their actions, but she does get to a point where someone recognizes in her that there is still good and that she can be saved even though everything is falling apart around her.
Q: Madison made it her mission to preserve her children's humanity. Is that even possible?
A: I guess it depends on what you define as humanity. There is a way to preserve morals and ethics, but I think your priorities just change over time. What we know as morals and ethics now may not pertain to what morals and ethics are in the apocalypse. It's the same as with any period of time in history. It's different in terms of the context and circumstances. I think elements of love and hope and forgiveness still exist and are true – that's why any of our characters still exist – but it's definitely challenging in this environment.
Q: At this point, Alicia has lost all of her family – at least biologically. Can she find a sense of belonging in Luciana and Strand? What about Charlie and June – or Naomi/Laura?  
A: [Laughs] Yeah, I never know what to call her!… While she may have been pulled back from complete destruction and revenge, Alicia's definitely not feeling connected to anyone. I don't think she wants to be around anyone… a part of her realizes the destructive effect she's had on other people and she doesn't know how to deal with that. She's at a point where she doesn't really like herself, which I think is the saddest thing of all… Being in this new group of people that she's tried to harm and being surrounded by people that have directly affected her life, such as Charlie – she's wanting out. It's a next level of loss and grief.
Read an interview with Kevin Zegers, who plays Mel.
Watch full episodes of Fear the Walking Dead on amc.com and AMC apps for mobile, Fire TV, Xbox One, Apple TV, Roku and Chromecast.
To get more exclusive interviews with the cast, join the Fear the Walking Dead Insiders Club.
Read More