Press
Andrew Chambliss Previews Second Half to EW; Bleeding Cool Views Teaser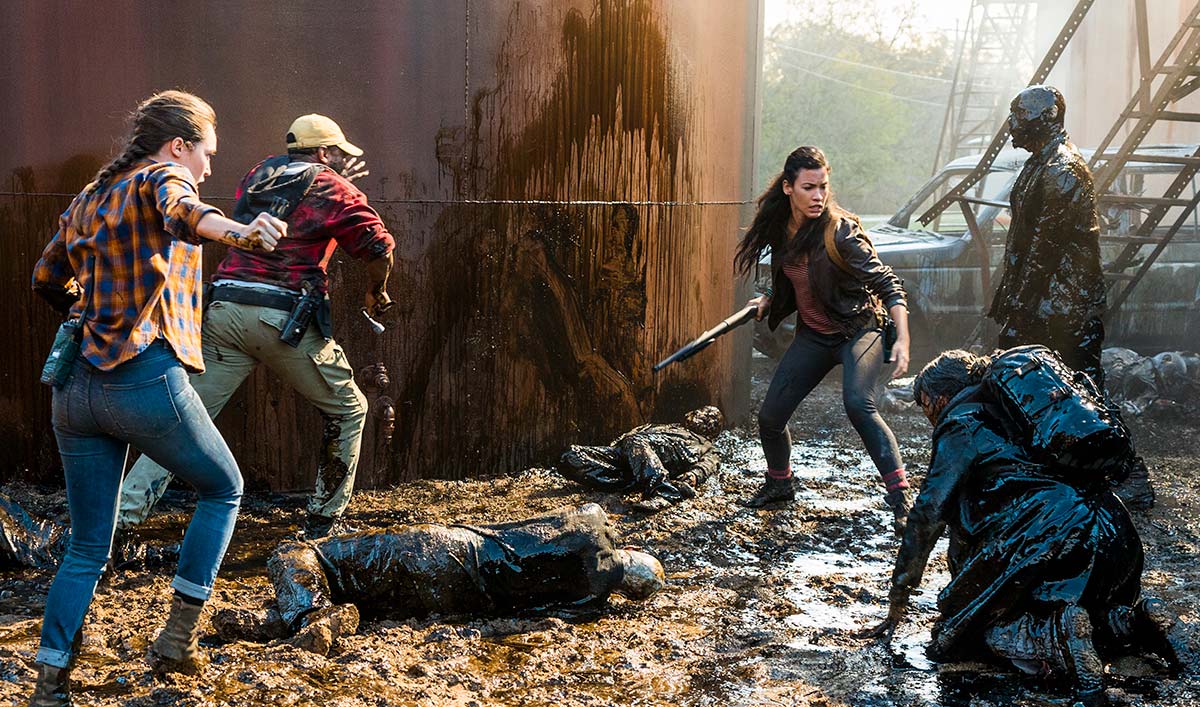 This week, Andrew Chambliss previews the season's second half to Entertainment Weekly, while Bleeding Cool checks out a new teaser. Plus, Kim Dickens talks with TV Guide about her last day on set. Read on for more:
• Andrew Chambliss previews the rest of the season to Entertainment Weekly, saying "we are going to be doing an antagonist that is something we haven't seen on either show before, and let's just say one of the big challenges that our group is gonna be facing comes from nature itself."
• Bleeding Cool checks out a teaser for the second half of Season 4 that will help viewers "ease their suffering" until the series returns on Aug. 12.
• Kim Dickens shares with TV Guide that her last day on set was "a night shoot where I shot the opening sequence with Maggie [Grace], so that was sort of fun. I really felt like then I was getting the character of Madison back, at least that fun, unhinged, dirty, filthy, difficult part of her that was so fun to play."
• TVLine commends Alycia Debnam-Carey: "So full of fury and despair was Alycia Debnam-Carey's performance in Fear the Walking Dead's Midseason Finale that it all but shook the screen."
• Kim Dickens laments to ComicBook.com, "I thought [Madison] could have become a villain, to just play all of that ferocious aspects of her were so fun and I thought she could have become a villain in fact or I would have loved to see her in the crossover as well."
• Still regretting the death of Madison ("relentless, tough, loving, and irreplaceable"), Hypable decides to "take a look at some of her best quotes."
• Andrew Chambliss tells The Hollywood Reporter that Alicia, Strand and Luciana's journey "will be about how to reconcile all the dark things they did with the legacy Madison wanted them to carry forward. It's not just those three characters who Madison's death will impact. We'll really see it ripple through all of the characters on the show."
• TheWrap interviews Ian Goldberg, who says, "Madison has always been such a strong, complicated, heroic figure, and it was really important to us to honor her and to, you know, to pay homage to this amazing character and to give her the most emotional, powerful sendoff we could."
• Kim Dickens says to ComicBook.com, about playing Madison, "I really hung my hat on this character, I loved her so much and I was so proud and honored to be this fierce leader in this amazing Walking Dead universe."
• Ian Goldberg, speaking with ComicBook.com, shoots down talk of shows merging: "We love The Walking Dead, we love Fear the Walking Dead. But our focus is really just on Fear the Walking Dead."
• Digital Spy says, "Madison has been shown throughout the series to be the glue that keeps Alicia, Strand and Luciana together, especially in Season 4 when it was her presence at the Diamond that persuaded everyone to stick together. The show has to find a way to keep everyone together for a logical reason."
• ComicBook.com reveals that the song that closed out the Midseason Finale was "Love Love Love" by The Mountain Goats, from the band's 2005 album The Sunset Tree.
Watch Season 4, Episode 8, "No One's Gone," on amc.com and AMC apps for mobile, Fire TV, Xbox One, Apple TV, Roku and Chromecast.
Fear the Walking Dead returns Sunday, August 12 9/8c. To stay up-to-date with the latest news, join the Fear the Walking Dead Insiders Club.
Read More