Q&A
(SPOILERS) Fear the Walking Dead Q&A — Jenna Elfman (Naomi)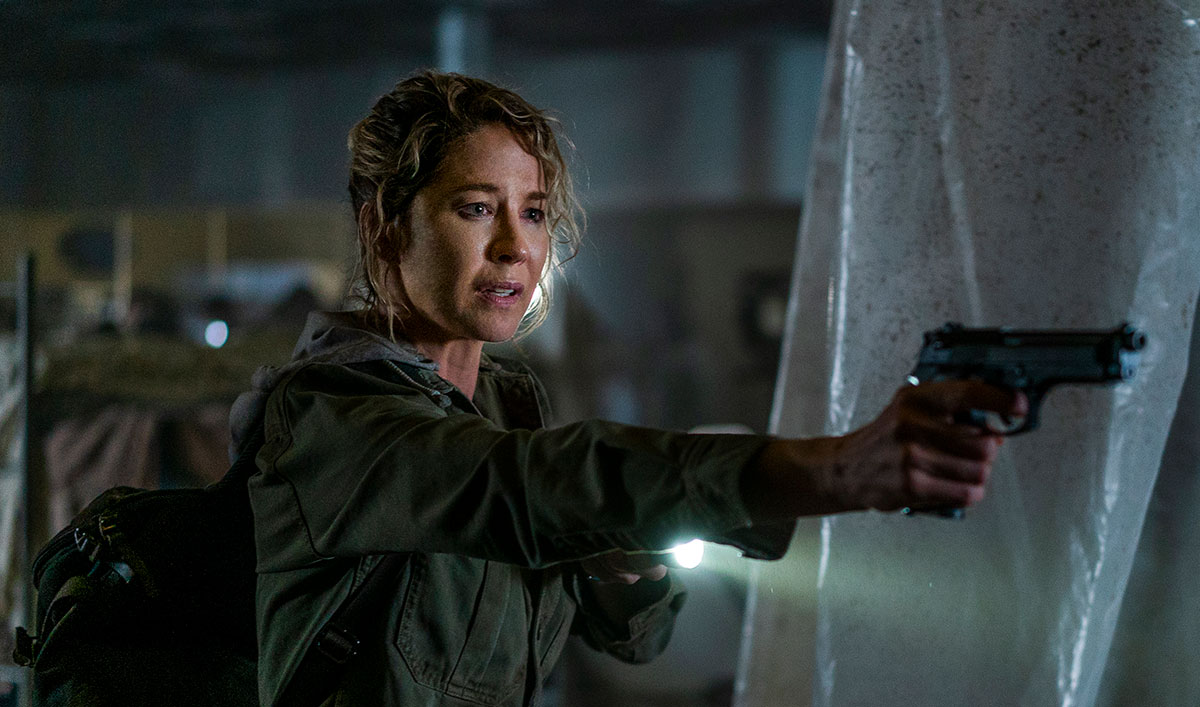 Jenna Elfman, who plays Naomi on AMC's Fear the Walking Dead, talks about her character's journey and John Dorie's impeccable timing.
Q: What drew you to this role and to the apocalyptic world?
A: I had been desiring to have the opportunity to dig deeper into the human condition and human stories that have more layers. It was something I was really ready for, and this came my way and it was perfect.
Q: Can you talk about your experience shooting Episode 5 with Garret Dillahunt? What was it like peeling back some more layers of your character?
A: What I think is so special about that one is it's an apocalyptic love story – and it's a love story with broken pieces. What I especially love the most about that episode – there are so many things – is that every time Naomi comes in contact with John Dorie, she's a better version of herself. In whatever form that takes, she's better. I really love that love story. Garret makes me feel beyond safe. I had this moment where I was trying to figure out what it is about Garret that I like so much besides my admiration for his ability as an actor. It was just the two of us in that episode, so we're spending 15 hours together on set. I was sitting with him on set and said to him, "I trust you. I fully trust you. And I like how that makes me feel." Think about all the people you meet in the world, let alone in an apocalyptic environment – trust isn't the number one leading quality in human relationships… [but] in the storytelling and in real life, I fully trust Garret and I trust John Dorie…
Q: Naomi always seems to be coming and going. What's the hardest thing for her when it comes to assimilating into the group?
A: In Episode 6, she gets to tell her story. Off her chest, out of heart, out of her mind, out of her guilt and her conscious that is completely squelching her. It's like she's under a semi-truck trying to function in this world and it's killing her. Having to go back into that environment where she not only lost a child but she's responsible for the fall of the entire place because she was trying to help – that scrambles all of the things we're made of as human beings. In loving environments, people don't recover well from losing their child, let alone in an apocalyptic environment where you also are the reason it happened. It's just overwhelming and it takes someone like John Dorie to plant that seed of recovery. It was cathartic to actually communicate what happened [both] for me as the actor playing it and for Naomi…
Also, every time Naomi starts to hit rock bottom, John Dorie shows up. Somehow, she'll be right at the edge of her moral code or physical survival and there he is.
Q: What's it like for her to see the group continually save her?
A: It's not lost upon her at all. Being in a group is just too much, but you can't survive on your own, so there has to be a new way. Madison really lays that out… Helping people is the way to go. When push comes to shove, [Naomi] gets skittish. This world is a lot for her, but she needs community to find out who she's going to be now.
Q: Can you share some behind-the-scenes details about what went into filming Episode 6? What was it like shimmying across that rope over a horde?
A: I got to do all of my own stunts, which I love to do because of my dance background. [Stunt coordinators] James Armstrong and Jack Tamplin were key in me being able to do that and have fun doing it, but I did come away with some record-breaking sized bruises! [Laughs] I had one the size of a grapefruit. It was a metal wire that I was shimmying across and I couldn't believe I was doing it. I was so tired because Episode 6 is such an emotional episode. The guilt of looking at all those people who have now turned. She recognizes them all and they're all in that state because of her. She's about to sacrifice herself… and then Madison and Strand show up and give her that chance to move forward. Shimmying across that rope was kind of symbolic of what the journey is to recover. It's like "It's going to be a struggle, but there are people on the other side for you."
Q: At the end of the episode, Naomi's reunited with John but she's also siding with the Vultures. How does she navigate what's going on in this present moment?
A: I had one breath to play so much: Uh-oh, it's them. Uh-oh, I know what it looks like to them. Uh-oh I did run, but I have a really good explanation. Uh-oh, [Alicia's] got a giant gun aimed at my face. Uh-oh, John takes the bullet. Uh-oh! [Laughs] It's just so much. The moment I see John is the same moment he gets shot. From that point on, all she cares about is John. It's also an interesting moment of "Who is Naomi?" Actions speak louder than words.
Read an interview with Garret Dillahunt, who plays John.
Fear the Walking Dead airs Sundays at 9/8c. Click here to add a reminder to your calendar.
Watch full episodes of Fear the Walking Dead on amc.com and AMC apps for mobile, Fire TV, Xbox One, Apple TV, Roku and Chromecast.
To get more exclusive interviews with the cast, join the Fear the Walking Dead Insiders Club.
Read More