Q&A
(SPOILERS) Fear the Walking Dead Q&A — Danay Garcia (Luciana)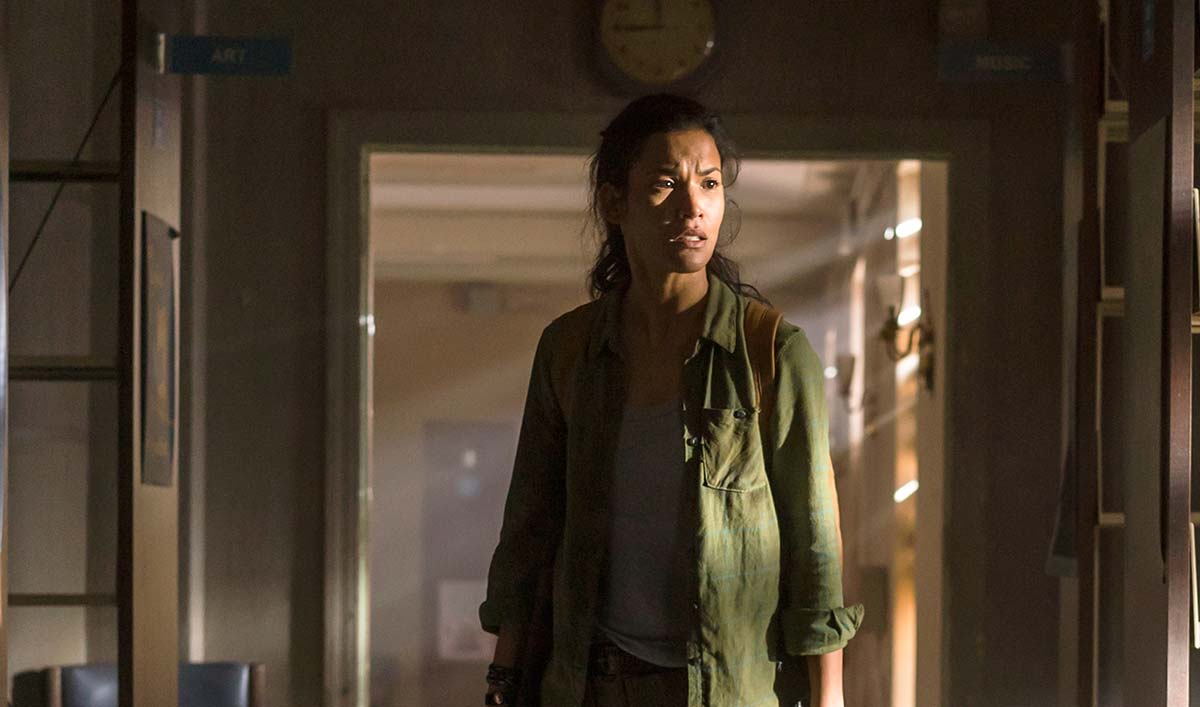 Danay Garcia, who plays Luciana on AMC's Fear the Walking Dead, talks about the group's quest for revenge and how every walker is different to her. Read part one of her interview here. 
Q: Was it eerie to continue filming with Frank Dillane even after his death scene?
A: Yeah! It kept going in Episode 4… In telling [Althea] what went wrong, Luciana has to relive all her mistakes and everything that went wrong that got us here. That was very hard.
Q: Luciana is the one to put Nick down before he turns. Why was it important for her to be the one?
A: When I first read that scene, I felt it was a bit theatrical to me. Almost like, "I will be the last one to do this for you. Love is what's going to close your eyes and make it right." Their journeys and this whole relationship was not finished. They were supposed to live a life together and it never happened. So many broken dreams… To be able to be that, it felt like closure. Even though it's Luciana's worst nightmare, the fact that she's at least here makes it better. That's how I approached that.
Q: In Episode 4, Luciana expresses her regrets over not leaving the stadium for a new destination. Does she feel guilty about Nick's death particularly because of this?
A: That's the thing. When they find the walker at the library that killed himself, it was a sign that something is going to happen. On the show I deal with a lot of walkers, but when I have a confrontation with one of them or have a scene where I see one of them like this, I always want to find the meaning of why. Walkers are everywhere, so why is this one so important for this character? Why does it impact her so much? He died holding a map. Everything he wanted to do, he didn't make it. All the places he wanted to go, he didn't make it. When Luciana picks up this map, it's like, "If we don't leave now, one of us is going to be this walker. This walker with broken dreams." I try to find meanings in moments like that. I think those details make the story. It's everything that Luciana fears.
Q: At the end of the episode, Luciana, Strand and Alicia are preparing for vengeance against Mel and the Vultures. Does Luciana believe this is what Nick would want? Is it what Luciana wants?
A: Her motivation at the end of Episode 4 is Nick. The mourning kicks in and, at this point, she's not a human anymore. She's like a machine on a mission. They took a lot from us. There is a lot of anger. I remember talking with the director, Magnus Martens, about how she's not rational at this point. She has a target and she's not going to stop until she gets it. That's Luciana. That's who she is. It's like, "Okay! You give me no choice but to end you!" She's not thinking. She just has a mission. There is no compromise whatsoever.
Fear the Walking Dead airs Sundays at 9/8c. Click here to add a reminder to your calendar.
Watch full episodes of Fear the Walking Dead on amc.com and AMC apps for mobile, Fire TV, Xbox One, Apple TV, Roku and Chromecast.
To get more exclusive interviews with the cast, join the Fear the Walking Dead Insiders Club.
Read More