Press
Showrunner Talks John Dorie, Next Ep With EW; TVLine Appreciates Fear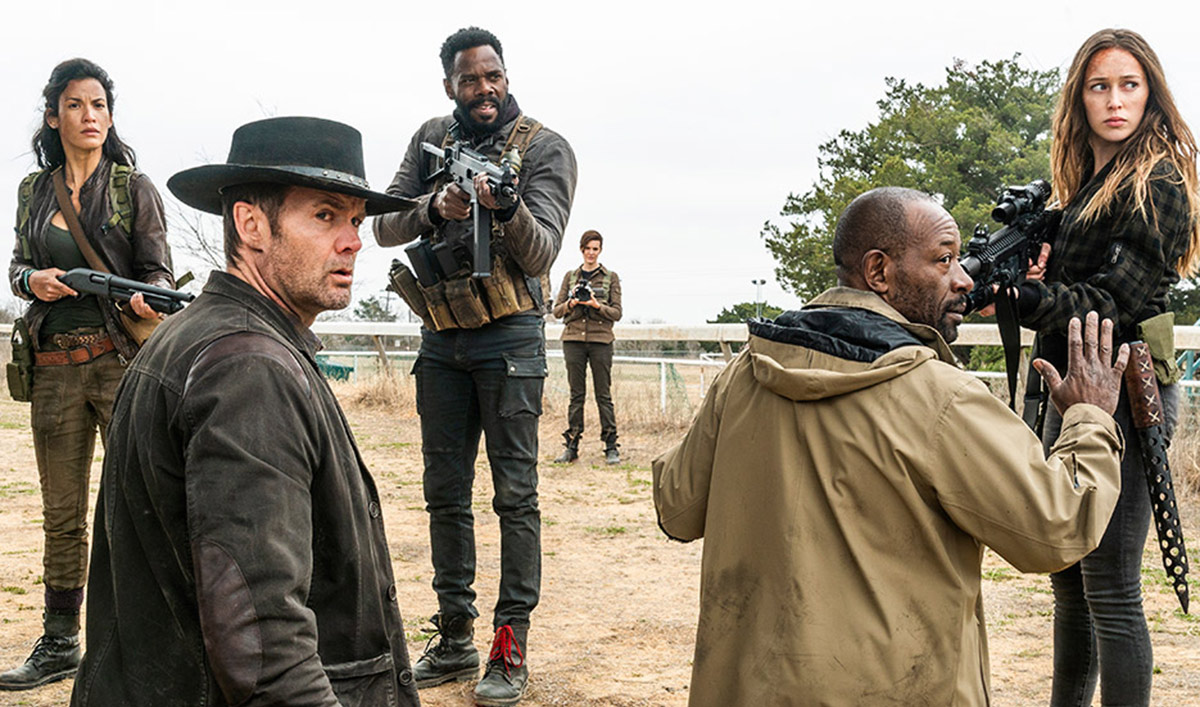 This week, Ian Goldberg discusses John Dorie and teases what to expect with Entertainment Weekly, while TVLine writes of its appreciation for the show. Plus, TV Guide really does not want John Dorie to die. Read on for more:
• Ian Goldberg, after confirming to Entertainment Weekly that John Dorie is not dead ("at least not in that moment"), teases, "We have John Dorie shot and we have our Vultures and our characters both heavily armed and who knows what could happen? I would say get ready for more of that battle."
• TVLine proclaims that Fear the Walking Dead has "gone from being an adequate stopgap between seasons of The Walking Dead to a show that's as good or arguably even better than the one from which it was spun off" and concludes it's a show "that I love and watch because I can't wait to see what happens next."
• TV Guide protests, "John better not be dead. He's the best new character and Garret Dillahunt's performance is delightful. He brings a shot in the arm of hope to the grim show, and we're not ready to lose that yet."
• TVLine honors Garret Dillahunt as a performer of the week for "Laura": "As he opened wide John's lonely heart to Naomi, drawing us deeper in with every awkward attempt to win her favor, the sincerity on display made us fall harder and harder."
• Digital Spy points out that Fear the Walking Dead "might have cleared up what happened after the dam explosion in the Season 3 Finale, but it just piled more mystery on Madison's fate."
• Jenna Elfman speaks with ComicBook.com about shooting "Buried," saying, "It was really cold. Walking through the water on that first walker kill scene and then climbing the slide and we're all wet."
• TVLine picks a line from the show for its best TV quotes of the week list — when John tells Laura/Naomi, "I need you alive. If you're alive, this whole world… this whole world feels alive."
• Looking at the big picture, Digital Spy says, "As we head nearer to the Midseason Finale, we've rounded up the big questions that we still need answering and offer a few solutions of our own."
• Kevin Zegers tells FanSided that what he likes most about Mel is "the idea that he is very practical about whether people live or die. I think he approaches it very much like a business."
• For recaps and reviews of Season 4, Episode 6, "Just in Case," check out ComicBook.com, Forbes, Syfy Wire, TV Fanatic, TV Insider, TVLine and Uproxx.
Watch Season 4, Episode 6, "Just in Case," on amc.com and AMC apps for mobile, Fire TV, Xbox One, Apple TV, Roku and Chromecast.
Fear the Walking Dead airs Sundays at 9/8c. To stay up-to-date with the latest news, join the Fear the Walking Dead Insiders Club.
Read More