Press
THR Interviews Lennie James; EW Goes Behind the Scenes of Crossover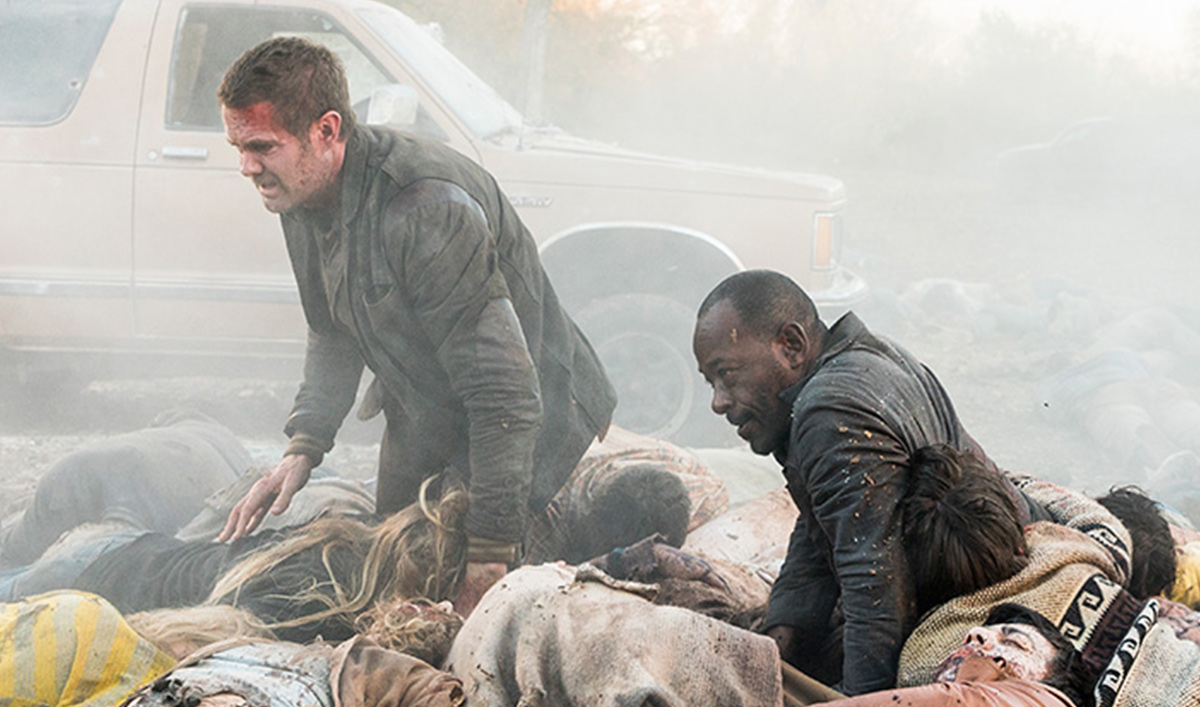 This week, The Hollywood Reporter interviews Lennie James, while Entertainment Weekly goes behind the scenes of The Walking Dead/Fear the Walking Dead crossover event. Plus, ComicBook.com has details of the episodes. Read on for more:
• Lennie James cautions Entertainment Weekly that "although you think you know those existing characters of Strand and Luciana and Alicia and Nick, you might not know them nearly as well as you think you do, and they too have gone through certain things since the last time you saw them."
• The Hollywood Reporter interviews Lennie James, who calls the Season 4 Premiere ending "a fantastic cliffhanger, and again, it's a great springboard for the dynamics between the three people we just got to connect with in this episode, and the four people we come across at the end. Where is all of that going to take us?"
• According to ComicBook.com, Lennie James says reading the script for the Season 4 Premiere "gave me real confidence, it took the edge off and made me feel that I've made the right decision to continue telling the story of Morgan over here at Fear."
• Entertainment Weekly goes behind-the-scenes to find out how Fear the Walking Dead's "epic crossover extravaganza" happened.
• ComicBook.com details The Walking Dead characters who appeared in Fear the Walking Dead's Season 4 Premiere with Morgan, noting, "One by one, members of the Alexandria, Kingdom and Hilltop communities came by to request he stay close or come back with them."
• Talking crossovers, Andrew Chambliss shares with Entertainment Weekly that even though Morgan is "walking and actually running away from The Walking Dead, those words and what they mean to Morgan are going to resonate, so he's carrying a piece of Rick, Carol, and Jesus with him."
• E! Online asks, "Did the show just turn its original heroes into its new 'bad people'? Because if so, consider us fully invested. What other show in the history of TV has had the balls to do something like that? We're not sure we can think of one and that's what made this premiere so exciting."
• TheWrap comments, "So here we are, at the much anticipated crossover event between The Walking Dead and Fear the Walking Dead, and it was a hell of a doozie."
• Looking to the next episode, Andrew Chambliss tells The Hollywood Reporter it "introduces a new setting for the characters that we were very excited to create. It was not easy to create on a production level, and it turned out very well."
• "After months of anticipation, Morgan showed up on the series, meeting new Fear The Walking Dead characters John and Althea and opening up a whole new world both for him and for fans of the spinoff," Bustle reports.
• Lennie James talks to the Los Angeles Times about the crossover, saying, "I'm very protective of Morgan as a character, and I'm very interested to see where this is going to take him. I'm buoyed by the things he will get to explore, and I'm excited as an actor."
• Maggie Grace tells ComicBook.com that Althea is "an interesting person that has a lot of freedom as a character in a way that you don't always see with female characters."
• For recaps and reviews of the Season 4 Premiere, "What's Your Story?," check out ComicBook.com, Entertainment Weekly, IGN, TV Fanatic, TV Insider, TVLine, Vanity Fair and Variety.
Watch the Season 4 Premiere, "What's Your Story?," (no login required) on amc.com and AMC apps for mobile, Fire TV, Xbox One, Apple TV, Roku and Chromecast.
Fear the Walking Dead airs Sundays at 9/8c. To stay up-to-date with the latest news, join the Fear the Walking Dead Insiders Club.
Read More