Press
THR Interviews Kim Dickens; Jenna Elfman Talks Naomi With EW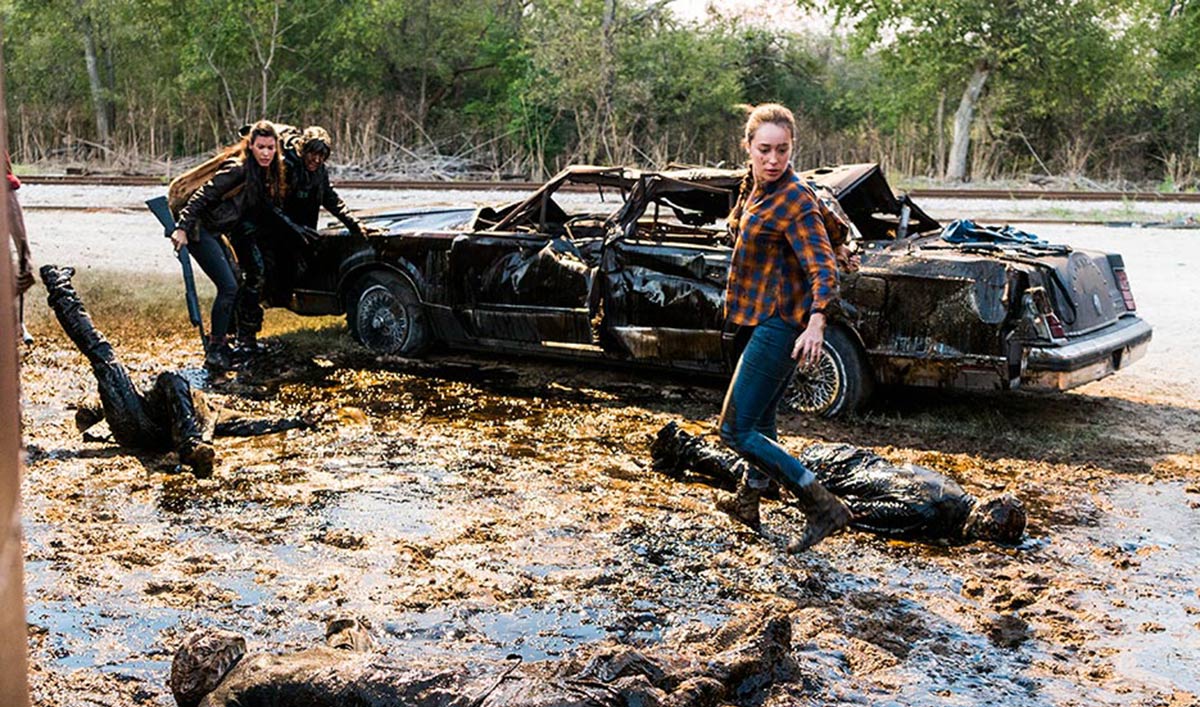 This week, The Hollywood Reporter interviews Kim Dickens about Madison's absence, while Jenna Elfman talks about Naomi with Entertainment Weekly. Plus, Syfy Wire tries to pinpoint what makes the show so good. Read on for more:
• Asked by The Hollywood Reporter about Madison's absence so far in the present, post-Diamond timeline, Kim Dickens shares, "I can't tell you to worry or not worry. The storytelling is magnificent this season. We're playing with time in a very unique way. The characters are changing from what you have seen before."
• Jenna Elfman describes Naomi to Entertainment Weekly as a person who's "broken, but strong. I mean, she is a human being and she does have a heart, and she has a lot of will. But she's very broken at the moment."
• Syfy Wire asks, "So what exactly makes Fear the Walking Dead 2.0 so darn good? After three seasons, they're finally leaning into the freedom and weirdness that a setting and franchise like this permits."
• Showrunner Ian Goldberg tells TV Guide, "As much as it's a physical threat, it's also a philosophical one. The Vultures are a group that doesn't believe in setting down roots. We're interested in how those two philosophies clash — the Vultures versus Madison…"
• Speaking with Cinema Blend about the Vultures, Maggie Grace (Althea) warns that "no one is pure, and depending on your perspective, no villain thinks of themselves as a villain. They're justified from their point of view. So I think jumping on with perspective and circumstance and motivation is interesting."
• Discussing Mel, the Vultures leader, Bustle says, "This new big bad quickly establishes himself as having a kind of Austin, Texas hipster cool that you can't quite get on the original Walking Dead series. Even Negan doesn't have this much style."
• Andrew Chambliss reveals to Entertainment Weekly that "the thing we will say without giving away too much is that we definitely will be seeing Daniel Salazar in the Walking Dead universe. It's a very big world, and we will hint at what may have happened."
• Discussing Garret Dillahunt joining Fear the Walking Dead, Scott Gimple tells Vulture that "it was always Garret, Garret was sticking in my brain throughout the pretty quick birth of John Dorie because he was someone I absolutely wanted to work with."
• Maggie Grace explains Althea's weapons to Entertainment Weekly, calling them "push daggers that she wears in a chest harness. It's almost like boxing, in a way. But it's easy to keep close at hand and have on you practically at all times. Portable, right? And it doesn't require ammo."
• Speaking with The Hollywood Reporter, Garret Dillahunt says of John, "As comfortable as he might be, being alone, or as capable as he is of surviving that way, he might not even realize how much he has missed human contact and companionship. And I think he really smells a friend in Morgan."
• Describing John to Entertainment Weekly, Garret Dillahunt explains that "there's innocence. There's buoyancy, there's hope in him. But there's no shirking responsibility. He seems like the kind of guy who's willing to sacrifice himself for that."
• "I'd been wanting to delve more deeply into the human condition in storytelling. I've lived a lot of life, I'm raising children, I'm not a girl now, I'm a woman, and I wanted to have a chance to stay in those scenes, experience more dynamic emotions," Jenna Elfman explains to The Age while talking about joining the show.
• Crossing over to Fear the Walking Dead is "certainly a challenge and surprise. It's a unique opportunity for me as an actor and me as a character," Lennie James explains to The Telegraph.
• Kim Dickens emphasizes to Syfy Wire, "We started Fear the Walking Dead as about a family and Madison is the leader of the family; she's a leader of the extended family that they put together. You can expect her to remain at the center."
• Colman Domingo tells Tribune, "There will be new characters this season that will change things. This season there will be a lot of dealing with redemption."
• Speaking with HollywoodLife about women on Fear the Walking Dead, Maggie Grace calls it "pretty awesome that the female characters are not ornamental or objectified, but they are fully fledged human beings. It's pretty rad!"
• According to Cinema Blend, Maggie Grace teases that "they're doing stuff with walkers that they haven't done before. You know, the walkers have their own stories about where they've been. And they wear that on their sleeves, so to speak."
• Vote for Alicia (who was "pretty far and away the victor" in the first round) in CarterMatt's Unsung Hero Showdown.
• For recaps and reviews of Season 4, Episode 2, "Another Day in the Diamond," check out ComicBook.com, Digital Spy, Entertainment Weekly, Forbes, Inverse, Syfy Wire, TV Fanatic, TV Insider, TVLine, Uproxx and Vanity Fair.
Watch Season 4, Episode 2, "Another Day in the Diamond," on amc.com and AMC apps for mobile, Fire TV, Xbox One, Apple TV, Roku and Chromecast.
Fear the Walking Dead airs Sundays at 9/8c. To stay up-to-date with the latest news, join the Fear the Walking Dead Insiders Club.
Read More