Q&A
(SPOILERS) Fear the Walking Dead Q&A — Colman Domingo (Strand)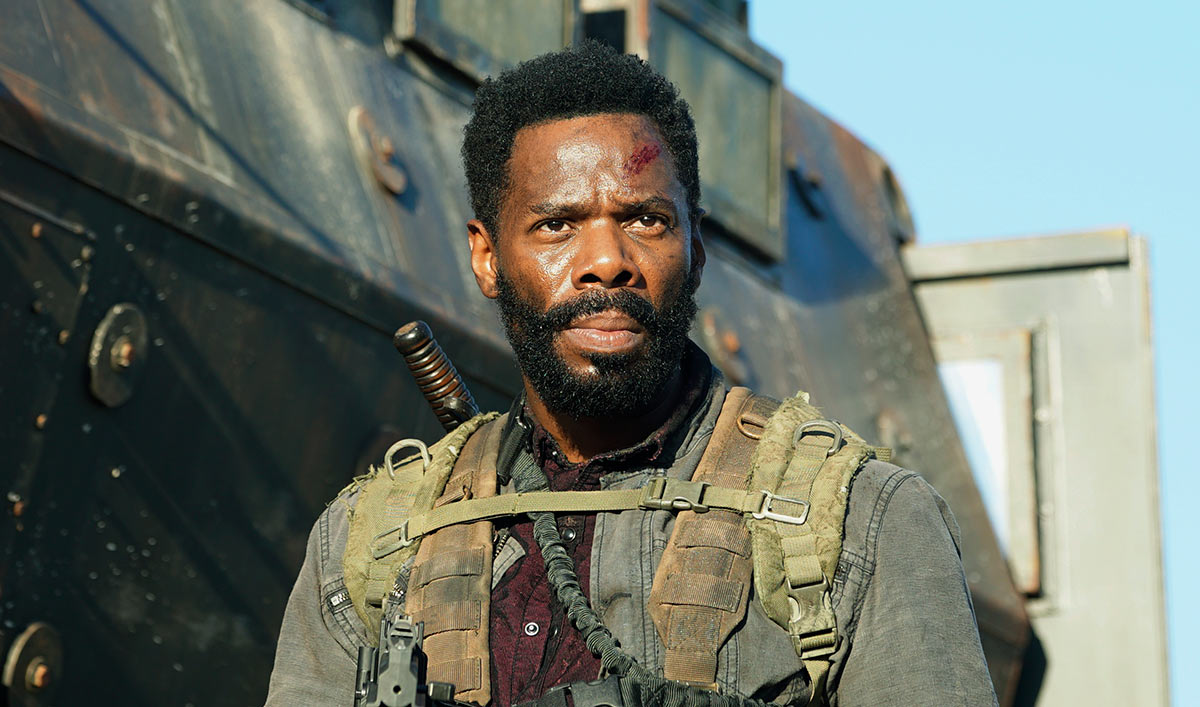 Colman Domingo, who plays Victor Strand on AMC's Fear the Walking Dead, talks about his character coming back after betraying Madison and what it was like setting up camp in a baseball stadium. 
Q: What was it like welcoming The Walking Dead's Lennie James on the show and merging these two worlds?
A: It was pretty seamless. Lennie James is such a pro and such a wonderful actor. He brought warmth and generosity and that extended from our cast as well. The idea of the universe expanding – that's what it felt like. It feels like a great evolution of the franchise.
Q: Even Strand is left wondering why Madison saved him after he betrayed the group at the dam. Any thoughts on why she did?
A: Strand raises the question because he questions it within himself and if he would have done the same thing for her. He's not quite sure, but she believes in him quite a bit more than he believes in himself. He thinks he would make some shrewd choices if there were backstabbing and back deals happening. He thinks he would respond in a certain way that would challenge their relationship and she believes more of him. That's a key moment in their friendship and evolution as comrades.
Q: Is Strand moving away from the "every man for himself" mentality and settling down into the group?
A: He's trying that on for size. We always have to remember that we do have the origin stories of these characters. Even though we see them changing because of how deep they're going in the apocalypse, we do have to remember the Victor Strand we met in that cell. That will keep bubbling up even as he tries to become part of a group and a new man. I think we'll see glimmers of the past Victor Strand. No matter how much people evolve and change, they're the same at the core.
Q: What was it like filming in the baseball stadium? Any perks or hidden gems?
A: It was cool. The guy who manages the grounds was always around, so it felt like you were with someone who was a fan of the show and a fan of baseball. You saw the convergence of that. Whether we planted a farm in the stadium or we ripped it up, he was fascinated by it. I loved watching the evolution of the stadium through his eyes.
Q: What about the water tank scene when we meet Naomi? What went into that?
A: That was a long day! It's part of Madison's mission now to help others and to invite more into our group. Everyone has been a part of that mission as well, even begrudgingly. That's been a key to our survival thus far. Jenna Elfman is so kind… We just had a lot of fun. The oil tank scene was wild and messy and they had to wear these wigs to get oil slicked [Laughs] We had a laugh about that. Kim [Dickens] is like, "This is a two-dollar wig!" because, of course, we couldn't use expensive wigs. The stunt scenes are so much fun. That was the first time we got oil walkers. Our special effects team keep evolving the walkers we have and how different they look.
Q: It's pretty clear Cole has a crush on Strand. Where's Strand's head?
A: In this evolution of him, you start seeing the Strand who is a bit more calmer and a part of the community. You think he's a certain kind of guy, and Cole is fascinated and interested in that, but we know Victor has been through a lot. Strand is keeping him at arm's length because the idea of a crush is not really interesting at this time. He's questioning if there's time or room for a crush in this apocalypse. Does that leave him vulnerable? Does it strengthen him? He's questioning all of it. Victor Strand questions the value of everything and how important it is in the moment.
Q: Were you surprised to find out that Charlie was the mole? Where does the group go from here?
A: Yeah, this little girl turns out to be the Trojan Horse! [Laughs] It left them vulnerable. They're trying to greet the world with kindness and they left themselves open for something like this to happen. They have to reassess what they're doing because they didn't expect a young kid to be so duplicitous. Now, they're either going to suffer the effects of it or it will strengthen them. This is a new complication.
Read an interview with Lennie James, who plays Morgan.
Fear the Walking Dead airs Sundays at 9/8c. Click here to add a reminder to your calendar.
Watch full episodes of Fear the Walking Dead on amc.com and AMC apps for mobile, Fire TV, Xbox One, Apple TV, Roku and Chromecast.
To get more exclusive interviews with the cast, join the Fear the Walking Dead Insiders Club.
Read More