Press
ComicBook Praises Fear Season Opener; CarterMatt Hails Alicia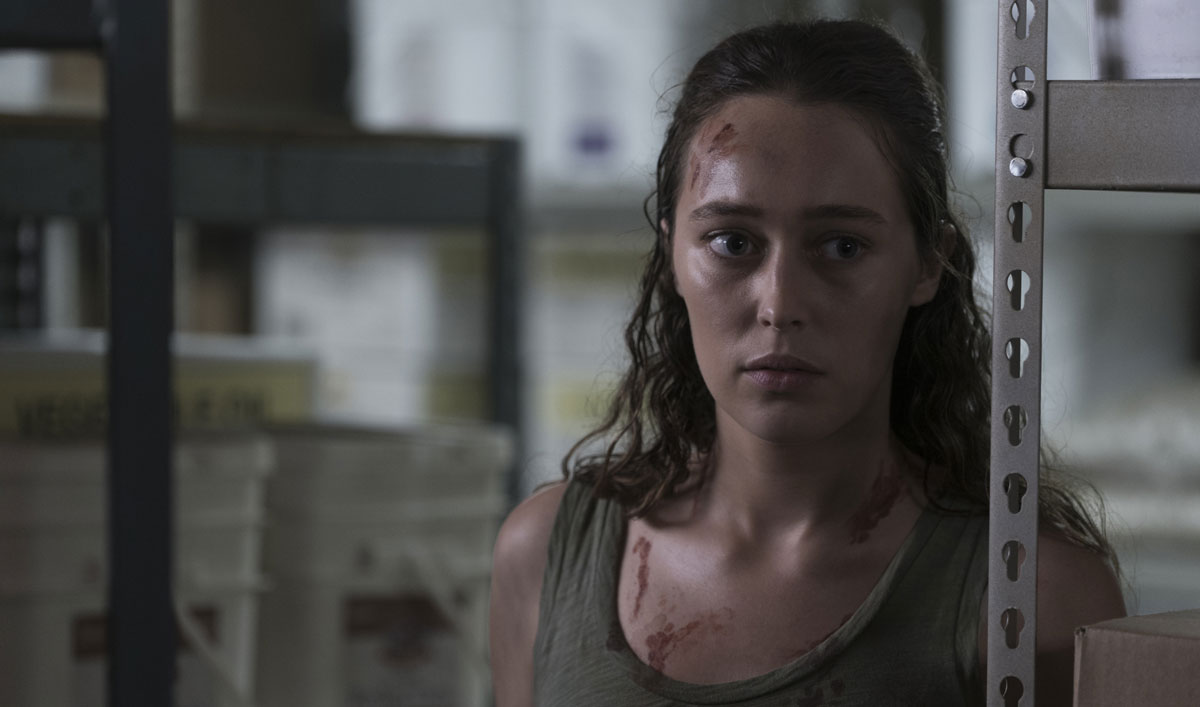 This week, ComicBook.com is full of praise for Season 4's first two episodes, while CarterMatt hails Alicia's evolution over the course of the series. Plus, Den of Geek spotlights a video about the show's new characters. Read on for more:
• ComicBook.com proclaims that Season 4's "first two episodes are masterpieces and absolute must-watch television."
• CarterMatt hails the evolution of Alicia, who "started off this series as someone completely unequipped for the dangers that surrounded her in the zombie apocalypse; now, she has the capacity to help others who are suffering and to make the tough decisions when the situations arise."
• Den of Geek checks out an exclusive first look at four new major characters: "Like virtually every piece of new content we've seen from Fear the Walking Dead Season 4, that video was quite a bit of fun!"
• Reviewing Season 4's first pair of episodes, Fan Fest declares that the "new characters we meet in the first episode of Fear's 4th season are truly awesome" and asserts that "Morgan's decisions on his travels and beyond, are exactly what you'd expect out of him. He stays completely true to the Morgan we know on The Walking Dead."
• Lennie James reveals to Digital Spy how he felt when Scott Gimple asked him, "How would you like to continue the story of Morgan in Fear the Walking Dead?"
• ComicBook.com spotlights a Season 4 video preview, where Andrew Chambliss teases, "Season 4 of Fear the Walking Dead is going to pick up in an unexpected place. Mostly, I would say that this season is about a journey toward hope."
• Alycia Debnam-Carey tells Digital Spy that "there is an exciting element of this season, in particular in the first half, where we play a lot with time so you get to see Alicia in very different points of who she is as a character and then in time and they're very, very different, they're filmed very differently, they look very different."
• Danay Garcia discusses Morgan's interaction with the show's original characters, telling ComicBook.com, "We're just dealing with a stranger, we have no idea about where he comes from, what his past is and what he's about. In order for him to even be close to us, the family unit, he has to prove himself and we run the show."
• Maggie Grace tells Fan Fest that who Althea was "before the apocalypse has really prepared her to land on both feet and not only survive, but thrive, in this environment. And I think, in signing on, that was a big part of the appeal was just how unusually capable yet emotionally deep she is."
• According to CBR.com, Garret Dillahunt has this to say about his character, John, and Lennie James' Morgan: "I love the scene where we meet. He's just such a good dude. He's so savvy. That guy's done all kinds of things, in all kinds of places. From Shakespeare to zombie-killing. I know I can rely on him."
• Fan Fest interviews Garret Dillahunt, who says of his character, "I think you're gonna like John. I think it's important to have someone to root for. He's pretty pure. He's pretty unspoiled somehow."
• Colman Domingo says, "I would love to see Victor Strand pop up in The Walking Dead. I think that'd be interesting. I think he would pilot a jet or something and get himself to you know wherever they're at. He'd be a great challenge for them, they wouldn't know what to do with him," Digital Spy reports.
• Lennie James tells ComicBook.com that "one of the things I've enjoyed about playing with Morgan is trying to discover his sense of humor because we know what hurts him and we know what angers him. We know what softens him, we know what draws him in. We're not always sure what makes him laugh…"
Fear the Walking Dead returns Sun., Apr. 15 at 10/9c. Click here to add the premiere to your calendar.
To stay up-to-date with the latest news, join the Fear the Walking Dead Insiders Club.
Read More